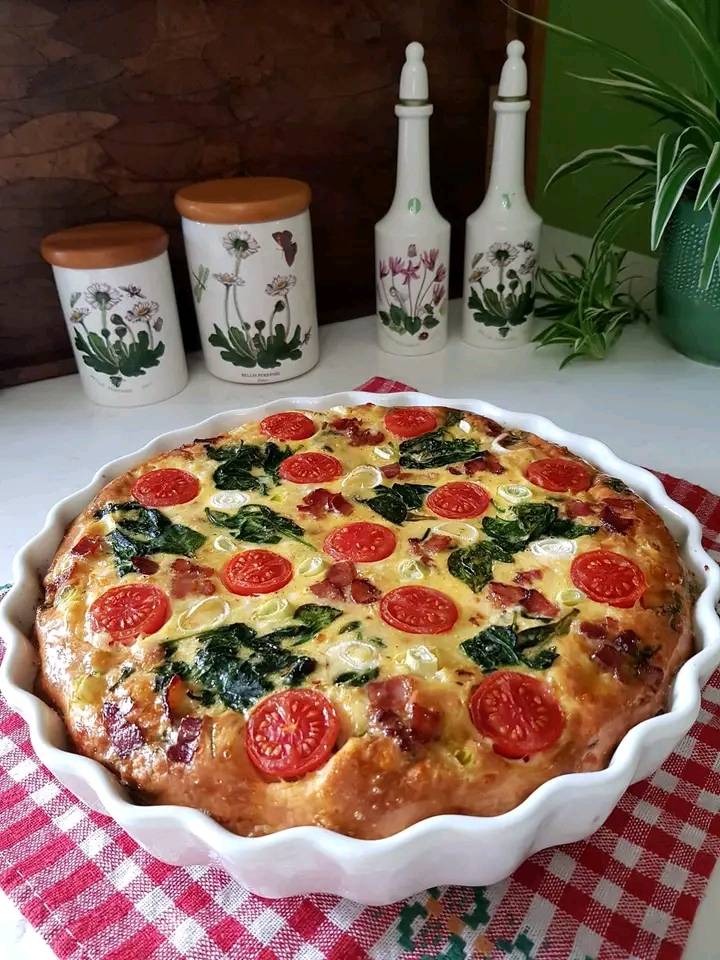 Ingredients
8 Eggs
1/2 Cup Double Cream , heavy cream or whipping cream
4 Strips Bacon, chopped
2 Large Potatoes, thinly sliced
1 cup Baby Spinach
3 Spring Onions, sliced
1 Cup Cherry Tomatoes, halved
2 Cloves Garlic, minced
2 Tsp Smoked Paprika
1 cup shredded Cheddar Cheese mixed with 1 tablespoon plain flour
Salt/pepper
Method:
Heat a skillet and fry the bacon until golden brown. Remove and set aside.
Using the bacon fat, saute the spinach until it wilts. Remove from pan and set aside.
If the skillet is dry add some cooking oil. Place the potatoes in a single layer, sprinkle with smoked paprika, salt/pepper. Cook for a few minutes on both sides. Add the garlic just a minute before potatoes are fully browned.
Butter grease your baking dish and place two layers of potatoes.
Into a large bowl crack open all eggs. Add the cream, salt/pepper, 1 teaspoon paprika and whisk together. Add bacon bits, spinach, cherry tomatoes (leave a few veggies for on top at the last stage) spring onions and cheddar cheese (reserve a little to sprinkle at the last). Stir everything together.
Pour over potatoes, sprinkle remaining cheese, scatter remaining veggies and cherry tomatoes.
Bake in oven 180C for 30/45 minutes or until set and golden on top.
Serve as it is for breakfast or
as a meal with roasted vegetables or salad.
Enjoy!