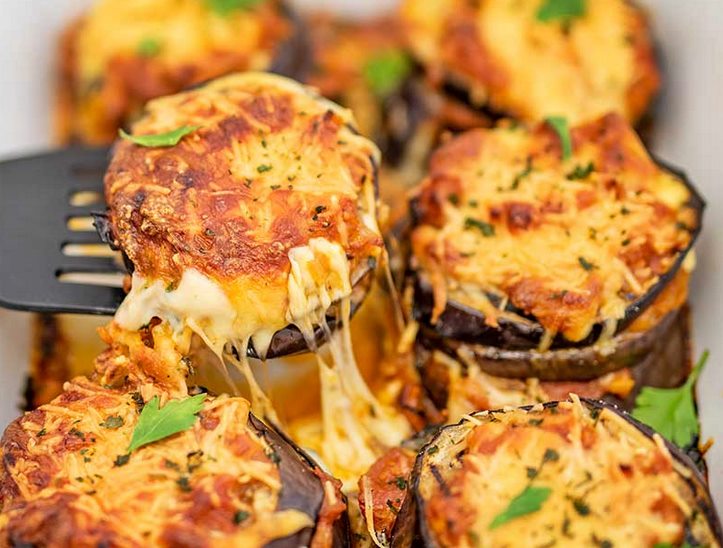 This delicious Eggplant Parmesan is made completely from scratch with a chunky fresh tomato sauce and loaded with melty cheese. It's a delicious vegetarian meal!
Ingredients
2 tablespoons Tomato Paste
½ teaspoon Black Pepper ground
12 ounces Tomatoes fresh, diced
3 Eggplants sliced thickly (you will need 18 slices)
3 ounces Fresh Mozzarella Cheese sliced
2 ounces Parmesan Cheese shredded
2 ounces Mozzarella Cheese shredded
1 tablespoon Fresh Parsley finely chopped
Instructions
Preheat the oven 180C/390F.
Place a large saucepan over high heat and add the oil, garlic and onion. Saute 3-5 minutes, until the onion turns translucent.
Add the tomato paste, basil, thyme, salt, and pepper. Cook for 2-3 minutes then add the diced tomatoes.
Reduce the heat to medium and simmer, partially covered, for 15-20 minutes, until the tomatoes have softened into a chunky sauce. Remove from the heat and set aside.
Brush the slices of eggplant with oil and sprinkle with salt.
Place a cast iron grill pan over medium high heat and cook the eggplant slices for 2-3 minutes on each side. This can also be done on your BBQ/grill.
Place 6 slices of eggplant in the bottom of a casserole dish. Top each with a tablespoon of the chunky tomato sauce and a slice of fresh mozzarella cheese. Repeat with the next layer.
Add the 3rd layer of eggplant slices, top with a tablespoon of chunky tomato sauce, and sprinkle over the shredded parmesan and mozzarella cheese.
Bake for 25 minutes, until the cheese is golden brown.
Sprinkle over the fresh parsley and serve.