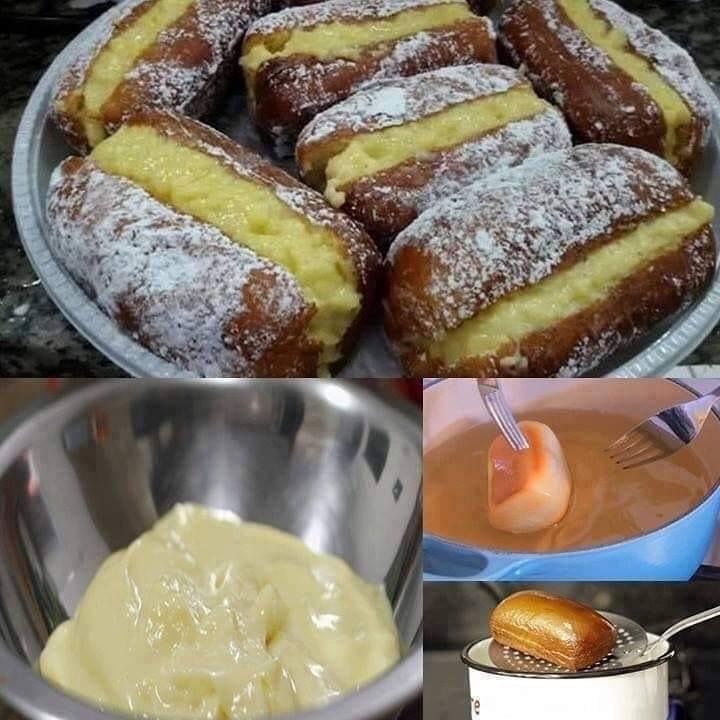 Ingredients:
1 package of bisnaguinha
– Confectioner's Cream Recipe
1/2 can condensed milk
400ml milk
1 tablespoon cornstarch
2 egg yolks through a sieve to avoid the smell of eggs (don't rub the spoon on the sieve, just pierce the yolk and
beat it to make it drip) if you don't want to use egg yolks you can, but it won't turn yellow
1 teaspoon of vanilla essence.
How to make it:
Mix the cornstarch with a little bit of milk to dissolve it well. Mix it all and stir well before taking it to the fire so it doesn't clump. Take it to the fire, stirring constantly until it thickens. Turn off the heat and wait for it to cool. You can use dulce de leche or chocolate cream as filling too.
Fry the breadsticks one by one in oil that is not too hot so they don't brown too much. Cut them with a knife and fill them with the cream and sprinkle icing sugar on top. That's it!
This cream recipe was enough for 1 whole package of bisnaguinha. And your biscuit dream is ready