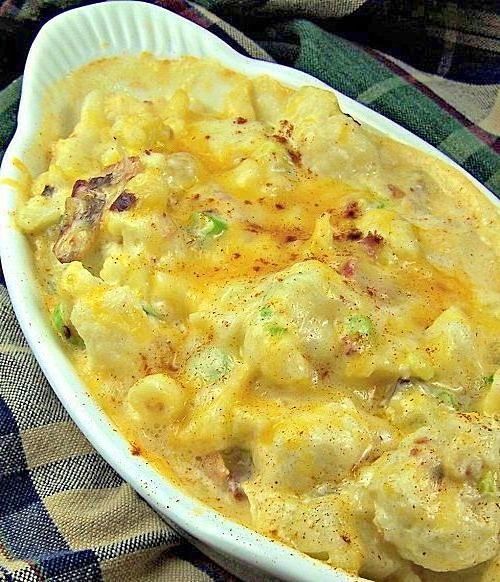 Ingredients
2 lbs. Fresh cauliflower florets
8 oz. shredded sharp cheddar cheese, divided
8 oz. shredded Monterrey Jack cheese, divided
8 oz. block cream cheese, softened
4 tbsp heavy cream
1½ cups green onions, sliced
6 slices of bacon, cooked and crumbled
1 clove of garlic, minced
½ tsp. Salt
Freshly ground black pepper
How to Prepare:
1:Preheat your oven to 350°F.
2:Steam cauliflower florets until they become tender.
3:Cream together 6 oz. of the shredded cheddar, 6 oz. of the Monterrey Jack, all of the cream cheese, and heavy cream. Stir in sliced green onions, chopped bacon, and garlic into the cheese mixture, then set it aside.
4:Drain the steamed cauliflower florets and add them to the cheese mixture. Stir cauliflower and cheese mixture together. Add salt and pepper to taste.
5:Pour the mix from step 4 into a 3-quart casserole dish. Sprinkle the remaining 2oz of cheddar and Monterrey Jack cheeses on top of the mix, then cover the dish with foil.
6:Bake the casserole for 25 minutes with the foil on. Remove the foil, then continue to bake until the cheese is bubbly. Take out from the oven and serve hot.