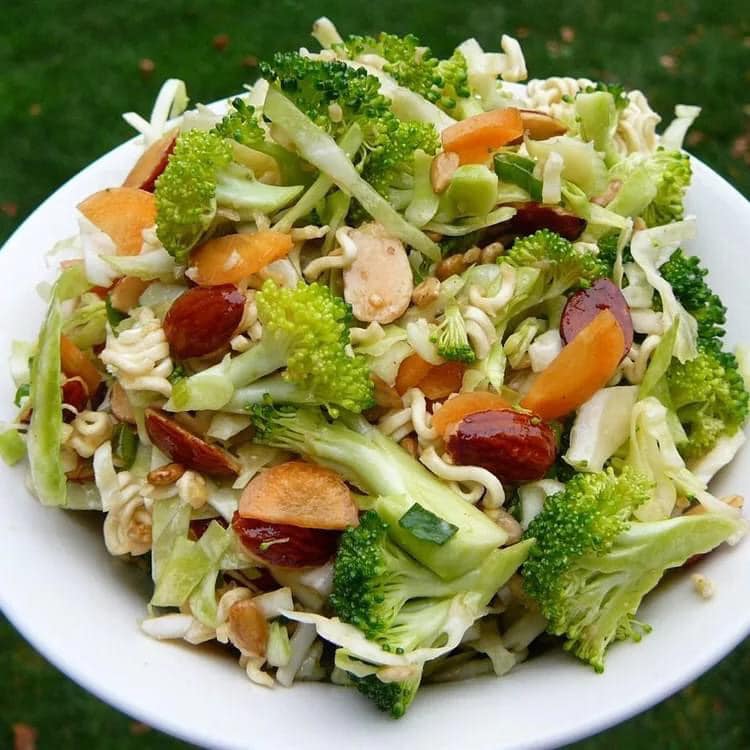 Ingredients:
• 1 (16 ounce) package coleslaw mix
• 1 head fresh broccoli, cut into florets
• 8 green onions, chopped
• ½ cup butter or margarine
• 2 (3 ounce) packages chicken flavored ramen noodles
• 1 cup slivered almonds
• 1 cup unsalted sunflower seeds
• ½ cup white sugar
• ½ cup vegetable oil
• ¼ cup apple cider vinegar
• 1 teaspoon soy sauce
Instructions:
• Toss together coleslaw mix, broccoli, and green onions in a large bowl. Set aside.
• Melt butter in a large skillet over medium heat. Crumble ramen noodles into a bowl, and mix with almonds and sunflower seeds. Sprinkle ramen seasoning packets over top. Add to the skillet; cook and stir until noodles and nuts are toasted, about 8 minutes.
• Combine sugar, oil, vinegar, and soy sauce in a jar with a tight-fitting lid. Seal, and shake vigorously to blend.
• Just before serving, combine the slaw mixture with the nuts and noodles. Pour the dressing over all, and stir briefly to coat.