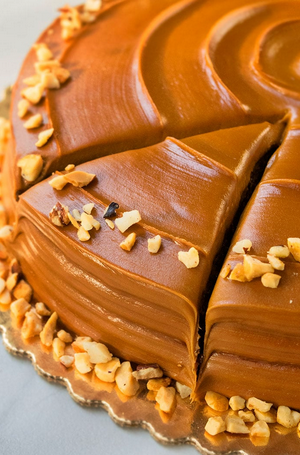 The best, classic, old fashioned, quick, easy chocolate caramel cake recipe, homemade with simple ingredients from scratch. Soft, moist with caramel icing.
Ingredients:
Caramel Icing or Frosting
1.5 cups Butter Unsalted
2 cans Evaporated Milk 12 oz. each
2 cups granulated sugar
2 tsp vanilla extract
Chocolate Cake:
2 cups granulated sugar
1 3/4 cups all-purpose flour
3/4 cup Cocoa powder
1.5 tsp baking powder
1.5 tsp baking soda
2 Eggs Large
1 cup buttermilk
1/2 cup Oil
1 tbsp vanilla extract
1 cup Water Boiling hot
Instructions:
In a large mixing bowl, add eggs, milk, oil, vanilla extract and mix until smooth. Keep aside.
In another mixing bowl, whisk together sugar, flour, cocoa, baking powder, baking soda.
Dump the dry mixture into the wet mixture, alternating with the hot water and mix until just combined.
Pour batter in a greased/floured round cake pan (Dimensions: 9×3).
Bake at 350 degrees for 40-45 minutes or until an inserted toothpick in the center comes out clean.
Allow the cake to cool down completely.
Icing
While the cake is baking and cooling, prepare the icing: In a nonstick saucepan, add butter, evaporated milk, and sugar and cook over medium heat until everything is completely melted.
Reduce heat to "Low," stirring often for the next 1.5-2 hours, ensuring it doesn't burn and it thickened and darkened to a golden brown color.
It's ready when it can coat the back of your spoon.
Remove from heat and add in vanilla extract.
Let it cool for 30-40 minutes and allow it to thicken even further.
Pour this on top of the cooled cake and use a spatula to spread it out and make swirls on top.
Sprinkle some chopped nuts around the top and bottom of the cake. Enjoy!