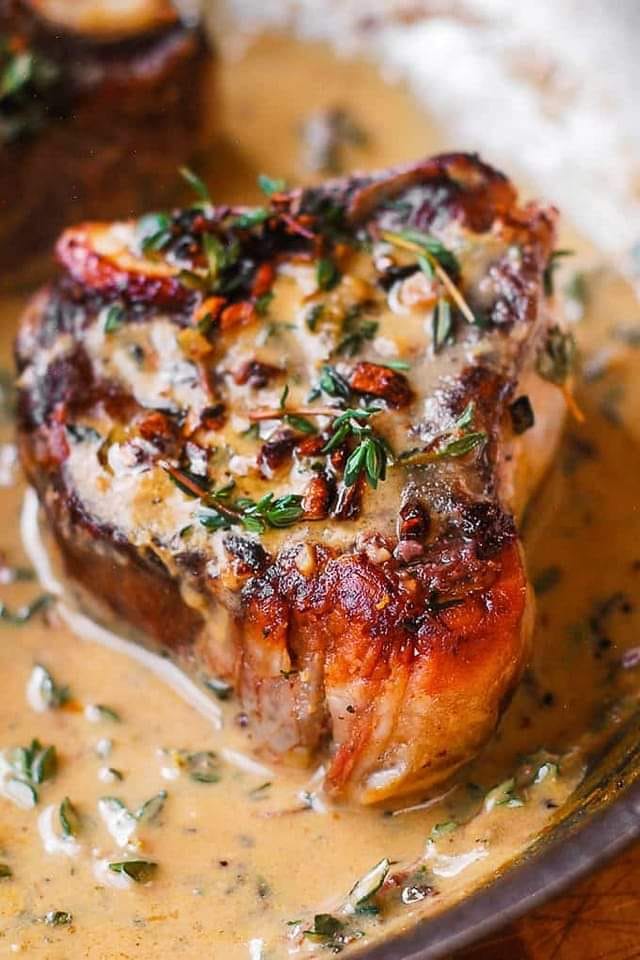 Elevate your dinner game with these succulent lamb chops, perfectly paired with a creamy mustard sauce that will tantalize your taste buds and leave you craving more!"
Ingredients
Marinade;
2 tablespoons olive oil
2 tablespoons lemon juice
0.4 oz thyme fresh
¼ teaspoon black pepper cracked
¼ teaspoon sea salt
3 cloves garlic minced
Lamb Chops
1 tablespoon olive oil
4 lamb chops
Sauce
1 cup white wine or red wine
⅓ cup Dijon mustard
fresh thyme
1 clove garlic minced
2 tablespoons heavy cream
Instructions
How to marinate lamb chops:
Combine olive oil, lemon juice, thyme, blacked cracked pepper, sea salt, minced garlic in a medium bowl. Mix.
Arrange lamb chops on a large plate. Pour the marinade over the lamb chops.
Make sure the lamb chops are covered with the marinade from all sides.
Let the lamb chops sit at room temperature in this marinade for 30 minutes.
How to sear lamb chops:
Heat 1 tablespoon of olive oil on medium heat in a large skillet until hot. Add lamb chops.
Cook on medium-high heat about 4 minutes on one side. Then 4 minutes on medium heat on another side.
Remove the lamb chops from the skillet.
How to make the sauce for lamb:
Add wine to the same skillet and bring to boil.
Add mustard, fresh thyme, and minced garlic.
Bring to boil and reduce the sauce, until it thickens. It should take a couple of minutes.
Add 2 tablespoons of heavy cream. It's optional but it might be good for mellowing the strong flavors! Taste the sauce and add another tablespoon or two of cream, if desired.
Add back the pan-seared lamb chops.
Simmer on low-medium heat to heat them through.
Season the sauce with salt and cracked black pepper, if needed.
Note: Make sure the lamb chops are cooked to medium.
If not, cook them in the sauce, covered with the lid, for a couple of minutes.
Then, remove from heat, and allow the lamb chops rest, covered until they are cooked through.
To serve, spoon the sauce over lamb chops and sprinkle more fresh thyme on top