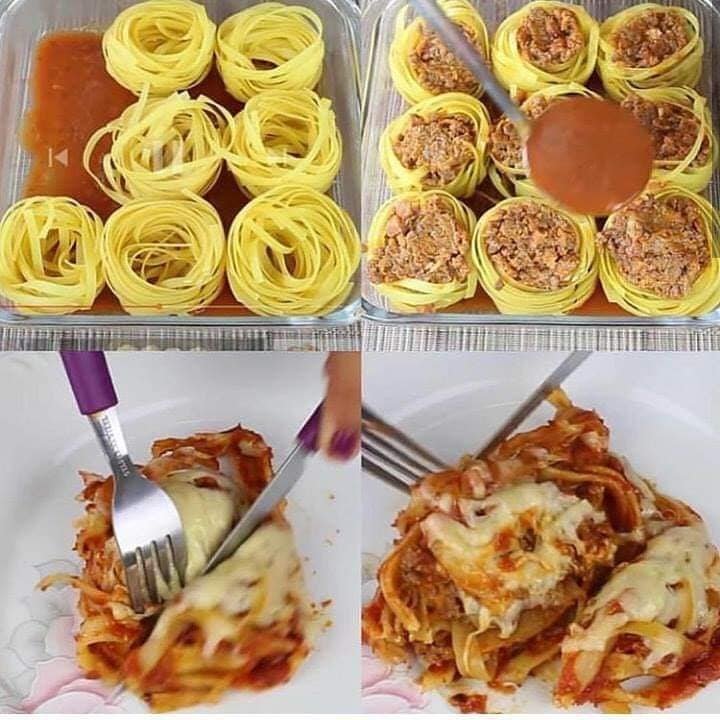 Ingredients
3 tablespoons chopped bacon
2 cloves of minced garlic
1/2 chopped onion
400g of ground meat
1 sachet of meat seasoning
1 beef bouillon cube
Oregano (to taste)
Black pepper (to taste)
Salt (to taste)
2 full spoons of tomato paste
100g of chopped mozzarella
red bell pepper
510g prepared tomato sauce
1 cup of water (tea)
Pre-cooked Fettucine Pasta (nests)
Fresh Grated Parmesan Cheese
METHOD
In a pan add the bacon and fry it in its own fat until golden.
Add the garlic and onion, mix, add the ground beef, season with the meat seasoning sachet, the bouillon cube, oregano, black pepper and salt, mix, place a lid on the pan and let it cook.
Note: The meat will release some water, so cook stirring occasionally, until the water dries up.
Add the two spoons of tomato paste, mix, cover and let it cook for two minutes.
Turn off the heat, add the grated mozzarella, mix and set aside.
In another pan add 510g of prepared tomato sauce and 1 cup of water, mix and bring to a boil and set aside.
In a platter or baking dish, spread some of the sauce, place the pre-cooked nests next to each other, fillings with the reserved meat, spread the rest of the sauce, covering until it reaches the edge of the nests, cover with aluminum foil and take it to the preheated oven at 180 degrees for 30 minutes.
Remove the foil, sprinkle freshly grated Parmesan cheese on top and return to the oven without the foil until the cheese melts.