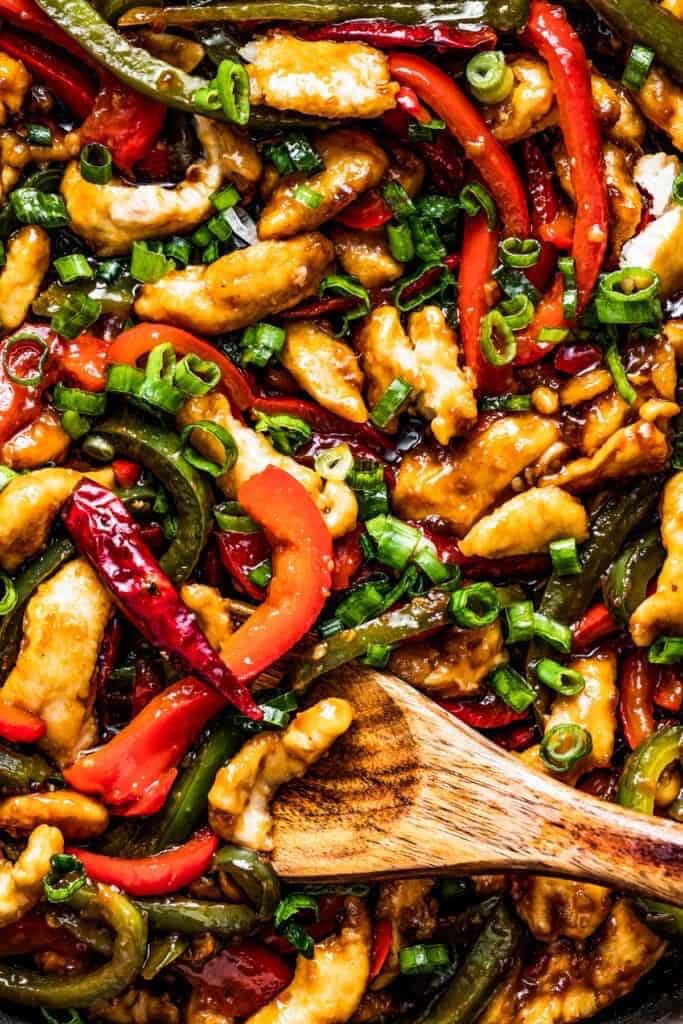 Servings : 6 servings ;Prep Time10 mins ;Cook Time15 mins; Total Time25 mins
For the Szechuan sauce
▢2 tablespoons cornstarch
▢½ cup soy sauce or coconut aminos
▢2 tablespoons hoisin sauce
▢1 tablespoon toasted sesame oil
▢1 tablespoon rice wine vinegar
▢2 teaspoons fresh minced ginger
▢1½ pounds boneless skinless chicken breasts, thinly sliced
▢¼ cup avocado oil, or another neutral high smoke point cooking oil
▢5 scallions, chopped (green and white parts separated)
▢4 bell peppers, red and green, cut into thin slices
▢10 dried red chilis, or use 2 to 3 teaspoons of red pepper flakes
▢2 cloves garlic, thinly sliced
▢sea salt and ground black pepper to taste
In a small mixing bowl, whisk together the cornstarch and water until smooth.
Add the soy sauce, hoisin sauce, toasted sesame oil, rice wine vinegar, minced ginger, and honey, and whisk until smooth. Set aside.
Add the chicken and cornstarch to a medium-sized mixing bowl and toss to coat the chicken with the cornstarch.
In a large, heavy-bottomed pan or wok, heat half of the avocado oil over medium-high heat.
Add the chicken and sauté for 3 minutes, browning the chicken on all sides.
Remove the chicken from the pan and set aside.
Add the remaining avocado oil and allow to heat for about 20 seconds.
Add the white parts of the scallions, sliced bell peppers, and dried red chilis to the pan and sauté until the chilis start to hydrate and the bell peppers begin to soften, about 10 minutes.
Add the garlic and sauté for 15 seconds or until fragrant.
Return the chicken to the pan, stir in the Szechuan sauce, and continue to cook until the chicken is cooked through and the sauce has thickened, about 5 minutes.
Season with salt and ground black pepper and garnish with the green parts of the scallions.
Chicken: I used boneless skinless chicken breasts, but boneless chicken thighs are also a good option.
Avocado Oil: I like this oil for high-heat cooking, but you can also use vegetable oil, peanut oil, or other high-smoke point oil.
Dried Chilis: You can get a bag of these at your local import/export store, a well-stocked grocery store, Amazon, etc… However, if you can't find any, use a couple of teaspoons (or to taste) of red pepper flakes.
Use the right pan. It is important to use a heavy-bottomed pan with a large surface area – think Wok – when making delicious stir-fries.
Don't crowd the pan when cooking the chicken. If the pan is loaded, the chicken will steam and not brown