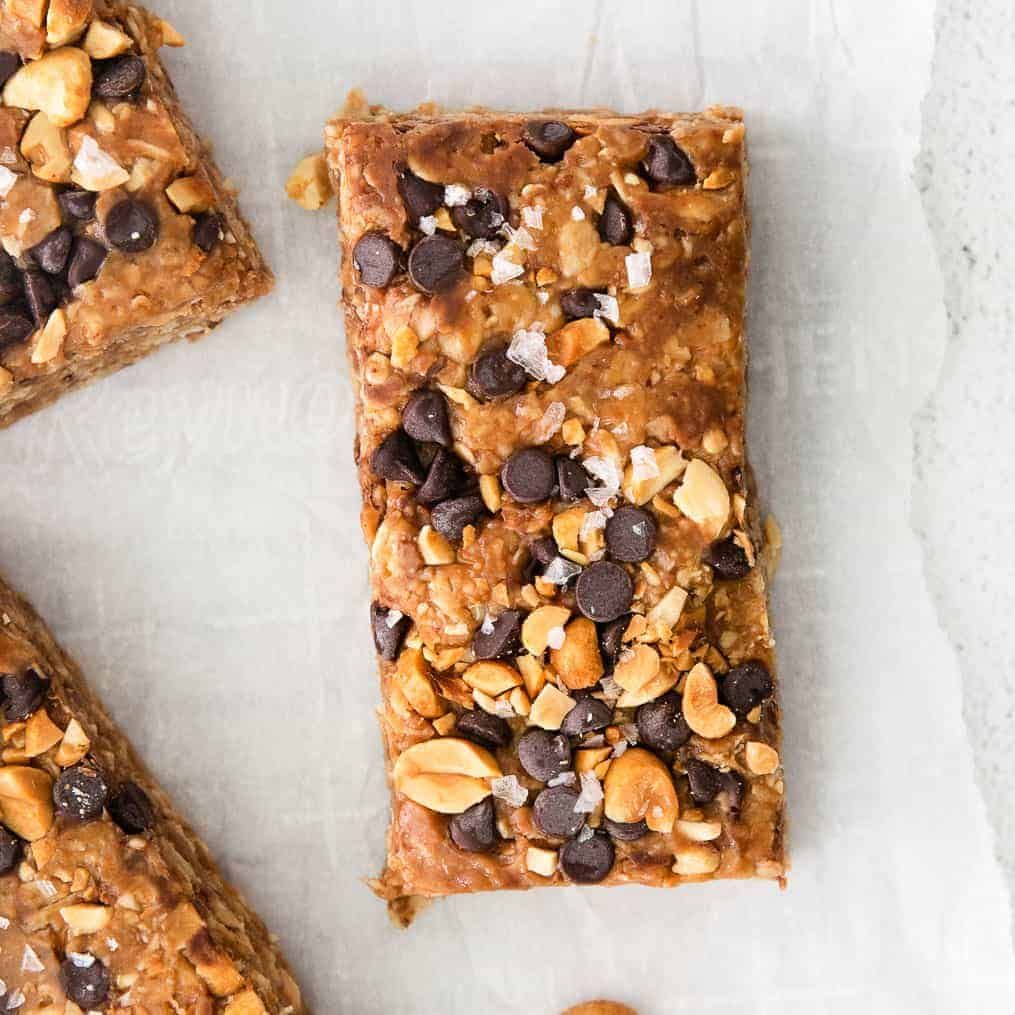 You are going to love this peanut butter granola bar recipe. These granola bars are sweetened with honey and made with all-natural peanut butter, rolled oats, and chocolate chips.
Prep:15 minutes Cook:0 minutes Total:15 minutes
FAT 23
INGREDIENTS
1.5 cups all-natural creamy peanut butter*
1 cup honey
2 tablespoons coconut oil
1 teaspoon pure vanilla extract
2 cups rolled oats*
1.5 cups quick cooking oats*
½ cup mini chocolate chips
½ cup chopped peanuts
Flakey sea salt for garnish
INSTRUCTIONS
Line a square 9×9-inch pan with parchment paper and spray it very lightly with non-stick baking spray.
Add the peanut butter, honey, and coconut oil to a large, microwave-safe bowl. Microwave for 1 minute.
Stir together the peanut butter mixture until it is smooth and thick. Add the vanilla and stir to combine.
Next add the oats and fold them, making sure to get the oats evenly coated with the wet ingredients.When the oats are almost fully incorporated, add half of the chocolate chips and half of the peanuts. Continue folding until they are fully combined.
Transfer the mixture to your prepared pan and spread it out evenly with your spatula. Sprinkle over the remaining chocolate chips and peanuts.
Place a piece of parchment paper on top of the granola bars and press them into the pan. You want to pack them very tightly so they stay together!
Transfer the granola bars to the fridge to chill for at least 2 hours– make sure to leave them covered with the parchment paper on top!
Remove the granola bars from the pan, slice, and enjoy.
Store the granola bars in an airtight container in the fridge for up to five days.