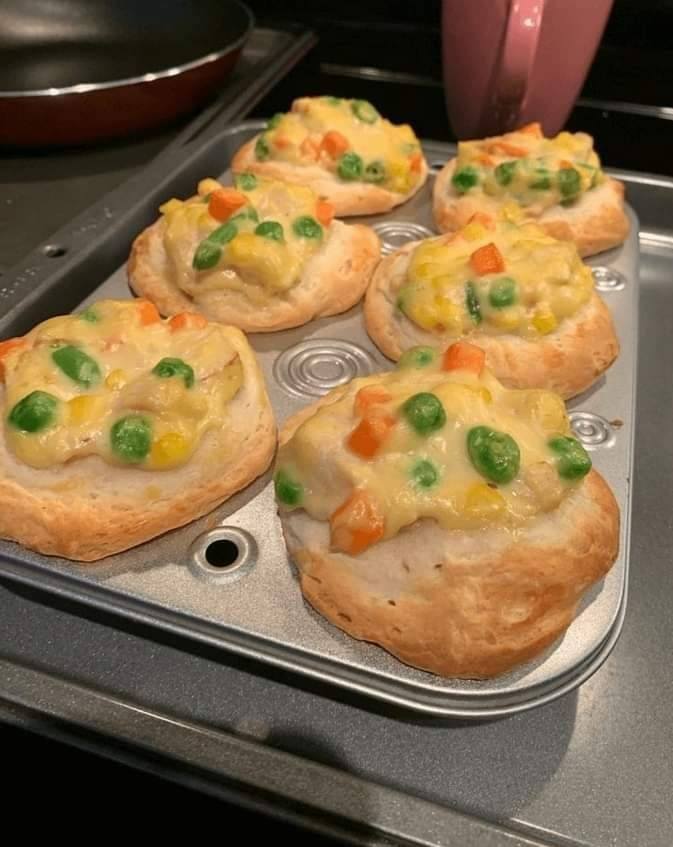 Ingredients:
8 pieces of biscuits
1 cup cooked chicken breast, diced (any good leftover chicken)
1 can (10 1/2 ounces) low-fat chicken soup
2/3 cup low-fat shredded cheddar cheese
1 1/2 c. thawed frozen vegetables (I used 1 c corn, peas and carrots and 1/2 cup broccoli)
1 teaspoon dried parsley flakes
1 teaspoon minced onion
1/4 teaspoon black pepper
1/2 teaspoon salt
Directions:
1: Preheat the oven to 400 degrees and cook the chicken the way you want it, then cut it into small pieces.
2: Separate the biscuits and place each biscuit in a lightly oiled 12-hole muffin cup, pressing the dough to the sides to the edge of the cup.
3: In a medium bowl, combine chicken, chicken and vegetable soup, cheddar cheese, parsley flakes, and black pepper. Mix well until combined.
4: Spoon the chicken mixture into the biscuit cups prepared with the spoon.
5: Bake for 12 to 15 minutes or until golden brown.
6: Take it out of the oven. Place the muffin pan on a wire rack and let it rest for 2-3 minutes.
Enjoy !