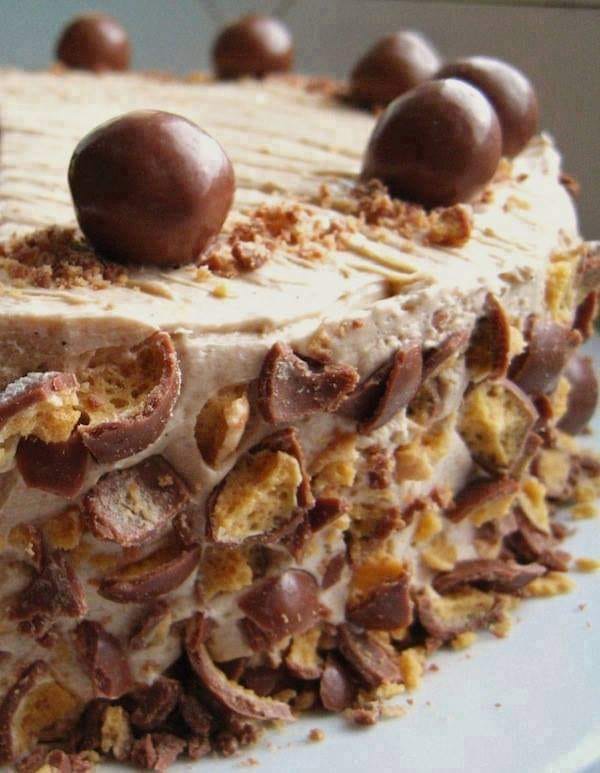 INGREDIENTS:
100g butter
250g Walkers shortbread, made into crumbs (or your favourite shortbread)
500g Philadelphia cream cheese
35mls Baileys
100g icing sugar
320ml heavy cream, whipped (whipped cream)
2 40gm packets Maltesers Chocolates, crushed
200ml heavy cream, whipped for topping (whipped cream)
3 tablespoons Maltesers Chocolate, shaved
cocoa powder, to dust
Method:
Melt the butter in medium sized pan and add the shortbread crumbs. Mix well until the crumbs have absorbed all the butter.
Remove from the heat and press into the bottom of a lined 7in springform baking tin. Place in your refrigerator and allow to set for one hour.
While crumbs are resting, prepare the filling.
Lightly whip the cream cheese in your food mixer and add the Baileys and powdered sugar.
Fold in the whipped cream and crushed Maltesers.
When smooth, spoon evenly onto the springform pan.
Place into your refrigerate and allow to set for a couple of hours.
Once set, remove and decorate with whipped cream, chocolate shavings and cocoa powder dusted over the top