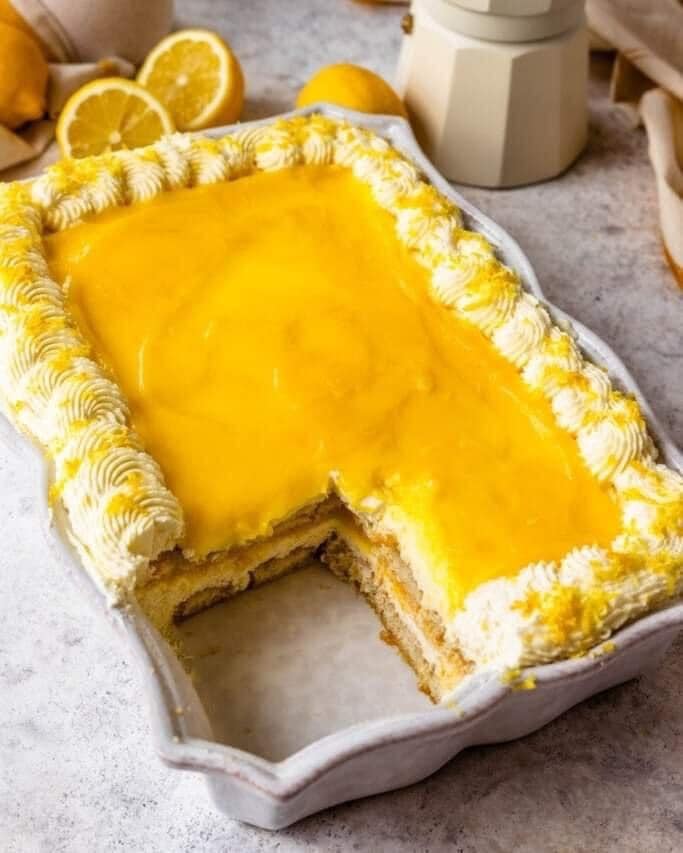 Ingredients:
2 cups mascarpone cheese
1 cup heavy cream
1/2 cup granulated sugar
1/2 cup limoncello liqueur
1 cup freshly squeezed lemon juice
Zest of 2 lemons
24 ladyfinger cookies
1 cup strong brewed coffee or espresso, cooled
1/4 cup powdered sugar
Fresh mint leaves (for garnish)
Instructions:
In a large mixing bowl, combine the mascarpone cheese, heavy cream, and granulated sugar. Using an electric mixer, beat the mixture on medium speed until smooth and well combined.
Add the limoncello liqueur, lemon juice, and lemon zest to the mascarpone mixture. Beat again on medium speed until everything is incorporated and the mixture has a smooth consistency. Set aside.
Pour the cooled brewed coffee or espresso into a shallow dish. Dip each ladyfinger cookie into the coffee for a few seconds on each side, making sure not to oversoak them. Line the bottom of a rectangular or square serving dish with half of the soaked ladyfingers.
Spread half of the mascarpone mixture over the ladyfingers, smoothing it out into an even layer.
Repeat the process with the remaining soaked ladyfingers and mascarpone mixture, creating a second layer.
Sift the powdered sugar over the top layer of the tiramisu.
Cover the dish with plastic wrap and refrigerate for at least 4 hours, or overnight if possible, to allow the flavors to meld together and the dessert to set.
Before serving, garnish the tiramisu with fresh mint leaves for a pop of color and added freshness.
Slice and serve chilled. Enjoy your delicious Limoncello Tiramisu!