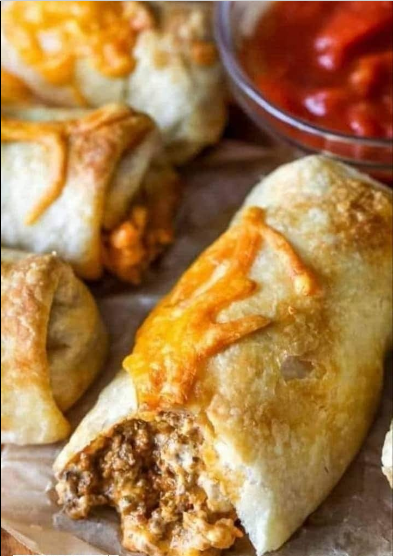 Taco Pockets are quick and easy recipes for any dinner or a party.
Soft tortillas, creamy salsa sauce, ground beef, shredded cheddar cheese, and taco seasoning make these taco pockets so yummy.
But you can also use other quick and easy fillings for this recipe.
For example, hot sauce, diced jalapeños , Mexican rice , refried beans, and shredded chicken.
I like dishes which you can serve with different toppings.
Taco Pockets are an ideal recipe for a party because everyone can choose the topping they like.
Usually, I serve taco pockets with guacamole, sour cream, salsa, or hot sauce.
Invite your friends to a Taco Party and prepare these yummy Taco Pockets!
INGREDIENTS :
 1 packet Taco Seasoning
 1 pound ground beef
 ½ cup salsa
 8 ounces cream cheese, softened
 2 tbsp melted butter
 1 cup Cheddar Cheese, shredded
 12 6 inch tortillas
 Sour cream, salsa, green onions all toppings optional
Instructions
FIRST STEP:
Crumble the ground beef into a skillet and cook thoroughly
Drain the grease from the skillet
SECOND STEP:
Add in the packet of Taco seasoning mix, following the directions on the package
In a medium sized bowl, beat the cream cheese until it is smooth
THIRD STEP:
Add in the cup of salsa and blend well
While holding a tortilla, place a spoonful of cheese mix in the center of the tortilla
FOURTH STEP:
Place a spoonful of taco flavored beef, to cover the salsa and cheese mix.
Sprinkle with shredded cheese
FIFTH STEP:
Fold the tortilla and filling as you would with a burrito
Lightly spray a baking tray
SIXTH STEP:
Preheat the oven to 350*
Place rolled tortilla onto greased tray
SEVENTH STEP:
Brush the tops of the tortilla rolls with melted butter
Bake for 15 minutes.
Remove from oven and add your choice of toppings, such as lettuce, salsa, sour cream, olives, more cheese
➤That's it, all you have to do is Enjoy !