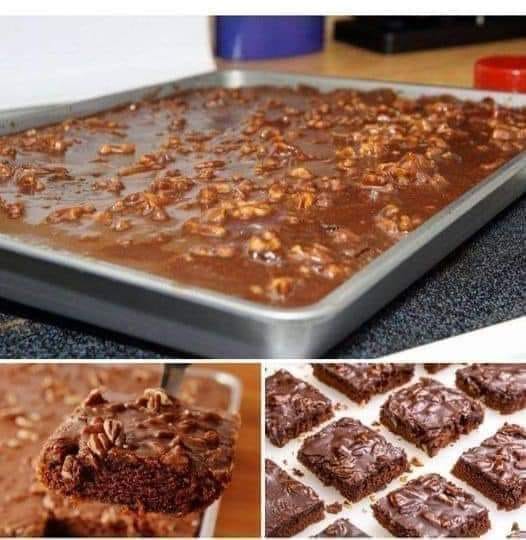 This Fudge Pecan Brownies recipe is a time saver for Thanksgiving, that might just become your favorite Brownie recipe all year round! This Brownie is the perfect combination of thick, fudge, and gooey inside and crinkly, crispy top with intense chocolate taste, crunchy pecans, and a pinch of cinnamon
Course: DessertCuisine: American Prep Time: 25minutes minutesCook Time: 35minutes minutesTotal Time: 1hour hour Servings: 6 Calories: 751kcal
Ingredients:
▢150 g (1 cups) Chocolate use semi-sweet quality chocolate eg. Callebaut Dark Chocolate (callets)
▢150 g (⅔ cups) Unsalted butter
▢3 Eggs room temperature
▢150 g (¾ cups) Granulated sugar
▢150 g (¾) Brown sugar
▢30 g (⅓ cups) Cocoa powder unsweetened Dutch processed
▢75 g (⅔ cups) All purpose
▢½ teaspoon Cinnamon
▢½ teaspoon salt
▢150 g (1½ cups) Pecan
▢chocolate chips optional
US customary cup measurement is an indicative figure only. Measure the ingredients with a digital scale by weight (gram). Baking is art but also science which requires precision and accuracy.
Instructions
Pre-heat oven to 180 C / 356 F ( no fan)
Take a 7 inch /18 cm square brownie pan, brush the inside of the cake pan with a tiny bit of oil then use parchment paper on the bottom and side as well. Set it aside
Melt butter and chocolate in a bowl over simmering water over medium heat
In another bowl whip together the eggs with sugar with the help of an Electric hand mixer until pale, for about 5-7 minutes
Pour the melted butter and chocolate mixture into the egg-sugar mixture, and combine with a Rubber spatula. Do not use a mixer at this point
Sift in flour, cinnamon, salt, and cocoa powder and fold the mixture together. Do not overmix
Pour the batter into the prepared 7 inch /18 cm square brownie pan , smooth the top with an Offset spatula then place chopped pecans all around the top of the brownie batter
Bake for 20 minutes then place some chocolate chips on top (optional) and bake for further 10 minutes. The brownie is ready when the edge looks baked and the middle looks slightly gooey but not raw. Do not over-bake! The brownie will further set as it cools
Sprinkle with sea salt
Let the brownie cool in the 7 inch /18 cm square brownie pan then carefully cut
Store at room temperature or in the fridge for 3-4 days
Notes
INGREDIENT NOTES
Use always unsalted butter in dessert recipes, but make sure you add the salt stated in the recipe as that will balance the sweetness
Use a combination of white and (light or dark) brown sugar for the best texture and beautiful butterscotch flavor
The egg should be used at room temp
Baking powder is not included in this recipe intentionally, so ýour Brownie will turn out wonderfully fudge and gooey
The quality of the chocolate chips along with the quality of cocoa powder will define the taste of your brownies so try to use high-quality ingredients
TECHNIQUE NOTES
Digital scale is required for a consistent, happy baking experience:)
Melt chocolate over a double boiler so you won´t burn it
Always pre-heat your oven and consider using a digital oven thermometer for the best results
Each oven is different so you might need to adjust the baking time slightly
For the best fudge brownie experience consider rather slightly under bake your dessert
Do not attempt to cut the brownie bar while it is still hot, as it further sets as it cools
Nutrition
Calories: 751kcal | Carbohydrates: 78g | Protein: 8g | Fat: 50g | Saturated Fat: 21g | Trans Fat: 1g | Cholesterol: 136mg | Sodium: 326mg | Potassium: 341mg | Fiber: 6g | Sugar: 64g | Vitamin A: 758IU | Vitamin C: 1mg | Calcium: 84mg | Iron: 3mg