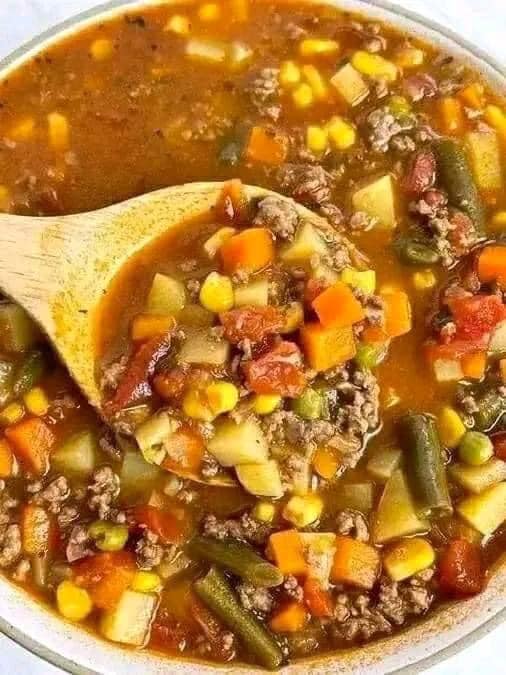 Ingredients
1 lb ground beef
1 small onion finely diced
2 cloves garlic
1 teaspoon salt
2 cups peeled and chopped Yukon yellow potatoes chopped into small pieces (½-inch)
2 cans (14.5 oz each) beef broth
1 can (10 oz) condensed tomato soup
 can (15 oz) petite diced tomatoes do not drain
 bag (16 oz) frozen mixed vegetables
 teaspoon Worcestershire sauce
 teaspoon dried parsley
½ teaspoon dried basil
Instructions
In a soup pot, over medium-high heat, brown the ground beef, onion, garlic, and salt until no longer pink. Break up meat in crumbles as it cooks.
Drain the excess grease.
Add chopped potatoes, beef broth, tomato soup, diced tomatoes, frozen vegetables, Worcestershire sauce, and the seasonings. Stir to combine.
Bring to a boil. Once boiling, cover with a lid and reduce hear to medium-low. Let simmer for at least 30 minutes for the flavors to combine and the soup to become thicker.
Before serving, taste the soup after the simmer time and add additional salt as needed. I usually end up adding a little more.
Leftovers can be frozen for up to 3 months or stored in the fridge, in an air-tight container, for up to 5 days.
Notes:
Potatoes : Yukon yellow potatoes are the best to use and what I prefer. But you can also use red potatoes or russet potatoes as well. Be sure and cut them into really small pieces so they will soften in the 30 minute simmer time.
Garlic : Use fresh garlic cloves that have been minced or pressed, use chopped garlic from a jar, or garlic paste from a tube.
Beef Broth : Using the regular, full salt beef broth for the best flavor. If using lower sodium beef broth, be sure and taste the soup at the end of the simmering time and add additional salt as needed.
Serving Size : This recipe makes 10 cups of soup. Feeds 8 servings of 1.25 cups each serving.