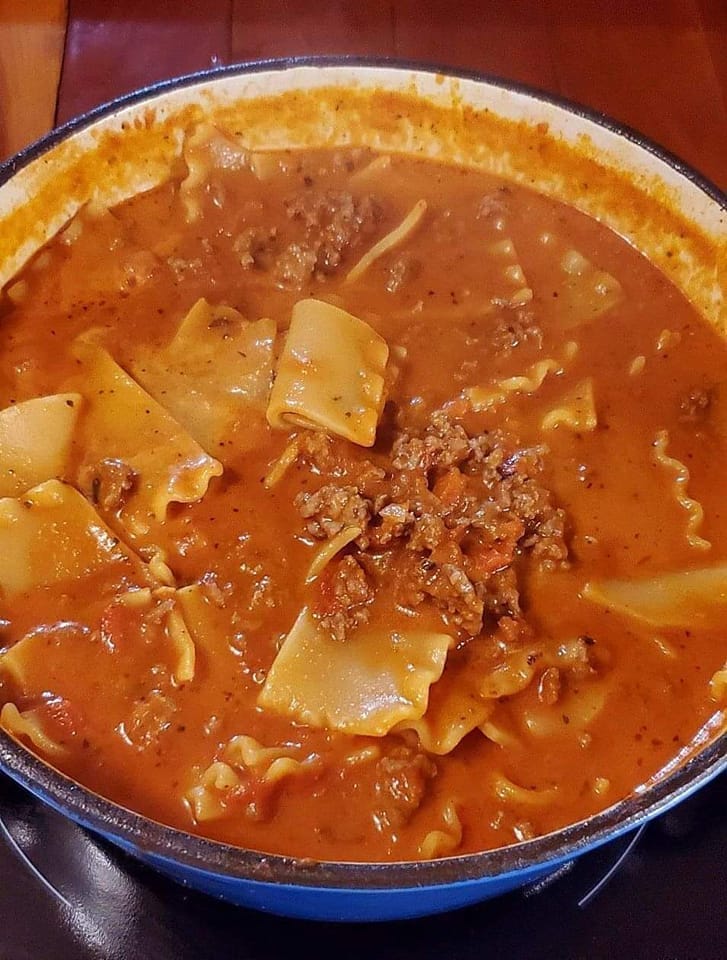 Lasagna is a beloved Italian dish known for its layers of pasta, meaty sauce, and gooey cheese. It's a comforting meal that takes time and effort to prepare, but what if you could enjoy the flavors of lasagna in a fraction of the time? That's where One Pot Lasagna Soup comes in. This recipe takes all the classic elements of lasagna and transforms them into a hearty and flavorful soup that can be made in just one pot. It's a perfect choice for busy weeknights when you crave a comforting meal without spending hours in the kitchen.
Ingredients:
1 lb Beef (Ground)
1 lb Italian Sausage (Ground)
10 Lasagna Noodles
1 Onion (Chopped)
24 oz Jar of Pasta Sauce
4 tsp Garlic (Minced)
8 cup Chicken Broth
2 tbsp Tomato Paste
14 oz Can Diced Tomatoes
1 tsp Sugar
2 tsp Balsamic Vinegar
2 tsp Basil
1 tsp Oregano
1 Bay leaf
Salt and pepper to taste
How To Make One Pot Lasagna Soup:
Add the ground beef , onion and sausage to a large pot over medium high heat, and cook until completely browned. Drain any excess fat.
Return the pot to the stove, mix in the garlic. Saute for 30 seconds.
Pour in the pasta sauce, diced tomatoes, tomato paste, chicken broth, sugar, balsamic vinegar, basil, oregano, bay leaf and salt and pepper to taste.
Cover and bring to a boil.
Break the lasagna noodles into pieces, and place in the pot.
Reduce the heat to medium low and cook until the noodles have softened.
Top with parmesan cheese, mozzarella or ricotta and serve.
Becky's Tips:
Feel free to customize your One Pot Lasagna Soup with additional ingredients like bell peppers, mushrooms, or spinach. Simply sauté them along with the onions and garlic before adding the remaining ingredients.
If you prefer a vegetarian version, substitute the ground beef with plant-based ground meat or a medley of vegetables like zucchini and eggplant.
Leftover soup can sometimes thicken as it sits. If needed, add a splash of chicken broth or water when reheating to bring it back to the desired consistency.
Storage:
One Pot Lasagna Soup can be stored in an airtight container in the refrigerator for up to 3-4 days. If you plan to freeze the soup, do so before adding the cheese. Frozen soup can be stored for up to 3 months. When ready to enjoy, thaw the soup in the refrigerator overnight and reheat on the stovetop or in the microwave until heated through.
Nutrition Information:
The nutritional content of the One Pot Lasagna Soup may vary depending on the specific ingredients used. The following information is an estimate per serving (based on 6 servings) and should be used as a general guideline:
Calories: 380
Fat: 18g
Carbohydrates: 26g
Fiber: 3g
Protein: 28g
Conclusion:
One Pot Lasagna Soup offers a convenient and delicious twist on the classic Italian dish.
Conclusion :
This recipe yields approximately 6 servings, making it ideal for a family dinner or meal prep for the week. Leftovers can be stored in an airtight container in the refrigerator for up to three days, and the flavors will continue to develop over time.
With its rich tomato-based broth, tender noodles, and cheesy goodness, One Pot Lasagna Soup offers all the comforting flavors of traditional lasagna without the hassle of layering and baking. It's a quick and delicious option for busy individuals and families who crave the taste of lasagna on a weeknight. So grab your pot, gather