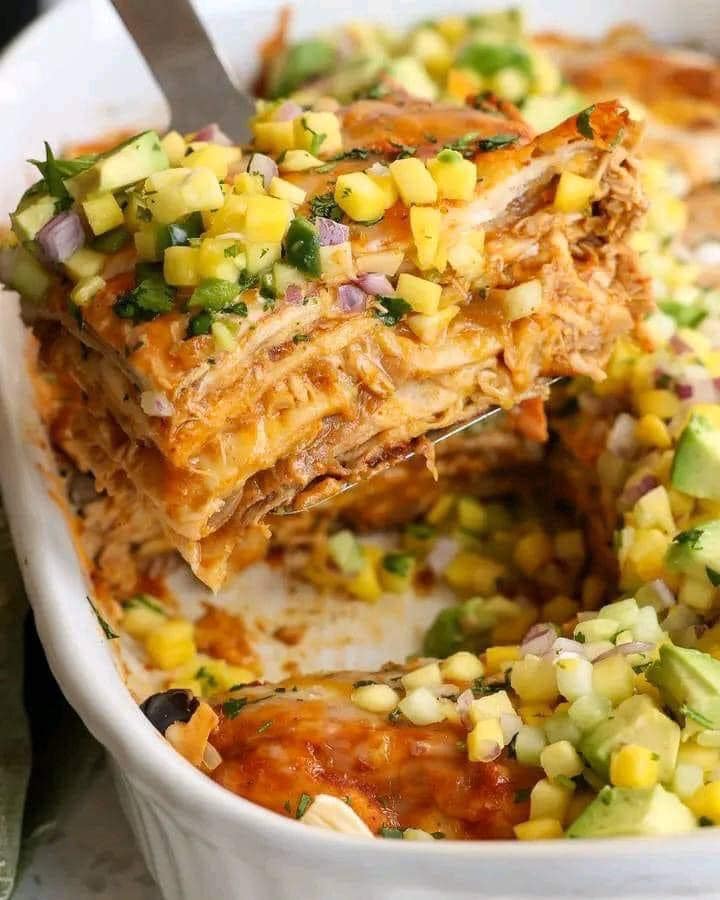 INGREDIENTS
12–14 small flour or corn tortillas
 2 tablespoons olive oil
 1 onion finely chopped
 3 cloves garlic minced
 2 cups enchilada sauce
 1 (15 ounce) can black beans drained and rinsed
 2 ½ cups shredded cooked chicken breast or chicken thighs
 1 ¼ cups shredded cheddar cheese
 1 ¼ cups shredded Monterey Jack cheese
 Chopped cilantro
 Mango salsa ( optional)
 Chopped avocado (optional)
INSTRUCTIONS:
Lightly brown the tortillas in a large dry skillet over medium heat. It only takes about 30 seconds per side. Cut the tortillas in half and set aside for a few minutes.
Preheat oven to 350 degrees. Using the same skillet heat the olive oil over medium heat. Add the onion and cook until soft. Once soft reduce the heat to medium low and add the garlic.
Cook for 1 minute while stirring constantly. Add 1 1/2 cups enchilada sauce to the skillet. Add the black beans and shredded chicken. Mix to combine and heat 2 minutes to meld the flavors.
Spoon 2 tablespoons enchilada sauce into a 9×13 inch casserole dish. Layer with 1/4 of the cut tortillas. Top with 1/3 of the chicken mixture and 1/4 of the shredded cheese mixed.
Repeat 2 more times with 1/4 of the tortillas, 1/3 of the chicken mixture, and 1/4 of the shredded cheeses. End with a layer of tortillas, the remaining enchilada sauce, and the rest of the cheese.
Cover and bake for 30 minutes. Uncover and bake another 10-15 minutes or until the cheese is lightly browned. Let the casserole rest for 5-10 minutes. Top with chopped cilantro, salsa, and chopped avocado. Slice and serve