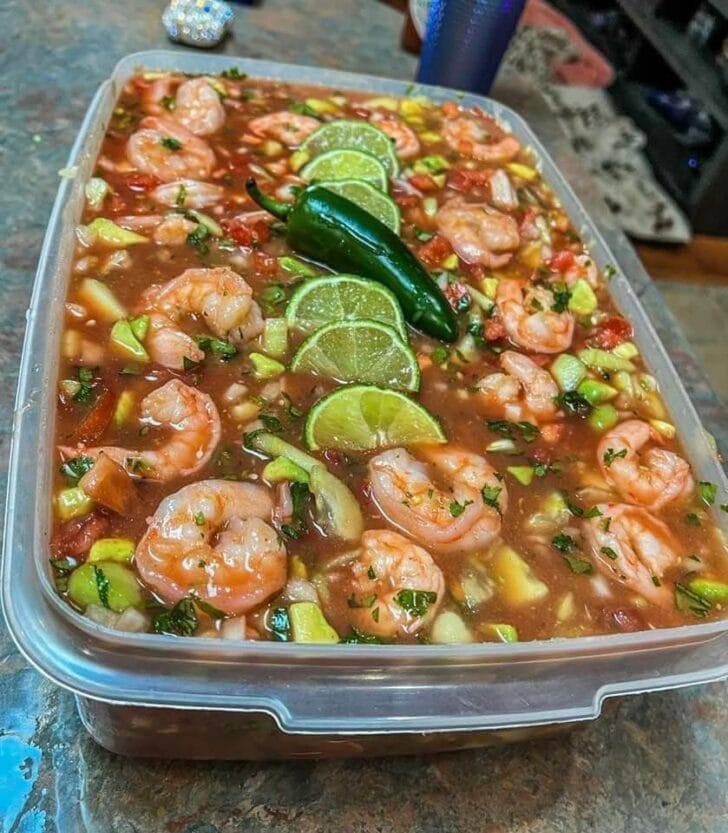 If you're a seafood enthusiast, there's nothing quite as satisfying as indulging in a delicious shrimp cocktail. This timeless appetizer has been enjoyed for decades, and it continues to be a crowd-pleaser at parties and gatherings. With its tantalizing flavors and refreshing presentation, the shrimp cocktail is a true culinary delight. So, let's dive into the recipe, including some helpful notes and valuable nutrition information.
Ingredients
1 ½ pounds of large shrimp, peeled and cleaned
½ cup lemon juice divided
¼ cup finely chopped onion
¼ cup chopped fresh parsley a little more for garnish
½ teaspoon salt
Freshly ground pepper to taste
½ cup mayonnaise , ½ cup tomato sauce
½ teaspoon hot sauce optional
Olive oil to decorate
How To Make Shrimp Cocktail Recipe
Place shrimp in a medium bowl; add ⅓ cup lemon juice. Put in the refrigerator for 30 minutes. Drain the shrimp and discard the lemon juice.
In a medium saucepan over medium high heat, place the water and salt. When it starts to boil add the shrimp and turn off the heat.
Let the shrimp in the water just until they are cooked, 3 to 5 minutes. Remove the shrimp to a plastic container and refrigerate.
In a small bowl, combine onion, remaining lemon juice, ketchup, mayonnaise, pepper, hot sauce, and parsley.
Add the shrimp and serve in glass bowls over the lettuce. Serve with crackers and garnish with olive oil and parsley.
Nutrition Information
Here's a general overview of the approximate nutrition information for the shrimp cocktail recipe per serving (including the sauce):
Calories: 150-180
Total Fat: 1-2g Cholesterol: 180-200mg Sodium: 500-700mg
Carbohydrates: 12-15g Fiber: 0-1g Sugar: 8-10g Protein: 20-25g
Please note that the nutrition information may vary depending on the specific ingredients and brands used. The values provided are meant to serve as