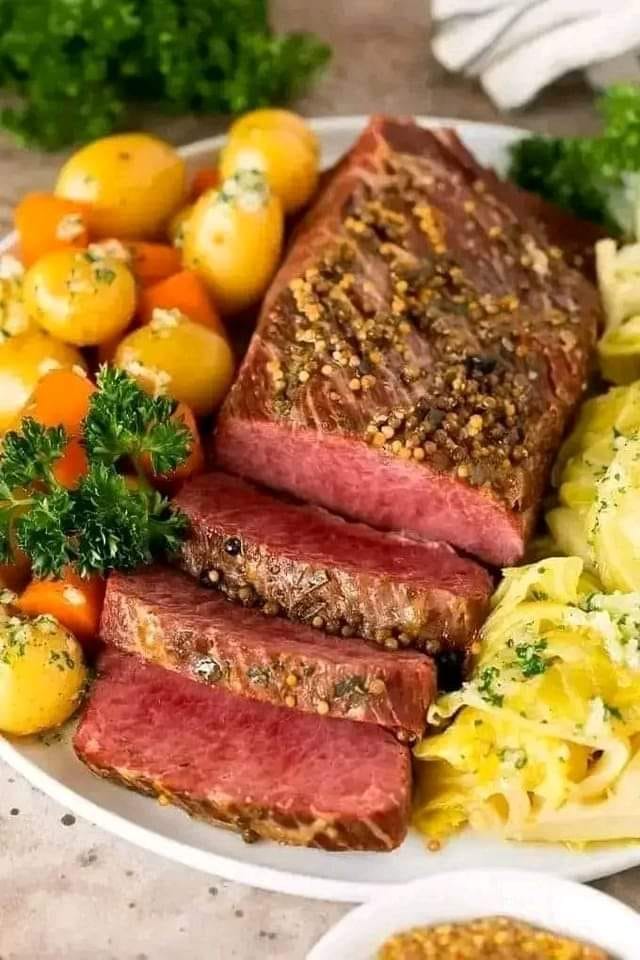 Prep Time20 minutes Cook Time1 hour 40 minutes
Total Time2 hours Servings6 Instant Pot Corned Beef
Ingredients
1 corned beef brisket 3-5 lbs, look for a size that will fit in your pot
1 onion peeled and cut into wedges
4 whole garlic cloves lightly smashed
4 carrots peeled and cut into large chunks
1 pound small yellow potatoes whole or halved, your choice
1/2 head green cabbage cut into 6 wedges
3 tablespoons butter
1 teaspoon garlic minced
1 tablespoon chopped parsley
salt and pepper to taste
grainy mustard for serving optional
Instructions:
Remove the corned beef from the package. Rinse with cold water and pat dry with paper towels.
Place the onions and garlic cloves at the bottom of an Instant Pot.
Set the corned beef on top of the onions.
Add the seasoning packet on top of the meat if your corned beef came with a packet.
If there's no packet, you can skip this step.
Pour 4 cups of water into the pot.
Seal the lid, then set the Instant Pot to manual pressure cook on high for 90 minutes.
Carefully release the pressure using the quick release method as described in the Instant Pot owners manual.
Remove the corned beef, onions and garlic from the pot.
Discard the onions and garlic, and place the meat on a plate.
Cover to keep warm.
Place the carrots, potatoes and cabbage into the liquid in the pot.
Seal the pot, then cook on manual high pressure for 5 minutes.
Carefully quick release the pressure.
Place the butter, garlic, parsley and salt and pepper in a small bowl.
Microwave in 30 second increments or until melted.
Remove the vegetables and potatoes from the pot.
Arrange around the corned beef.
Drizzle the garlic butter over the potatoes and vegetables.
Slice the meat against the grain, then serve with mustard if desired.
Notes
Most packaged corned beef contains a packet of spices to sprinkle over the meat when it cooks. If your meat does not come with a packet, you can use 1-2 teaspoons of pickling spice instead, or simply omit the ex