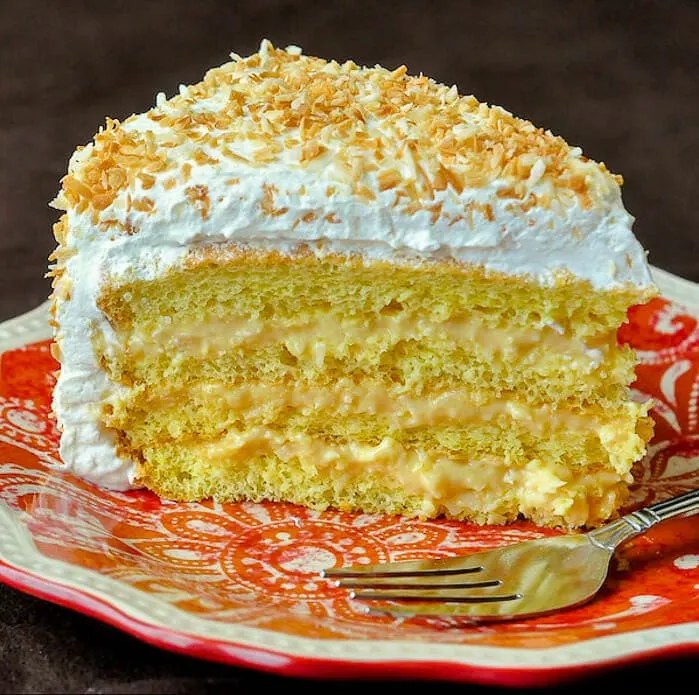 Ingredients
For the Sponge Cake:
1 cup flour
1 tsp baking powder
6 eggs separated, room temperature
1/4 tsp cream of tarter
1 cup sugar, separated in 2 half cups
2 tsp vanilla extract
1/2 tsp lemon flavoring, optional
For the coconut cream filling
3 cups whole milk
1/3 cup flour
2/3 cup sugar
pinch of salt
1 cup unsweetened fine coconut
3 slightly beaten extra large egg yolks
4 tbsp butter
2 tsp vanilla extract
1/4 tsp pure almond extract
2 oz coconut rum, optional
For the Vanilla Whipped Cream
2 cups whipping cream
2 tsp vanilla extract
6 tbsp icing sugar, i.e. powdered sugar
1/2 cup additional dried coconut to toast for garnish
Instructions
For the Sponge Cake:
Grease and flour two 9 inch cake pans and line the bottoms with parchment paper circles for easy release.
Sift together the flour and baking powder and set aside.
For the meringue base of the batter, beat egg whites and cream of tarter until foamy.
Add ½ cup sugar gradually until egg whites are stiff.
Beat egg yolks and ½ cup sugar until foamy and thickened.
Fold beaten egg yolks into the beaten egg whites along with the vanilla (and lemon) for only a few turns before slowly and gradually folding in the flour and baking powder mixture very gently BY HAND using a rubber spatula until just incorporated into the meringue mixture.
I mix in the dry ingredients in 3 equal portions.
Do not over mix, you just want the flour to be incorporated; over mixing will deflate the egg whites and result in a tough textured final product.
Pour into greased and parchment paper lined 9 inch round cake pans and bake at 325 degrees F for 25-30 minutes or until center springs back when touched.
Turn onto a wire rack to cool completely.
When completely cool use a serrated knife to cut the two layers into four.
To prepare the coconut cream filling
Scald the milk in the microwave or on the stove top to just below boiling point.
Microwave works best as there is no chance of burning the milk.
Meanwhile, in a saucepan combine the flour, sugar, salt and coconut.
Over medium low flame slowly add 1 cup of the scalded milk tot he flour and sugar mixture, whisking constantly.
As you notice the filling beginning to thicken, add another cup of the scalded milk continuing to stir constantly until it begins to thicken again.
Add the final cup of scalded milk, stirring constantly.
Continue to cook over medium low heat until mixture begins to slightly thicken.
At this point remove from heat and pour about a half cup of this mixture onto the beaten egg yolks whisking constantly.
Pour the egg mixture immediately back into the pot, continuing to constantly stir.
Cook for an additional two or three until the filling reaches pudding consistency and remove from the flame. The mixture should just be beginning to boil at this point.
Stir in the butter vanilla and almond extracts.
Chill for about 3 hours or until completely cooled before splitting the layers of cake in half as instructed above and filling the inside 3 layers of the cake with the coconut cream filling.Optionally, you can sprinkle some coconut rum over each of the cake layers before adding the filling.
I use about 1/2 ounce of coconut rum per layer of cake.Frost the entire outside of the cake with vanilla whipped cream.