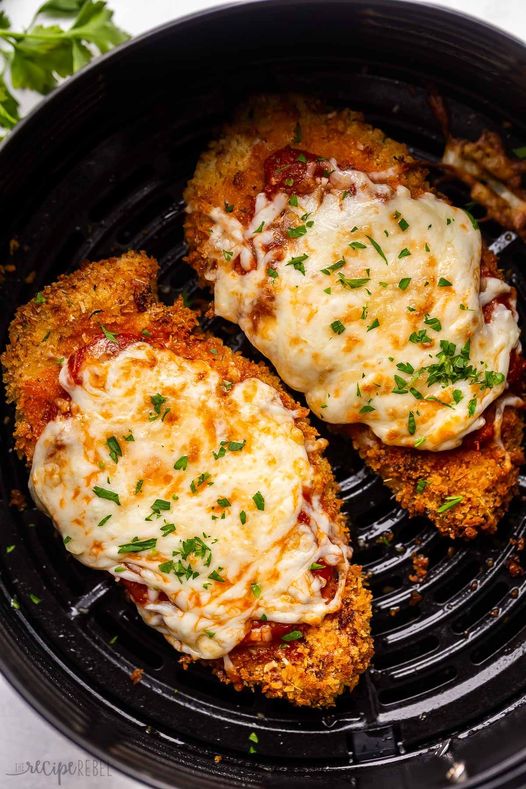 INGREDIENTS
▢1 boneless skinless chicken breast (or two small)

▢¾ cup Panko bread crumbs

▢¼ cup + 1 tablespoon grated Parmesan cheese

▢½ teaspoon Italian seasoning

▢¼ cup tomato sauce (seasoned tomato pasta sauce)

▢½ cup shredded mozzarella cheese
INSTRUCTIONS
Preheat air fryer to 400 degrees F.

Split chicken breasts (butterflying them) to make two thinner pieces. Simply place your chicken breasts on a cutting board and place one hand flat on top. Use a sharp knife to cut the chicken breast in the middle all the way through. Pat dry with paper towel.

Whisk eggs together in a large shallow dish.

In another large shallow dish, combine bread crumbs, ¼ cup Parmesan, Italian seasoning, salt, paprila and black pepper.

Coat chicken in egg mixture, and allow excess to drip off.

Coat chicken in Panko mixture, pressing firmly to make sure they adhere well.

Spray the air fryer basket with non-aerosol oil spray. Spray both sides of the chicken with oil spray as well and place into the air fryer.

Cook for 5 minutes per side, until light golden.

Top each with half of the tomato sauce and mozzarella. Divide remaining 1 tablespoon Parmesan between the two and cook another 2 minutes or until cheese is melted. Check that the internal temperature has reached a minimum of 165 degrees F. Serve.