This recipe for Eggs, Bacon, and Toast is perfect for a delightful breakfast, and it can be easily prepared in your air fryer in no time at all.
Pinch of ground black pepper (optional)
Spread butter on one side of each bread slice, and place the buttered side down in the air fryer basket.
Create a ring with the bacon on top of each bread slice to form a dam for the eggs.
Pour one egg inside each bacon dam and sprinkle a pinch of black pepper on top.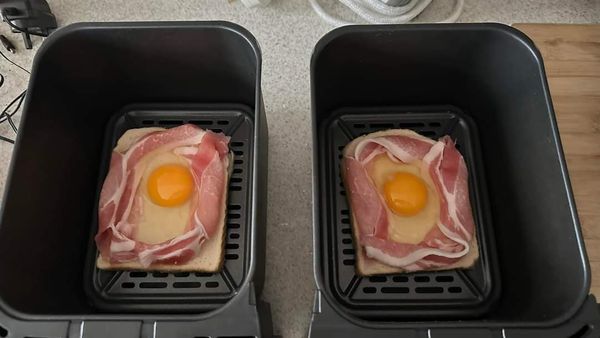 Air fry at 350°F / 177°C for 8 minutes.
I do not recommend using extra-large eggs for this recipe, as they may spill over the bacon dam more than the large eggs I used.
Medium eggs can be used, but I recommend reducing the temperature to 330°F and cooking for 8-10 minutes.
The eggs in this recipe are fully cooked. If you prefer runny eggs, you may want to cook them for 6 minutes.
Calories: 214 kcal | Carbohydrates: 5.9g | Protein: 11.3g | Fat: 16.6g | Saturated Fat: 6.1g | Cholesterol: 184mg | Sodium: 386mg | Potassium: 69mg | Fiber: 0.2g | Sugar: 0.7g | Calcium: 37mg | Iron: 1mg