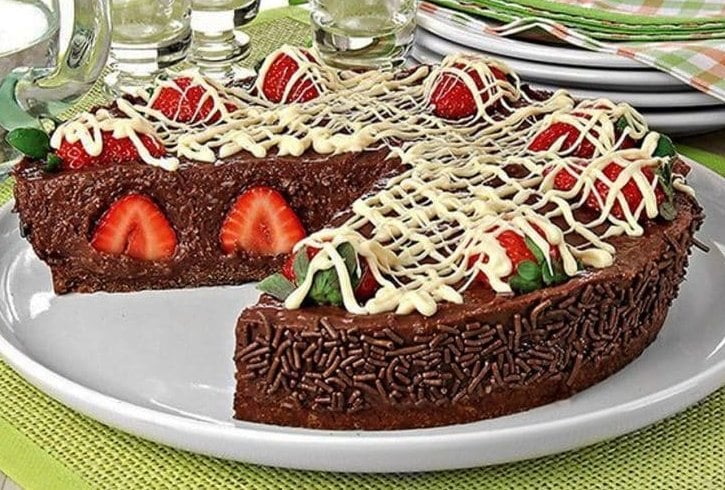 INGREDIENTS
1 package of crushed biscuits (200g)
2 tablespoons of butter
1 egg white
Strawberries cut in half and chocolate sprinkles to decorate
100g melted white chocolate
Filling
2 cans of condensed milk
4 tablespoons cocoa powder
2 tablespoons of butter
1 tablespoon unflavored unflavored gelatin powder
3 tablespoons of water
1 box of cream (200g)
15 whole strawberries cleaned
Method of preparation
Mix, in a bowl, the biscuit, the butter and the egg white until it forms a homogeneous mass, which releases from the hands.
Line the bottom of a 24cm springform tin. With a fork, make holes in the dough and place in a high oven (200º C), preheated, for 10 minutes.
Reserve. For the filling, in a pan, mix the condensed milk, chocolate powder and butter.
Take to the low fire, stirring until it thickens and releases from the bottom of the pan.
Hydrate the gelatin in the water and join the brigadier, stirring until completely dissolved.
Add the cream and let it cool.
Spread some of the stuffing over the dough. Accommodate the whole strawberries over the stuffing, covering the bottom.
Cover with the remaining stuffing and refrigerate for 4 hours.
Decorate with strawberries cut in half and white chocolate, in thread.
Decorate the side with sprinkles and serve immediately.