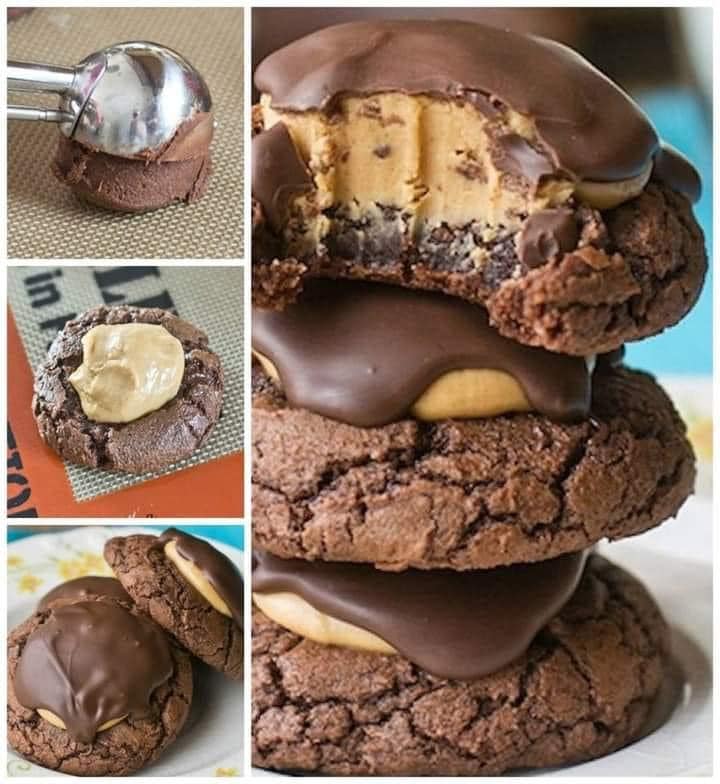 These Buckeye Cookies are so easy to make! Fudgy Chocolate Cookies stuffed with peanut butter. Made from scratch!
Ingredients
peanut butter filling
½ cup peanut butter, creamy (125g)
¼ cup powdered sugar, sifted (30g)
chocolate cookies
½ cup butter, melted (113g)

½ cup white sugar (100g)

¼ cup brown sugar (50g)

1 large egg

1 vanilla bean* (or 1 tsp vanilla extract)

1+¼ cups all-purpose flour (150g)

½ cup dutch-processed cocoa (42g)

½ tsp baking powder

½ tsp salt
Instructions
In a large mixing bowl, whisk peanut butter and powdered sugar until combined. Scoop 12 peanut butter balls and freeze until you are done with the cookies. Make sure that you get 12 evenly sized peanut butter balls. Using a kitchen scale and dividing by 12 is the most accurate method.

Preheat oven to 350°F (175°C). Line two baking sheets with parchment paper. Set aside. 

In a large mixing bowl, using a handheld or stand mixer fitted with a paddle or whisk attachment, stir butter and sugars on medium speed just until combined about 1 minute. Add egg and vanilla* and stir to combine. Stir in flour, cocoa, baking powder, and salt just until combined. Don't overmix at any step. 

Scoop 12 equally sized balls of cookie dough and place 6 cookie dough balls on each baking sheet with about 2-3 inch space in-between. Flatten the cookie balls with your fingers to about ¼-1/2 inch. Remove peanut butter balls from the freezer. Place one peanut butter ball in the center of each cookie and fold the sides of the cookies up the sides of the peanut butter balls but let about ½ inch hole left on top that the peanut butter is visible. Watch the video and look at the photos for better understanding. Bake one sheet after another for about 10-11 minutes. 

Remove the cookies from the oven when the cookie dough looks puffy and dry on top. Let cool for about 5 minutes until they are firm enough to move them. Then transfer the cookies to a cooling rack and let cool completely. The cookies will stay fresh in an airtight container at room temperature up to 4 days.
Notes
*First, cut off the straight end of the vanilla bean. Then place the tip of your sharp knife below the curled end and cut the vanilla bean through the middle of the bean lengthwise. Although you don't need to cut it all the way through, it's ok when you do so. Then open the vanilla bean and scrape out the flavorful seeds with the back of your knife. Just use the seeds.