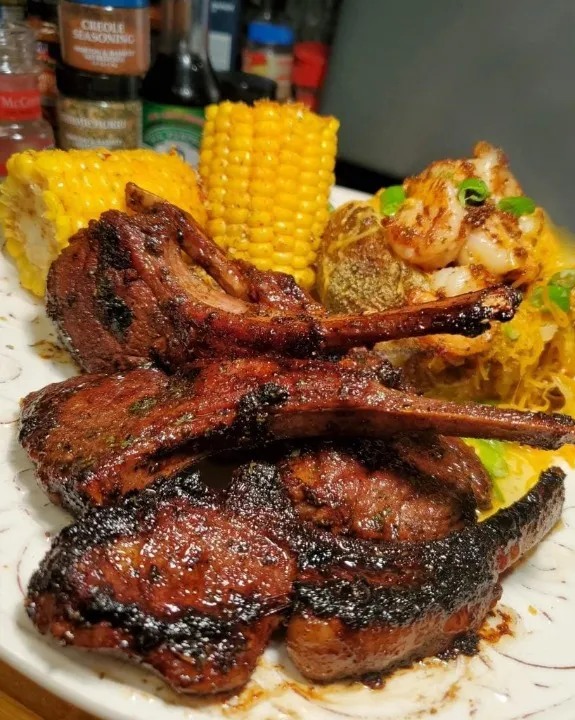 ender and delicious Ribeye Steak cooked to a juicy perfection! Seasoned with fresh herbs, then cooked in a cast-iron skillet and basted with garlic butter, everyone will love this easy steak recipe!
Ingredients:
1 (24-oz) 2-inch-thick rib-eye steak, at room temperature
Kosher salt and freshly ground black pepper to taste
1 tbsp canola oil
3 tbsp of unsalted butter
3 garlic cloves, crushed
3 sprigs fresh thyme
2 sprigs of fresh rosemary
Directions:
-Pat dry the steak with paper towels.
-Rub the steak with 1/2 tsp of pepper and 1 1/4 tsp of salt.
-Place a cast-iron pan on the stove and turn the heat to medium-high.
-Add oil and allow it to become hot.
-Put the steak into the hot pan and cook each side for about 3 minutes in 12 minutes until dark brown.
-Turn the heat down to medium-low.
-Set aside the steak on one side of the pan, then add butter, thyme, rosemary, and garlic. Allow the butter to melt for a minute.
-Spoon the melted butter over the steak and cook for another 2 minutes. Make sure to flip the steak to glaze the other side with butter as well. Cook the steak to your preference.
-Remove from the pan and transfer the steak onto a clean cutting board. Allow it to rest for at least 16 minutes.
-Slice into bite-size pieces.
-Serve and enjoy!