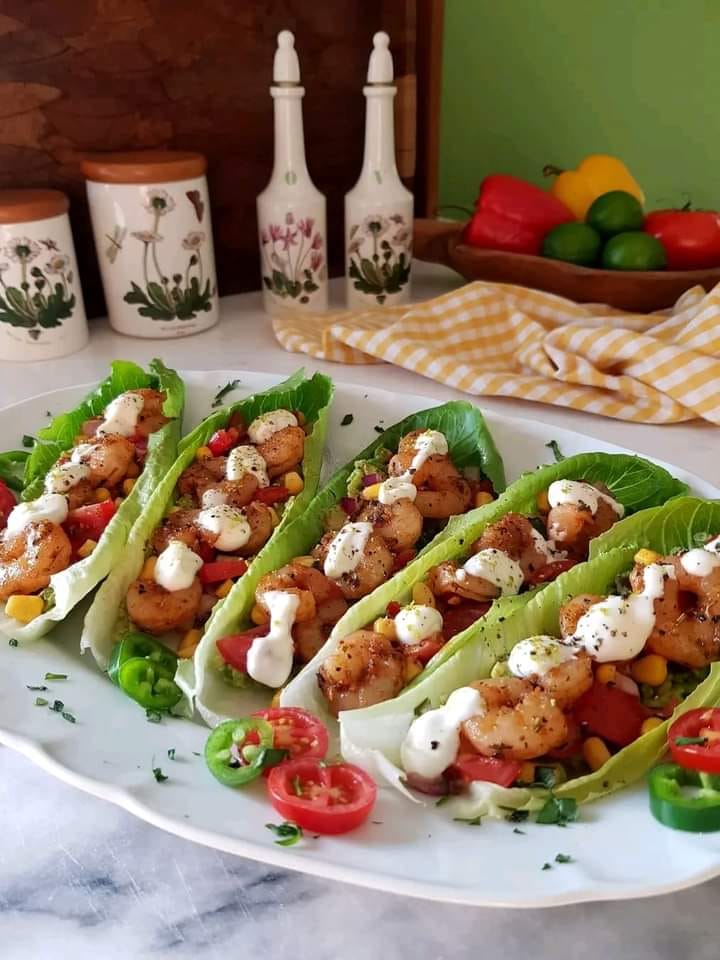 Ingredients 
Shrimp:
500g/17.6oz Shrimp (fresh or frozen)
1 Pkt Taco Seasoning
1/3 Cup Olive Oil
Juice of 1 Lime (2Tbls)
Salad:
8 or 9 Lettuce Leaves
200g/7oz Cherry Tomatoes, small dice
1/2 Small Onion, finely chopped
1/2 Cup Sweet Corn
1/4 Tsp Garlic Powder
2 Tbls Olive Oil
2 Tbls Fresh Chopped Parsley
Salt and Pepper
Avocado Mash:
2 Avocados
1/2 Lime, juiced
Sour Cream Sauce:
1 Jar (170g/6oz) Sour Cream or 3/4 Cup Greek Yogurt
1/2 Lime, zest + juice
1/2 Tsp Sugar
Method:
Shrimps-
In a bowl, combine the shrimp, olive oil, taco seasoning and lime juice. Allow to marinate for 30 minutes.
In a large skillet over medium heat saute the shrimp for a few minutes on both sides until cooked. Then add remaining marinade which was left in the bowl and stir through just until the shrimps are covered in the sauce.
Salad-
In a bowl add the cherry tomatoes, onions, sweetcorn, parsley, olive oil, salt and pepper and mix together.
Avocado Mash-
In a medium bowl, add in the avocados, lime juice and salt to taste and give them a rough mash.
Sour Cream Sauce-
Whisk all ingredients together. Taste and adjust anything if needed.
Assembly–
Wash and pat dry lettuce leaves.
Spoon and spread with avocado mash on top of lettuce leaves. Top with cherry tomato filling, shrimps, sour cream sauce and garnish with lemon zest, ground pepper and cilantro or parsley.
Enjoy!