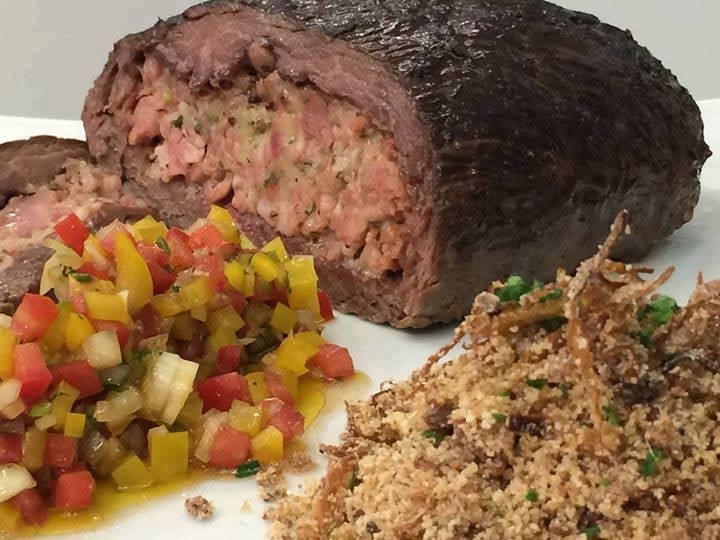 Ingredients
beer butter
1 tablespoon oil
4 minced garlic cloves
1 can of dark beer (350 ml)
100 g chilled salted butter (1/2 cup)
Filling
500 g Tuscan sausage, blanched (for 5 minutes) and skin removed
200 g grated curd cheese
chopped parsley to taste
Meat
600 g flank steak cleaned and seasoned with salt and black pepper to taste
beer butter
2 onions cut in half moons
250 g raw cassava flour
Preparation
beer butter
In a pan with 1 tablespoon of oil, sauté the chopped garlic cloves. Add 1 can of stout and boil until reduced to +/- ¼ of the original liquid (+/- 10 minutes). Turn off the heat, add the chilled salted butter and let it melt. Reserve.
Filling
Place the scalded skinless Tuscan sausage in a bowl, the grated coalho cheese, finely chopped parsley to taste and mix.
Meat
1- Place the clean flank steak on a surface (already seasoned with salt and pepper to taste) and rub a little beer butter all over the meat. In the center of the meat put the sausage mixture and fold the ends forming a package.
2 – In a baking dish, spread the onions cut into half moons. Place the meat with the fold down on top of the onion. Brush some of the beer butter and place in a preheated high oven at 220°C for +/- 30 minutes, brushing the rest of the butter on the meat every 10 minutes until the meat is finished roasting. Remove meat from roasting pan and set aside covered with aluminum foil for at least 20 minutes before slicing.
3 – Place the roasting pan (with the onions, spices and broth that formed) over medium heat and let the broth dry and the onion brown (+/- 10 minutes). Add the raw cassava flour, mix and let it toast (+/- 5 minutes). Remove from the heat and serve immediately with the sliced meat.