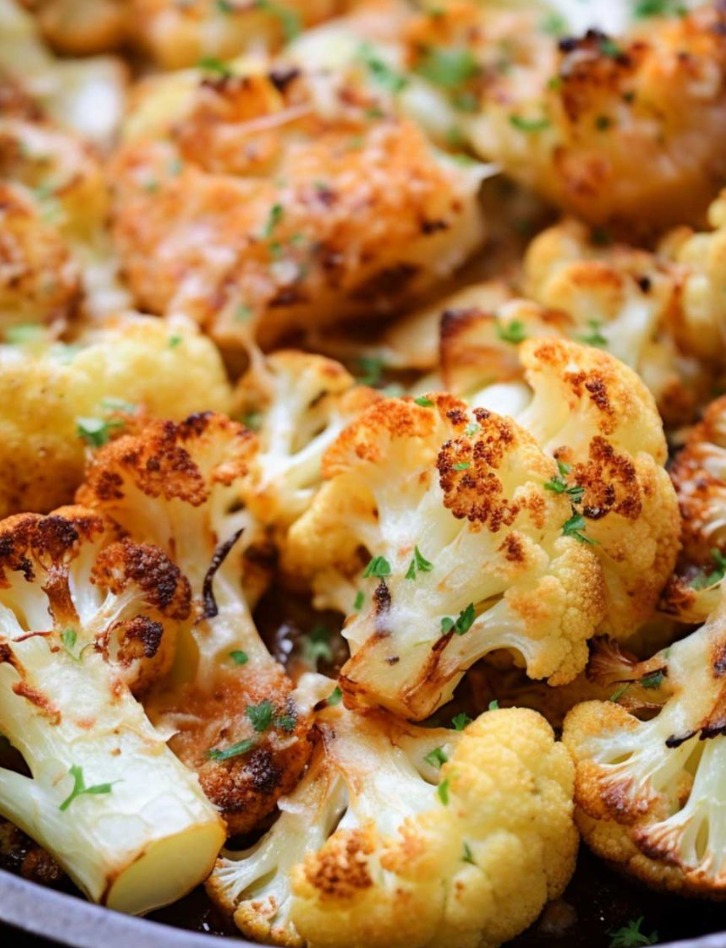 Served this at a party the other day, and everyone raved about how good this tasted.
Plus, it's only 4 ingredients
Step into the world of tantalizing flavors with the Parmesan Roasted Cauliflower—a dish that paints a harmonious portrait of cauliflower's subtle nuances with Parmesan's robustness.
Transforming the humble cauliflower, this recipe accentuates its inherent sweetness through roasting, giving it a golden crisp.
Paired with the rich nuttiness of Parmesan, this dish stands as an ode to the ingenious ways of making the most of cauliflower in cooking.
Its incredible flavor profile makes it a match made in heaven with diverse main courses.
Whether it's roasted chicken, succulent baeef tenderloin, or a grilled fish, this roasted cauliflower dish enhances the dining experience.
And if you're leaning toward a vegetarian meal? Serve it as the star of the show with some crunchy salad and warm bread on the side. Its adaptability guarantees it'll be a hit regardless of the setting.
Ingredients:
1 full cauliflower, separated into florets
2 tablespoons of olive oil
A generous 1/4 cup of finely grated Parmesan
2 tablespoons of dry ranch seasoning
Procedure
Set your oven to warm up at 425°F (220°C). Meanwhile, get a baking tray ready with parchment paper.
Mix cauliflower florets with olive oil and dry ranch seasoning in a large bowl, ensuring an even coat.
Bake for 15 minutes. Remove and garnish with Parmesan.
Return to bake for another 10 minutes, or until you get the desired crispness.
Finish by placing your beautifully roasted cauliflower in a dish, sprinkling more Parmesan if your heart desires.
Serve promptly and savor the flavors!
Looking for a dish that truly stands out? The Parmesan Roasted Cauliflower, with its seamless blend of flavors and textures, will never disappoint. Whether as a hearty side or a main, this dish is a delightful journey of taste. Go ahead, let this dish work its magic on your dining table!