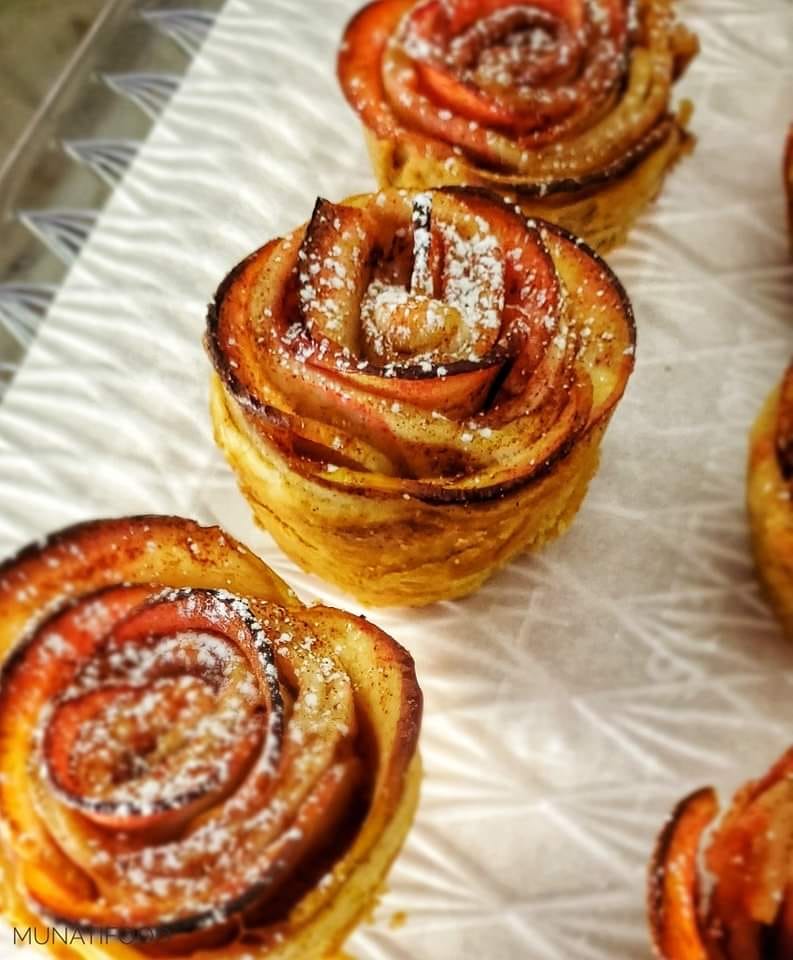 Looking to impress your guests with a delightful treat? Try these Mini Apple Roses in Flaky Puff Pastry! 
If you're a fan of beautifully presented desserts that taste as good as they look, this recipe is a must-try. These mini apple rose pastries are not only a feast for the eyes but also a burst of sweet, cinnamon-spiced apple flavor in every bite. 
Ingredients:
 1 sheet of puff pastry, thawed
 2-3 apples (red or green)
 Juice of half a lemon
 2 tablespoons apricot jam or apple jelly
 2 tablespoons water
 1/4 cup granulated sugar
 1 teaspoon ground cinnamon
 A pinch of nutmeg (optional)
 Powdered sugar for dusting
Instructions:
• Preheat your oven to 375°F (190°C) and line a muffin tin with parchment paper or lightly grease it.
• Slice the apples thinly, leaving the skin on, and place them in a microwave-safe bowl.
Squeeze lemon juice over the apple slices to prevent browning, then microwave for about 2 minutes until they become pliable.
• Roll out your thawed puff pastry sheet on a lightly floured surface into a rectangle. Cut it into strips about 2 inches wide.
• In a small saucepan, heat the apricot jam (or apple jelly) with water until it becomes a glaze. Remove from heat.
 Spread a thin layer of the glaze on each strip of puff pastry.
 Sprinkle sugar, cinnamon, and a pinch of nutmeg (if desired) over the glazed pastry strips.
 Arrange the apple slices, slightly overlapping, along the top half of each strip, with the curved edge of the slices poking out.
 Carefully fold the bottom half of the pastry strip over the apple slices.
 Roll each strip into a rose shape and place it in the muffin tin.
 Bake for 25-30 minutes or until the pastry is golden brown and the apple slices are tender.
 Remove from the oven and let them cool slightly. Dust with powdered sugar for that final touch of elegance.
Enjoy!