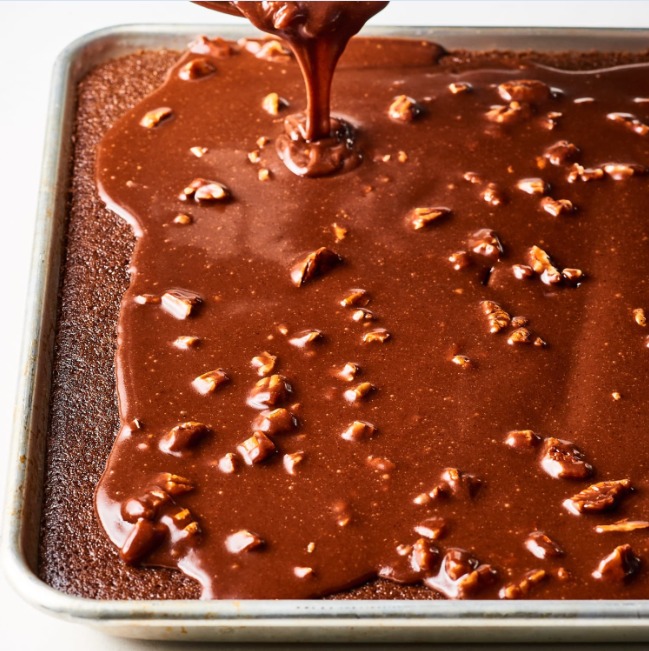 Ingredients
For the Cake:
2 cups all-purpose flour
1 3/4 cups granulated sugar
 teaspoon baking soda
1 teaspoon fine sea salt
1 cup unsalted butter cut into tablespoons
1/3 cup cocoa powder
1 cup brewed coffee
1/2 cup buttermilk
2 large eggs, slightly beaten
1 1/2 teaspoon pure vanilla extract
For the Icing:
1 1/2 cup toasted pecan halves, roughly chopped (optional)
3/4 cup unsalted butter
1/3 cup cocoa powder
1/3 cup whole milk
1/4 teaspoon + a pinch fine sea salt
3 cups powdered sugar
1 teaspoon pure vanilla extract
Instructions
For the Cake:
Preheat the oven to 350° and have ready a greased jelly roll pan (10 1/2″ x 15 1/2″) lined with parchment paper to fit. If you do not have a jelly roll pan, use greased 9″x13″ casserole dish, and see notes below.
In a large mixing bowl, whisk together flour, sugar, baking soda, and salt. Set aside until ready to use.
Add butter, cocoa, and coffee to a saucepan over medium-high heat and bring to a boil, stirring occasionally. Once the mixture reaches a boil, whisk for 30 seconds and pour over the flour mixture. Stir until evenly mixed.
In a small bowl or measuring pitcher, combine buttermilk, eggs, and vanilla. Add the buttermilk mixture to the bowl and stir to combine.
Pour the batter into the pan and smooth over the top. Bake for 22-25 minutes, or until the center springs back slightly when gently poked. Start on the icing as soon as the cake comes out of the oven.
For the Icing:
While the cake is baking, toast the pecans (if using). Add the pecan halves to a dry pan over medium-low heat and cook for 3-4 minutes, stirring occasionally. Remove from the heat as soon as the pecans become fragrant. Do not allow to burn. Set aside until ready to use.
Once the cake is out of the oven, add the butter, cocoa, milk, and salt to a large saucepan over medium heat and stir. Allow butter to melt, then stir in the powdered sugar, until smooth and add the vanilla.
If using pecans, add about 2/3 of them now.
Pour the icing over the warm cake and spread to the edges. Sprinkle the remaining pecans evenly over the top, if using.
Set aside and allow the icing to set. Serve and enjoy.