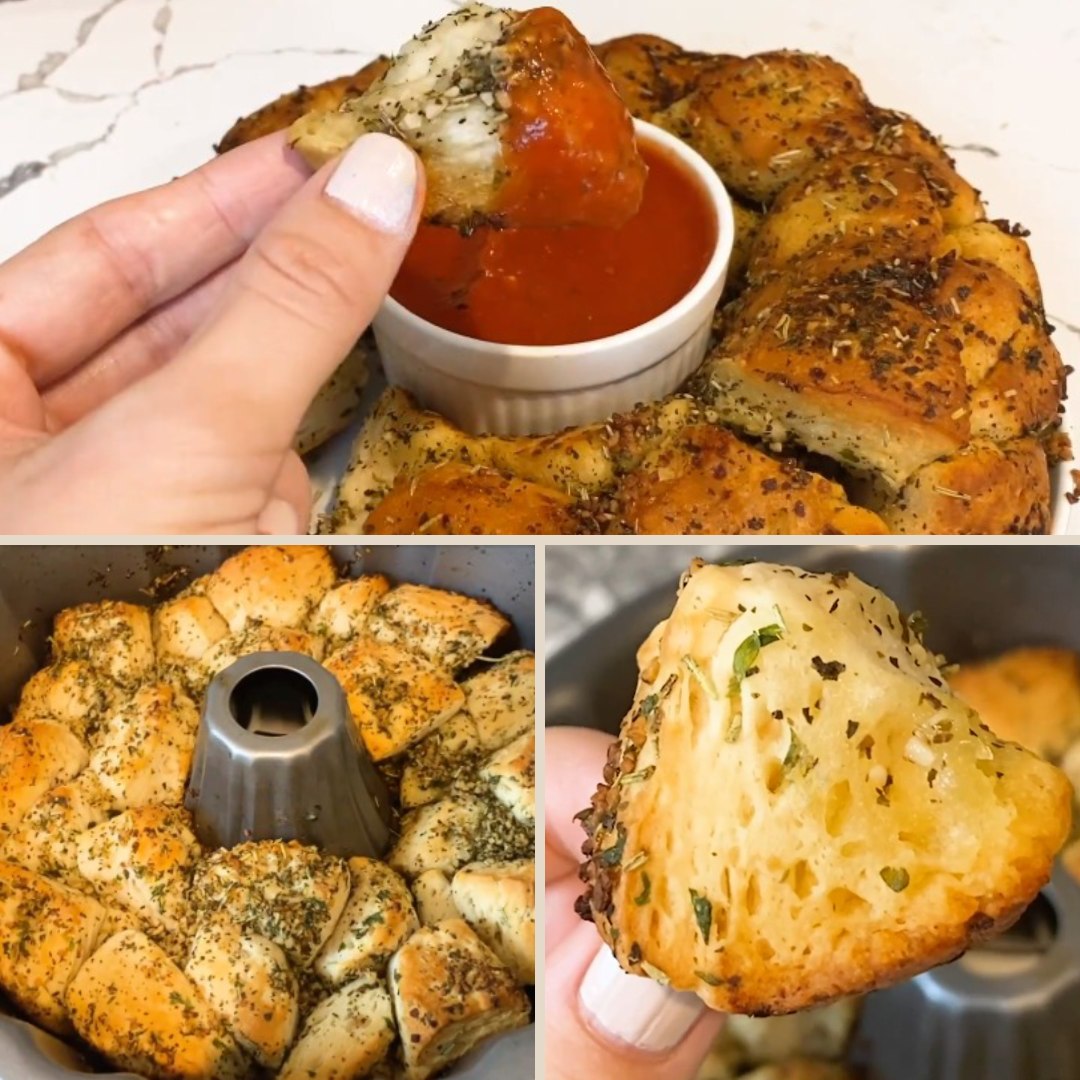 Ingredients:
1 pound (450g) all-purpose flour

2 1/4 teaspoons (1 packet) active dry yeast

1 cup (240ml) warm milk

1/4 cup (60ml) warm water

1/4 cup (50g) granulated sugar

3 tablespoons (42g) unsalted butter, melted

2 teaspoons salt

2 cloves garlic, minced

2 tablespoons fresh parsley, chopped

1 tablespoon fresh thyme leaves

1 tablespoon fresh rosemary, chopped

1/2 cup (60g) grated Parmesan cheese

Olive oil, for brushing
Directions:
In a large mixing bowl, combine the warm milk and warm water. Sprinkle the active dry yeast over the liquid and let it sit for about 5 minutes until foamy.
Add the flour, granulated sugar, melted butter, and salt to the yeast mixture. Mix until the dough comes together.
Transfer the dough to a floured surface and knead for about 5-7 minutes until it becomes smooth and elastic.
Place the dough in a greased bowl, cover with a damp cloth, and let it rise in a warm place for 1 to 1.5 hours or until doubled in size.
Preheat your oven to 375°F (190°C). Grease a 9×5-inch (23x13cm) loaf pan.
Punch down the risen dough and transfer it to a floured surface. Roll the dough into a rectangle.
In a small bowl, mix together minced garlic, chopped parsley, thyme, rosemary, and grated Parmesan cheese.
Brush the rolled-out dough with olive oil and sprinkle the garlic-herb mixture evenly over the surface.
Cut the dough into 6 strips lengthwise, then stack the strips on top of each other.
Cut the stack of strips into 6 equal squares.
Carefully place the squares into the greased loaf pan, arranging them vertically so the layers are visible.
Cover the pan with a damp cloth and let it rise for another 20-30 minutes.
Bake the bread in the preheated oven for 25-30 minutes or until golden brown on top.
Allow the bread to cool slightly before serving. Enjoy the delight of tearing and sharing this flavorful Garlic and Herb Pull-Apart Bread!
Prep Time: 30 minutes | Rising Time: 1.5 hours | Baking Time: 30 minutes | Total Time: 2 hours
Kcal: 250 kcal | Servings: 8 servings