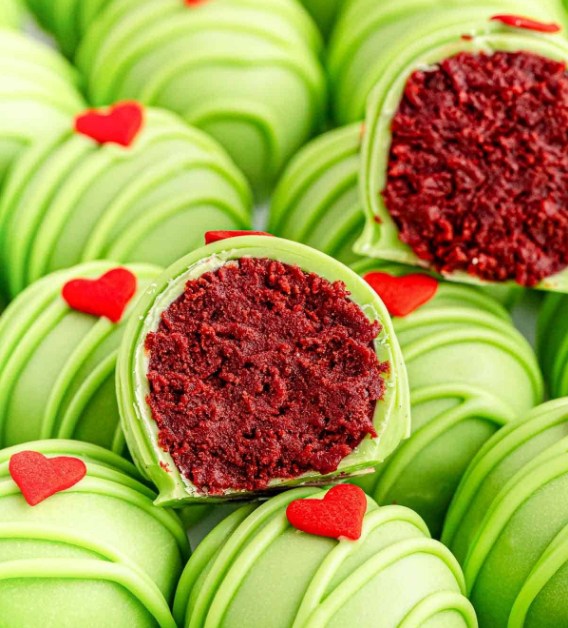 Ingredients:
24.4 ounces Red Velvet Oreo Cookies (2 packages, 44 cookies)
8 ounces Cream Cheese, softened to room temperature
15 ounces Light Green Candy Melts
Red Candy Hearts
Instruction:
Line a large baking sheet with parchment paper.
Pulse the Oreo cookies in a food processor until they turn into fine crumbs.
In a large mixing bowl, blend the softened cream cheese with an electric hand mixer until smooth.
Mix the Oreo crumbs into the cream cheese until well combined.
Use a 1.5" cookie scoop to scoop the mixture, then roll into smooth balls with your hands and place them on the prepared baking tray.
Chill the balls in the refrigerator for at least 2 hours to maintain their shape during dipping.
Melt the candy melts in a double boiler, ensuring not to overheat or allow water to mix with the candy.
Dip each ball into the melted candy using a fork or toothpick, allowing excess to drip off, and place them back on the baking sheet.
Optionally, drizzle any leftover melted candy over the balls or use reserved candy melts for drizzling, and immediately top with a red candy heart before the drizzle sets.
Allow them to set completely in the refrigerator before serving.