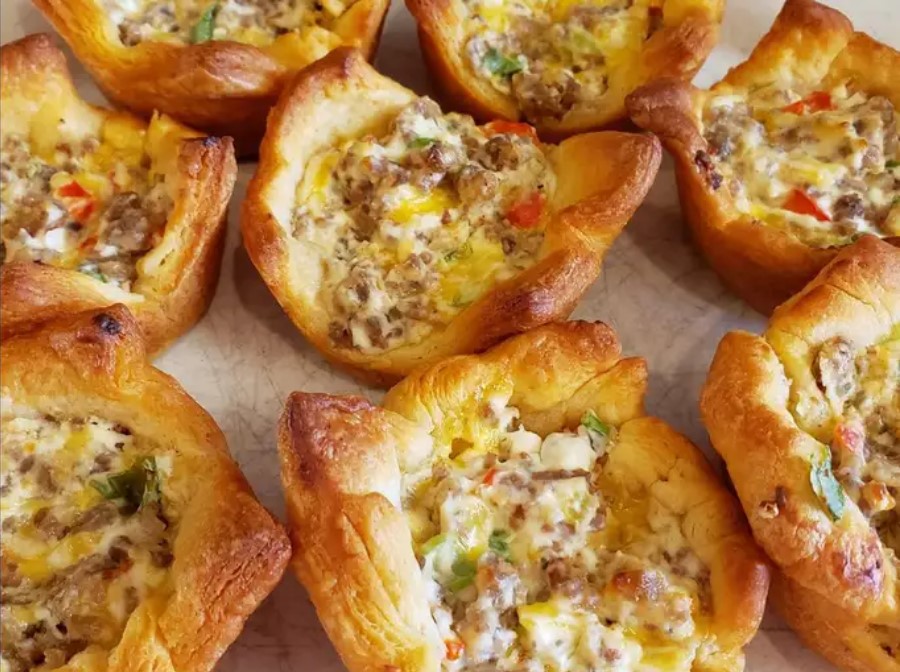 Savory Sausage Cups are delicious and bite-sized appetizers, featuring crispy phyllo cups filled with seasoned sausage and cheese, perfect for a savory and delightful party treat. 
Ingredients:
1 (16 ounce) package Jimmy Dean® Premium Pork Regular Sausage

1 (8 ounce) package cream cheese, softened

4 ounces garden vegetable cream cheese, softened

1 cup shredded Cheddar cheese

¼ cup finely chopped red bell pepper

¼ cup finely chopped green onion

2 (8 ounce) packages crescent roll sheets
Directions:
1-Preheat the oven to 375 degrees F (190 degrees C).
2-Add sausage to a frying pan over medium-high heat. Cook and stir with a spatula, breaking apart sausage until cooked, 5 to 7 minutes. Drain and let cool.
3-Combine regular and vegetable cream cheese, Cheddar cheese, bell pepper, green onion, and cooled, crumbled sausage in a bowl. Mix well and set aside.
4-Unroll 1 crescent dough sheet and press it into a 9×12-inch rectangle. Cut 6 rows across and 4 rows vertically to yield 24 squares. Repeat with second package of dough.
5-Place 1 square in each cup of two nonstick 24-cup mini muffin tins, pressing it into the bottom and up the sides.
6-Drop 1 heaping teaspoon of sausage filling into each cup. Filling should be up to the top of the cup, but you do not need to press it down.
7-Bake in the preheated oven until dough is golden brown, 11 to 13 minutes.
8-Cool for 5 minutes in the tins before removing to a platter.
Calories: 71 cal | Servings: Approximately 48 servings