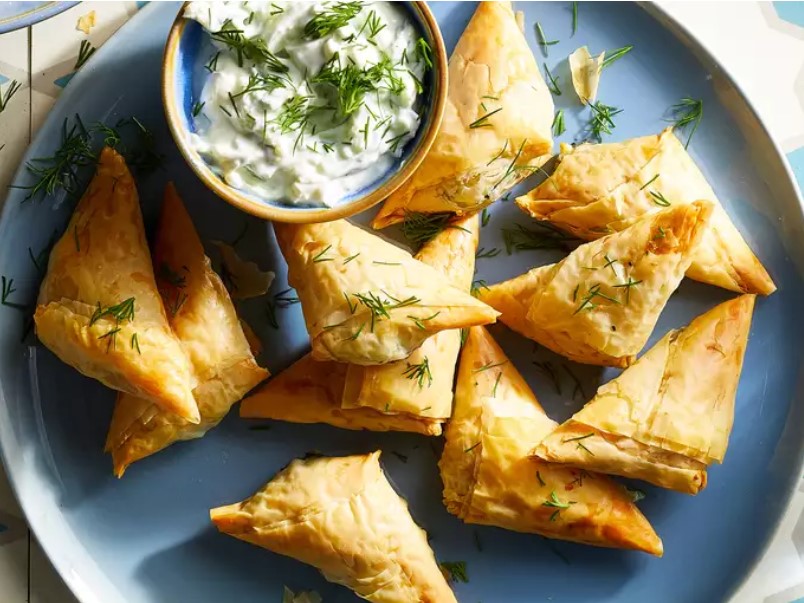 Spanakopita is a delicious Greek dish, featuring flaky phyllo pastry filled with a savory mixture of spinach, feta cheese, and herbs, baked to perfection for a flavorful and satisfying treat. 
Ingredients:
2 (10 ounce) packages frozen chopped spinach, thawed and well drained

½ cup crumbled feta cheese

½ cup shredded mozzarella cheese

½ cup grated Parmesan cheese

1 clove garlic, minced

½ teaspoon salt

1 (16 ounce) package whole wheat phyllo dough

½ cup unsalted butter, melted
Directions:
1-Preheat an oven to 375 degrees F (190 degrees C). Lightly grease a baking sheet. Mix the spinach, feta cheese, mozzarella cheese, Parmesan cheese, garlic, and salt in a bowl.
2-Arrange one sheet of phyllo dough on a clean work surface and brush with melted butter. Cover the remaining phyllo dough with a damp towel. Place a second sheet of phyllo on top and brush with butter, then place a third sheet on top. Cut the buttered phyllo lengthwise into four strips.
3-Place about 1 tablespoon of the spinach mixture on the bottom of each strip. Take the bottom right corner and fold the dough over the filling to make a triangle. Fold the bottom left corner up to make another triangle. Continue folding until all the dough is folded. Arrange the stuffed triangles, seam-side down, on the prepared baking sheet. Lightly brush the triangle with butter. Repeat with the remaining phyllo dough and spinach filling.
4-Bake in the preheated oven until golden brown, about 20 minutes. Cool slightly before serving.
Calories: 183 cal | Servings: Approximately 15 servings