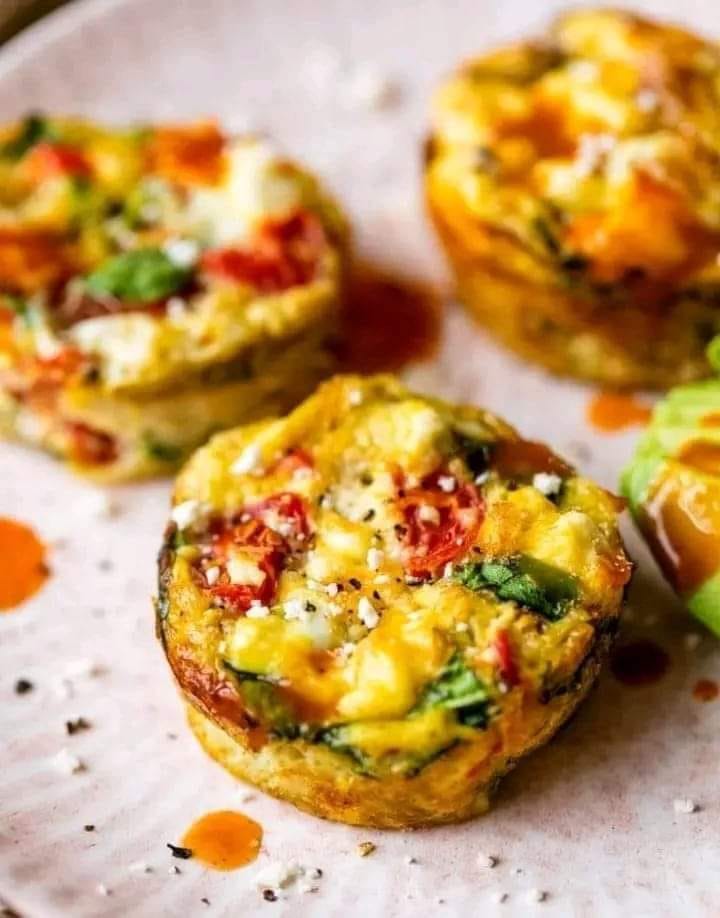 Ingredients:
9 eggs
1 cup (4 oz) reduced-fat shredded cheddar cheese
1 clove garlic
¼ tsp salt
1/2 tsp pepper
2 Tbsp low-fat milk
1 cup (5.26 oz) bell pepper, diced
½ cup (1.76 oz) green onion, diced
1 cup (3.04 oz) mushrooms, sliced thin
5 cups (5.3 oz) bag baby spinach, chopped
10 1/4 second cooking sprays
1/4 cup crumbled feta cheese plus additional to sprinkle on top ( optional)
Directions:
Preheat the oven to 350 F
Combine the eggs, cheese, garlic, salt, pepper, and milk in a small bowl.
In a skillet sprayed with cooking spray, saute the peppers and onions till translucent – about 3 minutes. Add mushrooms, and stir a minute longer. Add chopped spinach, and cook until wilted. Allow vegetables to cool.
Mix vegetables with the egg mixture. Ladle into a muffin tin sprayed with cooking spray.
Bake 20-30 minutes or until set.
Remove from muffin tin immediately after cooking. To remove stuck eggs, run a knife around the outside of the egg and gently pry out the bottom.
Serves 4