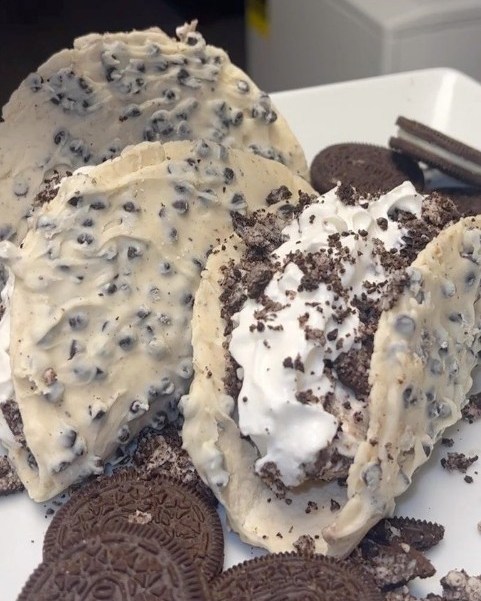 Love tacos? Love Oreos? Try our Oreo Cheesecake Tacos! It's like a taco but filled with sweet Oreo cheesecake. It's crunchy on the outside and soft and sweet on the inside. Kids and grown-ups will love it!
If you like trying new desserts, check out the Caramel Apple Éclair Cake. It's a mix of apple and creamy cake. Or, if you want something easy and quick, the Caramel Pecan No-Bake Cheesecake is a sweet cheesecake with caramel and nuts, and you don't need to bake it.
Ingredients List:
Oreos: About 20 cookies (10 for crushing and mixing, 10 for decoration)
Hershey Kisses or Hershey bar cookies and cream chocolate: 200g (7 oz)
Tortillas: 6-8 medium-sized
Cool Whip or Homemade Whipping Cream: 1 cup (If making homemade, you'll need heavy cream, sugar, and vanilla extract)
White chocolate (optional for smoother consistency): 100g (3.5 oz)
Milk (optional for smoother consistency): 2 tablespoons
Cream Cheese: 2 blocks (16 oz or 450g in total)
Sugar: 1/2 cup
Confectioners' sugar: 1/4 cup
Vanilla extract: 1 teaspoon
How to Make Oreo Cheesecake Tacos:
1. Preparation of Ingredients:
Crush 10 Oreos. This can be done by hand; you don't need to use a blender.
2. Tortilla Preparation:
Preheat your oven to 350°F (175°C).
Place the tortillas in the oven and bake for about 5 minutes. You just want to warm them up so they become more pliable.
3. Chocolate Spread:
Melt the cookies and cream chocolate. For a smoother consistency, you can mix in some white chocolate.
To make the melted chocolate smoother and easier to spread, add a bit of milk.
Once the tortillas are warmed, spread the melted chocolate smoothly over each tortilla.
4. Taco Shaping:
If you don't have a taco mold, you can gently bend the chocolate-covered tortillas over an old pan or any suitable object to give them a taco shape.
For an extra touch, before the chocolate hardens, sprinkle finely crushed Oreos over it to give it more of an "Oreo" look.
Place the shaped tortillas in the freezer for about 10 minutes to harden.
5. Cheesecake Filling:
In a mixing bowl, combine the cream cheese, sugar, confectioners' sugar, and vanilla extract. Mix until smooth.
Add crushed Oreos to the cheesecake mixture and mix well.
6. Whipped Cream:
If you're making homemade whipped cream, prepare it now. (For homemade whipped cream: Whip 1 cup of heavy cream with 2 tablespoons of sugar and 1 teaspoon of vanilla extract until stiff peaks form.)
Add the whipped cream on top of the cheesecake filling in the taco.
7. Assemble Your Oreo Cheesecake Tacos:
Fill each taco shell with the cheesecake filling.
Top with whipped cream.
Serve immediately and enjoy your delicious Oreo Cheesecake Tacos!
Other Delicious Recipes You May Also Enjoy!!
Caramel Pecan No-Bake Cheesecake
Caramelized Banana Pudding
Strawberry Cream Cheese Danish Recipe
Oreo Delight: 4 Simple Steps!
Caramel Brownies: 7 Easy Steps to Yummy Brownies!
Have you liked our Oreo Cheesecake Tacos recipe? We'd love to hear from you! Drop a comment below, share your tweaks, and SHARE the recipe with your friends.