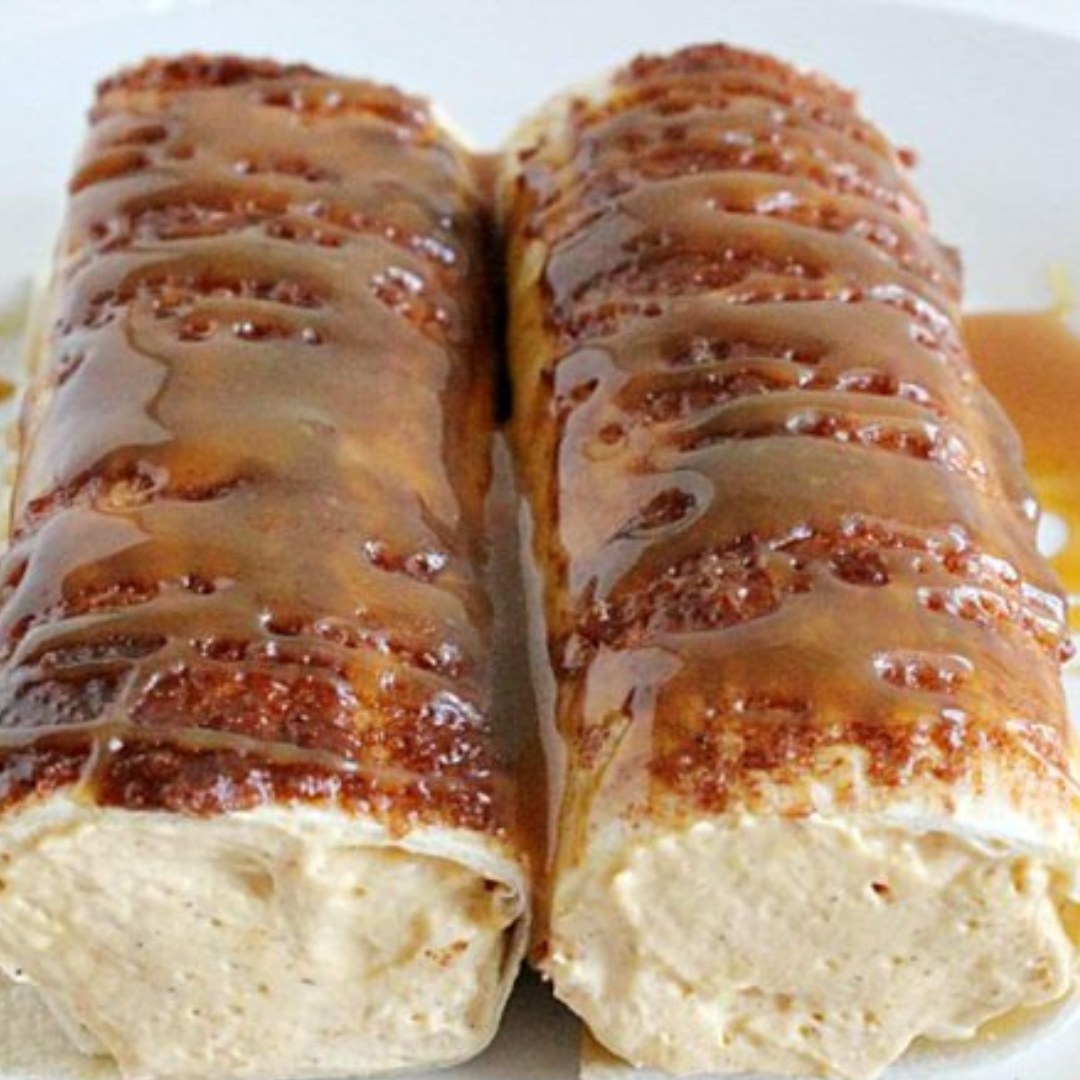 Indulge in sweet Pumpkin Spice Cheesecake Enchiladas with a luscious caramel drizzle – a dessert twist with a fall flair! 
Ingredients:
1 package (8 oz.) cream cheese, softened

1 cup canned pumpkin

1/2 cup sugar

1/2 teaspoon pumpkin pie spice

2 1/2 cups Cool Whip, thawed

18-24 Flour tortillas

6 tablespoons butter, melted

2 teaspoons sugar

2 teaspoons cinnamon

Caramel sauce
Instructions:
 In a mixing bowl, combine the softened cream cheese, canned pumpkin, 1/2 cup of sugar, and pumpkin pie spice, mixing until smooth and well blended.

 Gently fold in 2 1/2 cups of Cool Whip into the cream cheese mixture until fully incorporated.

 Lay out the flour tortillas, and evenly distribute the cheesecake filling among them, spooning it into the center of each tortilla.

 Roll up each tortilla, tucking in the sides as you go, to form enchilada-like shapes, and place them seam-side down in a baking dish.

 In a separate bowl, mix together 2 teaspoons of sugar and 2 teaspoons of cinnamon. Brush the melted butter over the tops of the rolled tortillas, then sprinkle them with the cinnamon sugar mixture.

 Bake the enchiladas in a preheated oven at 350°F (175°C) for about 20-25 minutes, or until they become golden brown and slightly crispy.

 Drizzle caramel sauce over the baked enchiladas for a delicious finishing touch.

 Serve your Pumpkin Spice Cheesecake Enchiladas warm and enjoy!