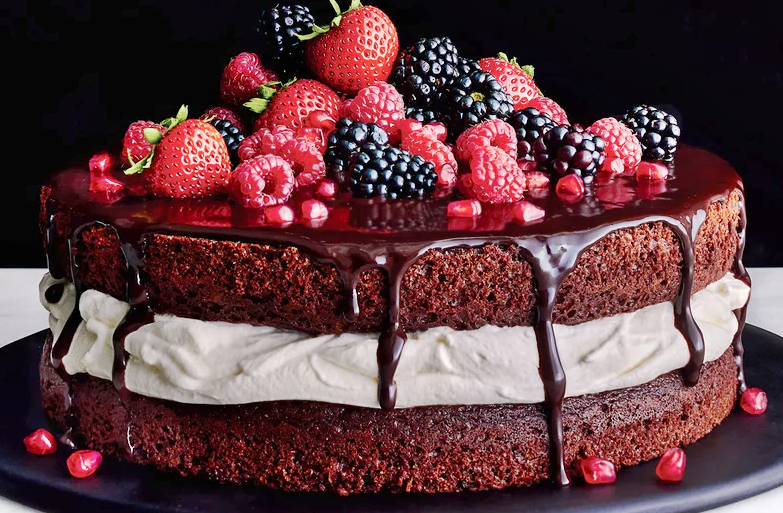 Ingredients
Cake
Cooking spray 7.33 ounces whole-wheat pastry flour (about 1 3/4 cups)

3/4 cup unsweetened cocoa

1 1/2 teaspoons baking powder

1/2 teaspoon table salt

1/2 teaspoon baking soda

1 1/4 cups granulated sugar

1/2 cup canola oil 2 large eggs

1 cup fat-free buttermilk

1/3 cup warm water

1 1/2 teaspoons vanilla extract
Glaze
1/2 cup powdered sugar

1/4 cup unsweetened cocoa 1 ounce semisweet chocolate chips

2 tablespoons

2% reduced-fat milk

1 tablespoon unsalted butter Dash of table salt
Yogurt Cream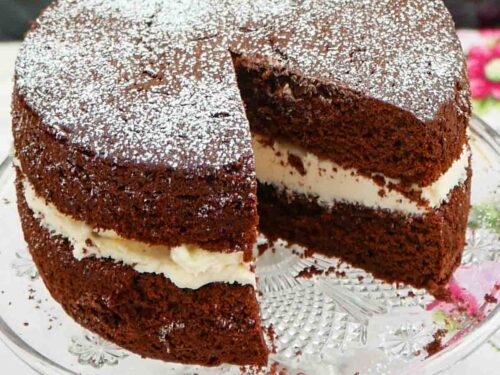 1/2 cup heavy whipping cream

1/3 cup powdered sugar

1/2 cup plain 2% reduced-fat Greek yogurt

1/4 teaspoon vanilla extract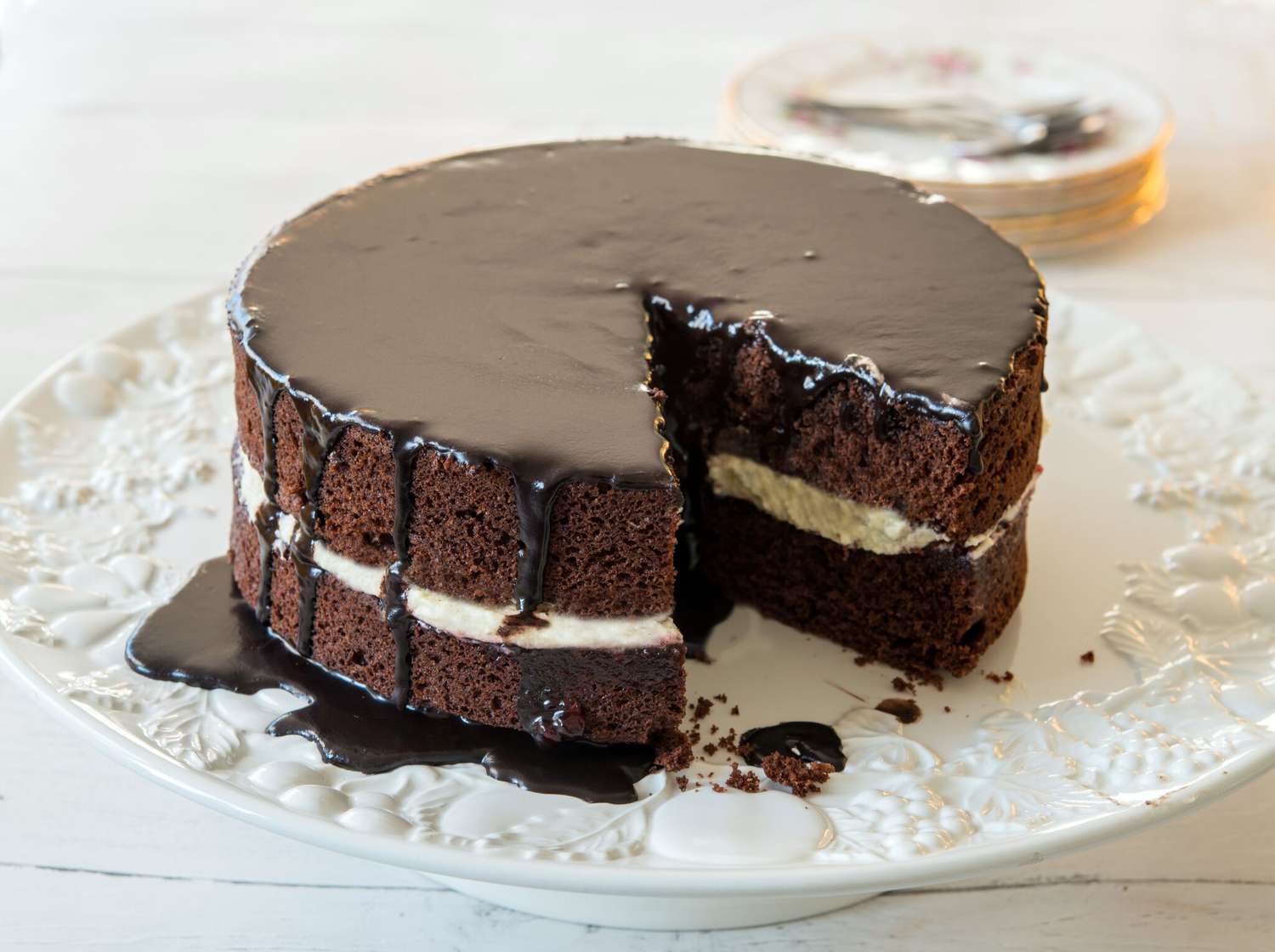 fruit topping
1 cup fresh blackberries 1 (6-oz.) container fresh raspberries 1 cup small strawberries 2 tablespoons pomegranate arils (optional)
How to Make It
 1)Preheat oven to 350°F.
 2)Prepare cake: Coat 2 (9-inch) round cake pans with cooking spray; line bottoms of pans with parchment paper. Coat paper with cooking spray; set aside.
 3)Weigh or lightly spoon flour into dry measuring cups; level with a knife. Place flour, cocoa, baking powder, salt, and baking soda in a bowl; whisk to combine.
4)Place granulated sugar, oil, and eggs in a large bowl; beat with a handheld mixer on medium speed until well blended, about 2 minutes. Beat in buttermilk, 1/3 cup warm water, and vanilla. Add flour mixture; beat on low speed just until combined. Increase speed to medium, and beat 1 minute.
 5)Divide batter evenly between prepared pans. Bake at 350°F until a wooden pick inserted in center comes out clean, 23 to 25 minutes. Cool cake layers in pans on a wire rack 10 minutes. Invert cakes onto rack; remove parchment paper. Let cake layers cool completely.
 6)Prepare glaze: Combine powdered sugar, cocoa, chocolate chips, milk, butter, and salt in a small saucepan. Cook over low, stirring constantly, until butter and chocolate melt, about 3 minutes. Let cool slightly.
 7)Prepare yogurt cream: Place cream and powdered sugar in a large bowl; beat with a handheld mixer on high speed until stiff peaks form, about 1 minute and 30 seconds. Add yogurt and vanilla; beat on high speed until combined.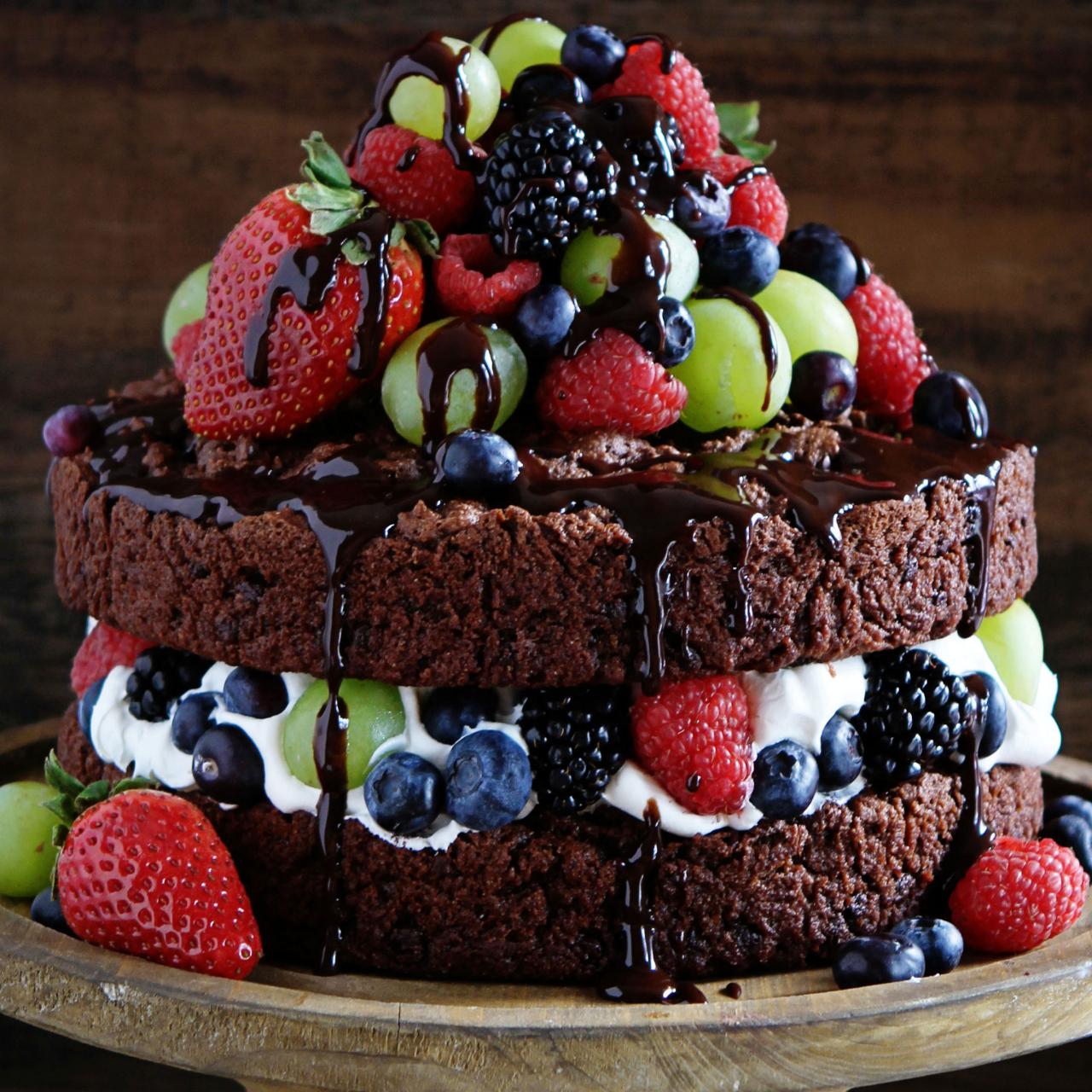 8)Place 1 cake layer on a cake stand or plate; top evenly with yogurt cream, leaving a 1/2-inch border. Top with second cake layer. Carefully pour chocolate glaze over top of cake, spreading to edges. Arrange berries and, if using, arils on top.