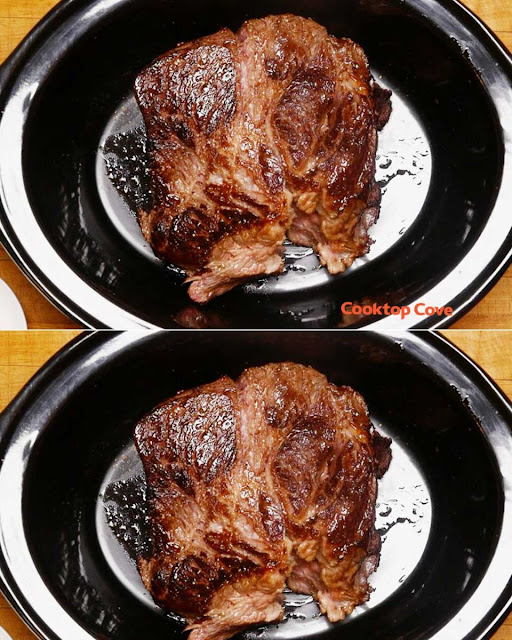 Indulge in a comforting, hearty dinner with this Amish-inspired pot roast recipe, perfect for your slow cooker. This dish stands out due to its rich brown onion gravy, flavored with unconventional but delectable ingredients like soy sauce and brewed coffee. The simplicity of beef and onions melds into a complex umami experience that is both homey and sophisticated.
Ingredients:
3 pounds of chuck roast

2 tablespoons of vegetable oil

1 teaspoon of garlic powder

1 teaspoon of dried oregano

Freshly ground black pepper, to taste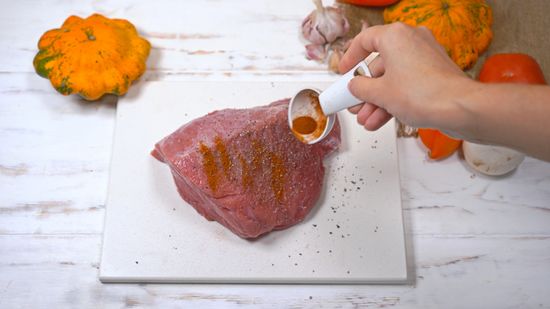 ¼ cup of soy sauce

1 cup of brewed coffee

1 tablespoon of Worcestershire sauce

1 large white onion, halved and thinly sliced

2 bay leaves

2 tablespoons of cornstarch

3 tablespoons of cold water

Fresh parsley, chopped (for garnish, optional)
Instructions:
Begin by heating vegetable oil in a large skillet over a medium-high flame. Once the oil is hot, sear the chuck roast on all sides to a golden brown. This step isn't about cooking the meat through; it's about locking in flavors.
Transfer the browned roast into your slow cooker. Season it generously with garlic powder, oregano, and black pepper. Use your hands to ensure the seasonings are well rubbed into all sides of the meat.
Tuck the sliced onions and bay leaves around the roast in the cooker. Then, pour over the concoction of brewed coffee, soy sauce, and Worcestershire sauce.
Cover the slow cooker, set it to LOW, and allow the roast to tenderize and absorb the flavors for 9 hours. It's important to resist the urge to lift the lid before 8.5 hours have passed.
When the time is up, carefully remove the roast and place it on a plate. Cover it with foil to keep it warm. Skim and discard any excess fat from the surface of the liquid in the cooker.
For the gravy, blend the cornstarch with cold water in a separate bowl until smooth. Stir this mixture into the slow cooker, ensuring it integrates well with the onion gravy. Cover and switch the cooker to HIGH for about 20 minutes to thicken the gravy.
While the gravy is thickening, shred the pot roast with forks. Once the gravy is at your desired consistency, return the shredded beef to the slow cooker, stirring it into the gravy. Let it warm through for approximately 5 minutes.
Serve the tender pot roast drenched in its own thickened brown onion gravy directly from the crockpot. Ladle generous portions onto plates.
(Optional) Garnish with fresh chopped parsley for a burst of color and freshness.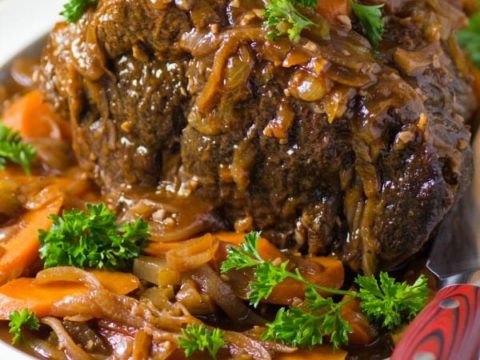 A slice of crusty bread on the side is ideal for sopping up the rich gravy. Enjoy this old-fashioned, comforting meal that tastes like it's been lovingly prepared by a generation of home cooks.