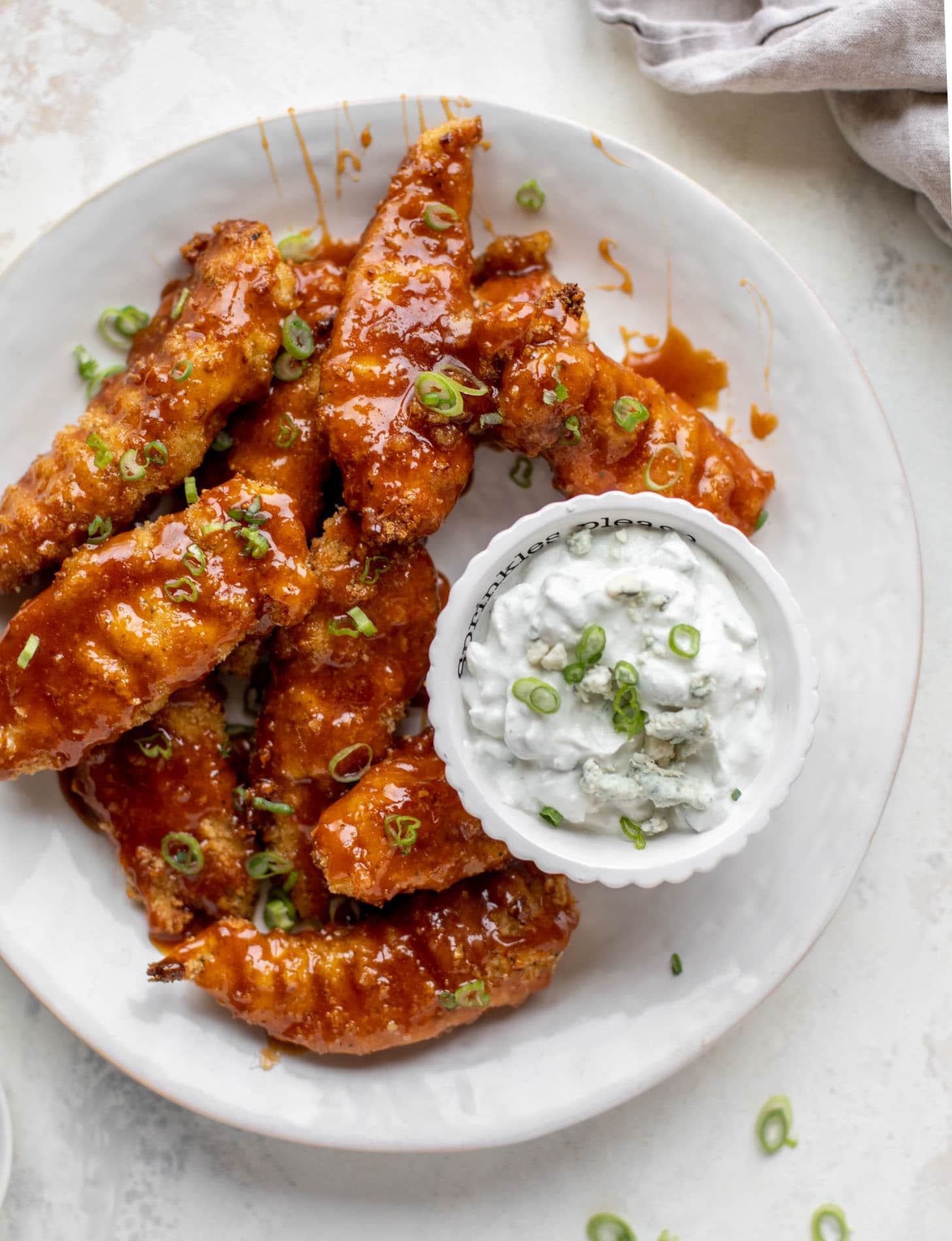 These sticky chicken fingers are crispy, crunchy and most importantly, BAKED! Serve with the blue cheese yogurt dip and you'll be in heaven!
INGREDIENTS
STICKY CHICKEN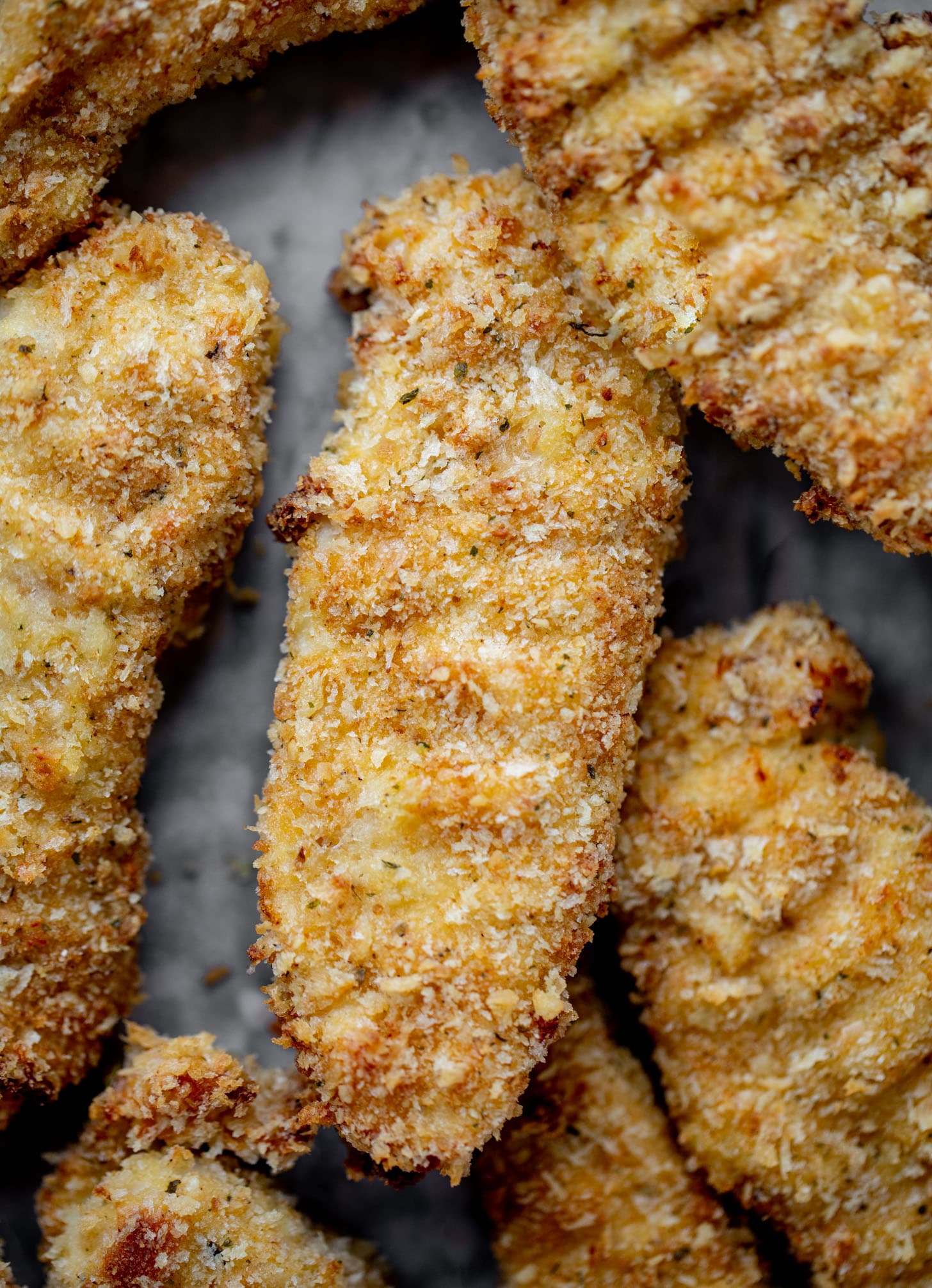 1 pound chicken tenders

kosher salt and pepper

garlic powder

1 cup flour

2 large eggs, lightly beaten

3/4 cup panko breadcrumbs

¼ cup seasoned fine breadcrumbs

olive oil spray, or nonstick spray, coconut oil spray, avocado oil spray, etc

1 cup brown sugar

¼ cup buffalo wing sauce

3 tablespoons unsalted butter

1 tablespoon water
YOGURT BLUE CHEESE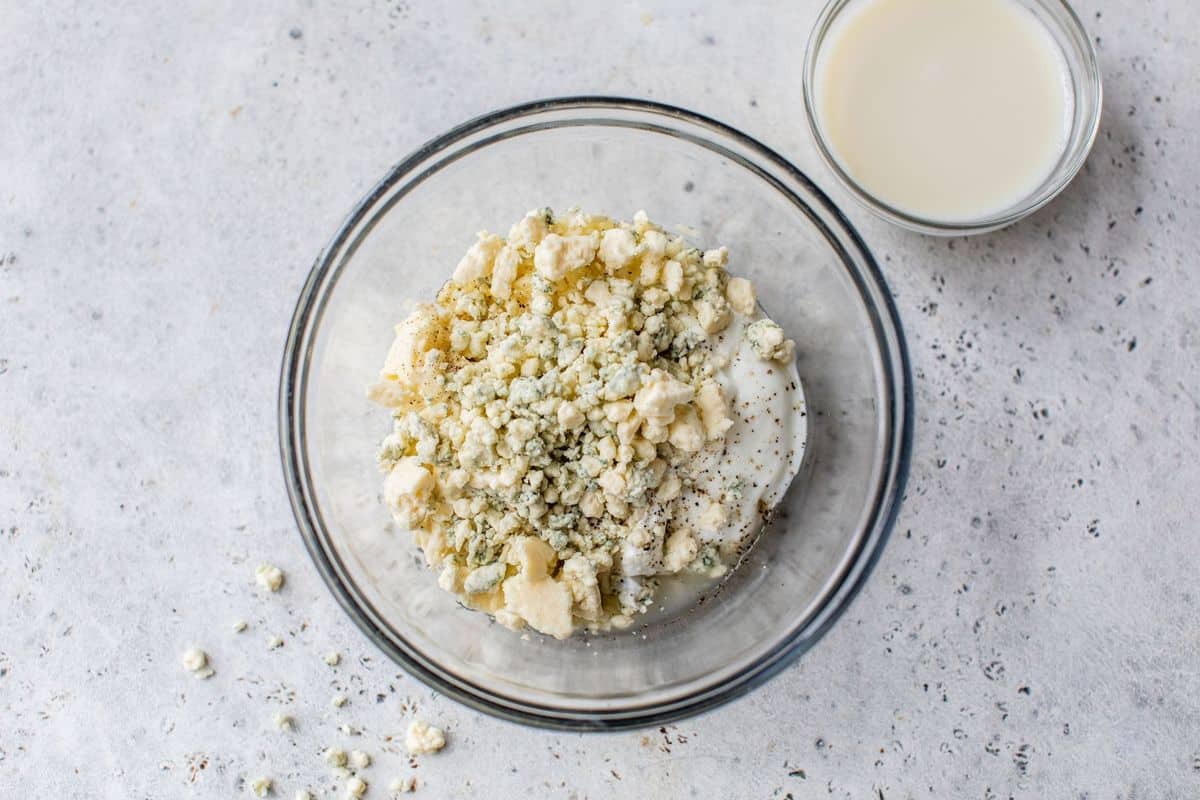 1 cup plain greek yogurt

1 lemon, juiced

big pinch of kosher salt and pepper

¾ cup crumbled blue cheese

2 green onions, thinly sliced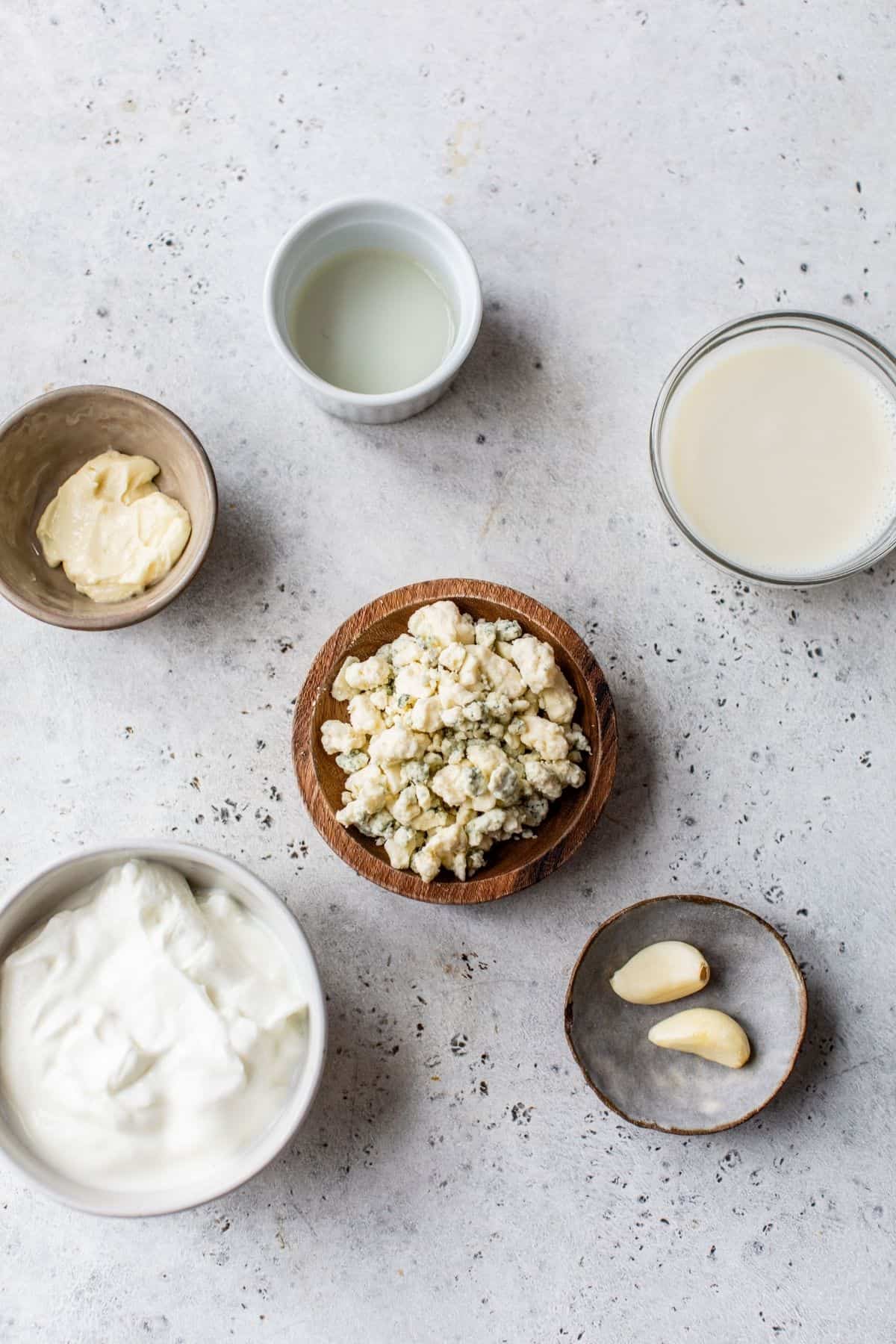 INSTRUCTIONS
Preheat the oven to 425 degrees F. Line a baking sheet with a wire rack. Spray the wire rack with nonstick (or olive oil/coconut oil/avocado oil) spray. This is key so the breading sticks to the chicken!
Line up 3 bowls or large plates. Put the flour in one, the eggs in the second and stir together both breadcrumbs in the third.
Sprinkle the chicken all over with salt, pepper and garlic powder, covering both sides. Dip each piece of chicken in the flour, covering completely. Then dip in the egg, then in the breadcrumb mixture, pressing gently so the crumbs adhere. Place each chicken piece on the sprayed wire rack.
Bake the chicken for 12 minutes, then gently flip and bake for 12 minutes more.
While the chicken is baking, heat the brown sugar, wing sauce, butter and water in a saucepan over medium heat. Whisk until the sugar dissolves. Let the mixture come to a boil (watch it the entire time!) then reduce it to a simmer and cook for 2 minutes. Turn off the heat and let the mixture cool while the chicken finishes.
When the chicken is done, gently lift it on the wire rack with a spatula or tongs. Place it on a plate or in a bowl and drizzle it with the sauce. Don't let the chicken sit too much in the sauce, because the sauce gets stickier and thicker as it sits, and it will rip off the breading! So toss in the sauce, then serve on plates with the dip. Enjoy!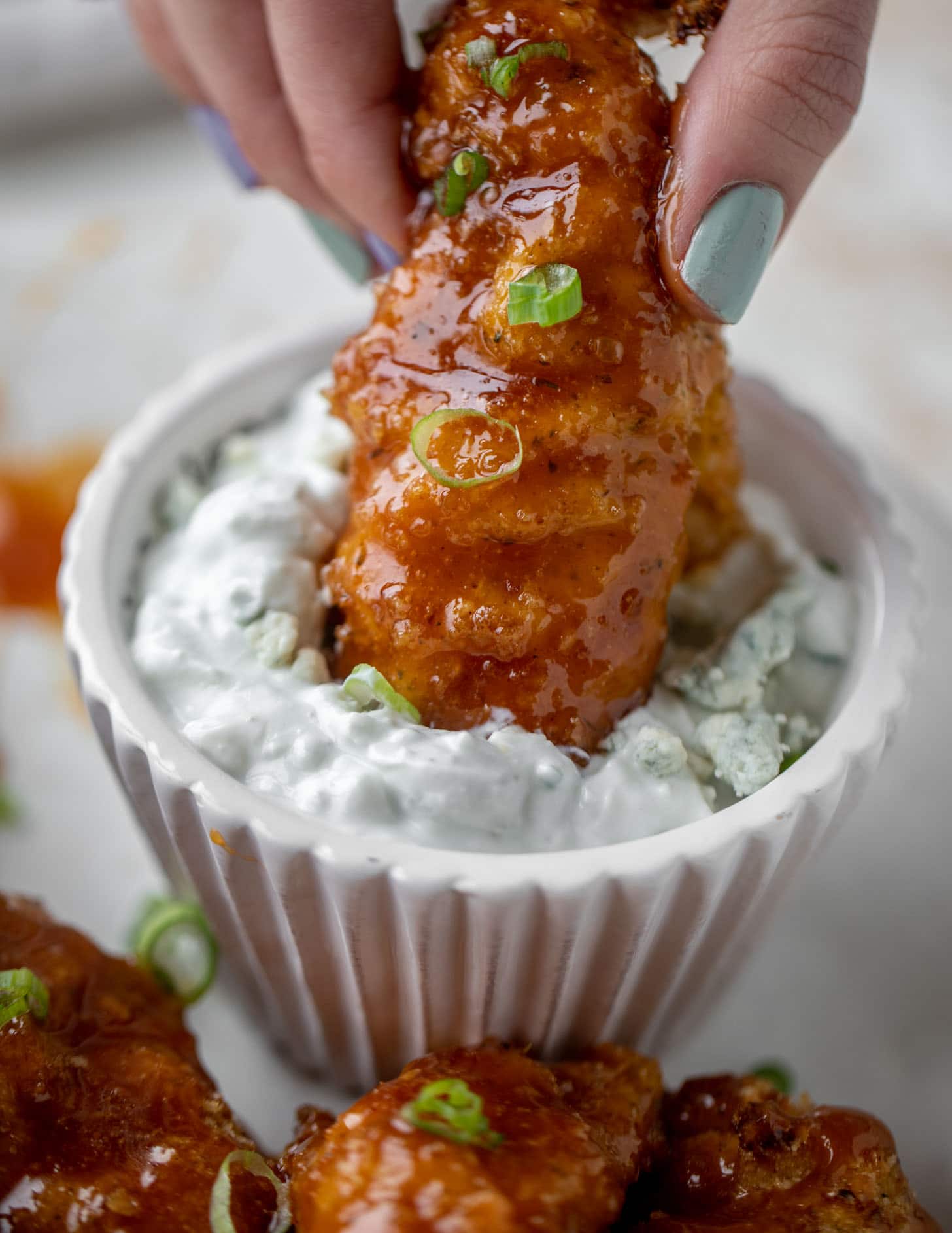 YOGURT BLUE CHEESE
Mix all ingredients together in a bowl, mashing the blue cheese in as you stir. Serve immediately! You can make this ahead of time and store it in the fridge.