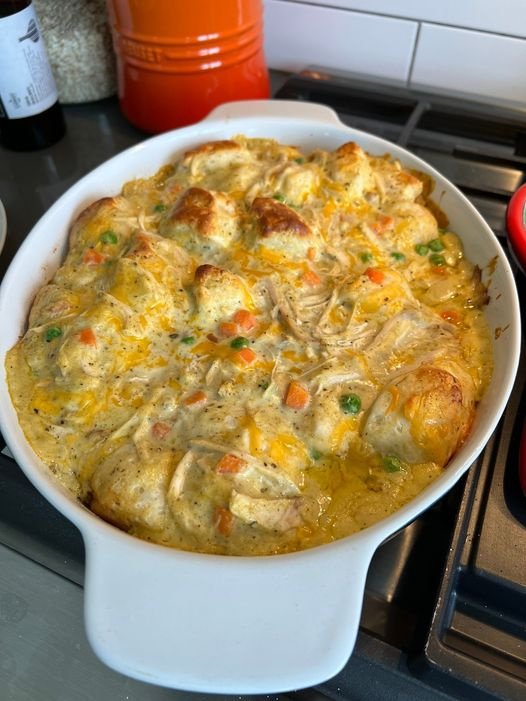 Want a comforting dinner that never fails to please? Chicken and Dumplings is always here for you. Want a version of it that makes your life incredibly easy? Well, I give you this Chicken and Biscuits Casserole. It uses a couple of kitchen shortcuts so it's super simple to throw together but every bit as comforting and tasty as a dish that took you much longer to make. Easy and delicious weeknights are yours to be had!
Now, this does use some condensed soup as a shortcut, but it's not cream of mushroom. It's cream of chicken and it has its place, which is definitely here. It basically gives you a creamy base to wrap everything in without you having to build a sauce from scratch. You mix that with a few seasonings, some milk, and then the actual main ingredients that make this pretty hearty: chicken and biscuits. (Yum.)
INGREDIENTS
2 cans (10.5 ounces each) condensed cream of chicken soup, undiluted

1 cup milk

1 teaspoon garlic powder

1 teaspoon poultry seasoning

1/2 teaspoon black pepper

1 (12 oz) can refrigerated biscuits

1 cup frozen peas and carrots

1 cup cheddar cheese, grated

3 cups cooked chicken, shredded or chopped

Kosher salt, to taste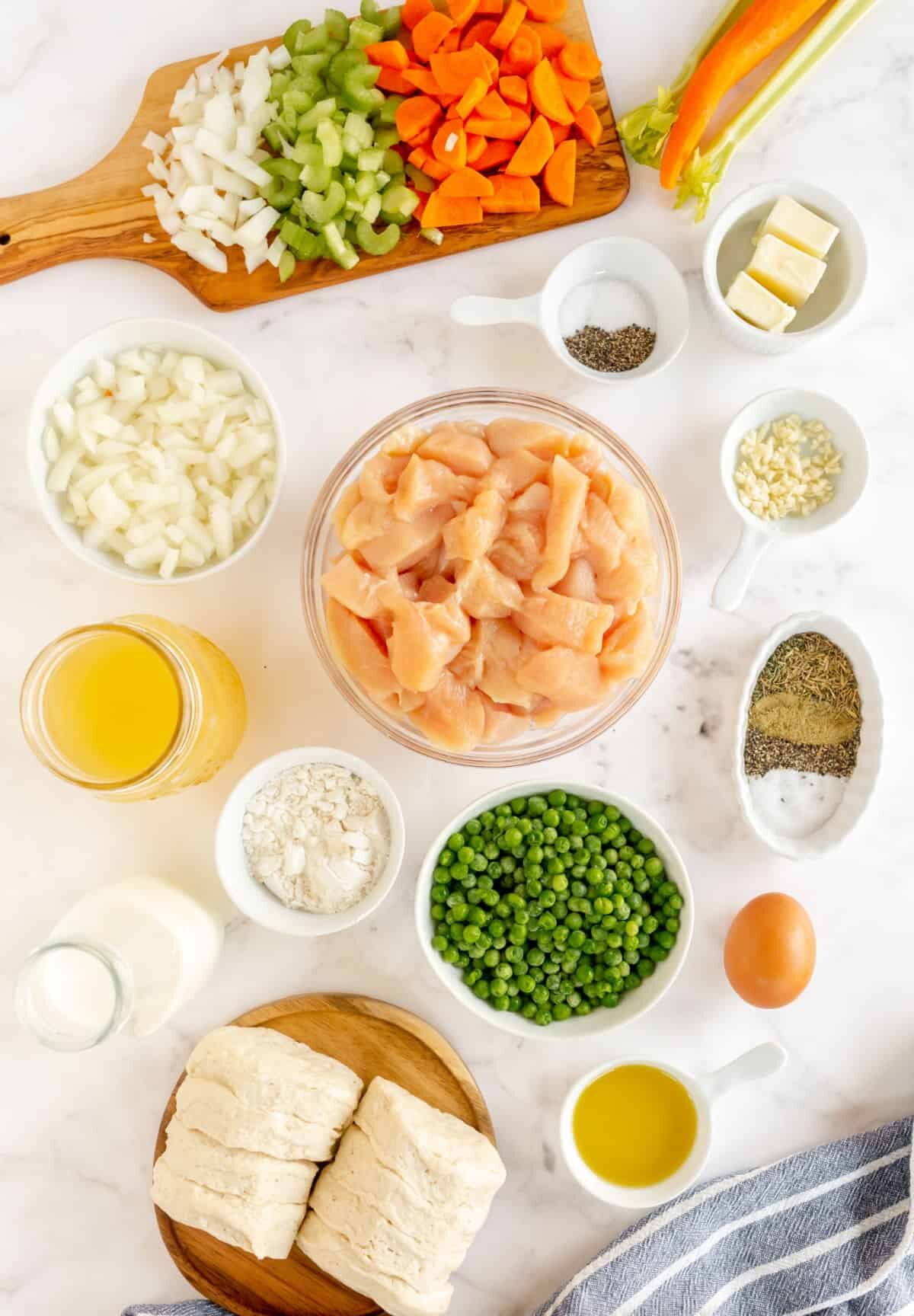 PREPARATION
Preheat oven to 375°F and grease a 9×13-inch baking dish with nonstick spray.
To a large bowl, add chicken soup, milk, garlic powder, poultry seasoning, and black pepper and whisk to combine.
Separate biscuits and cut each biscuit into 4 pieces. Add biscuits to soup mixture and stir to combine.
Add peas and carrots, chicken, and cheddar cheese and again, stir to combine. Transfer mixture to prepared baking dish.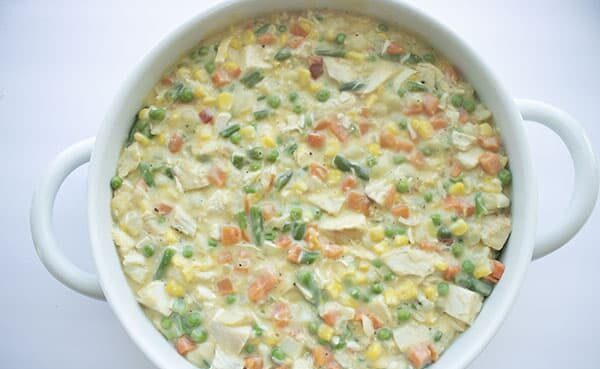 Bake until biscuits puff up and are golden brown in places, 35-45 minutes.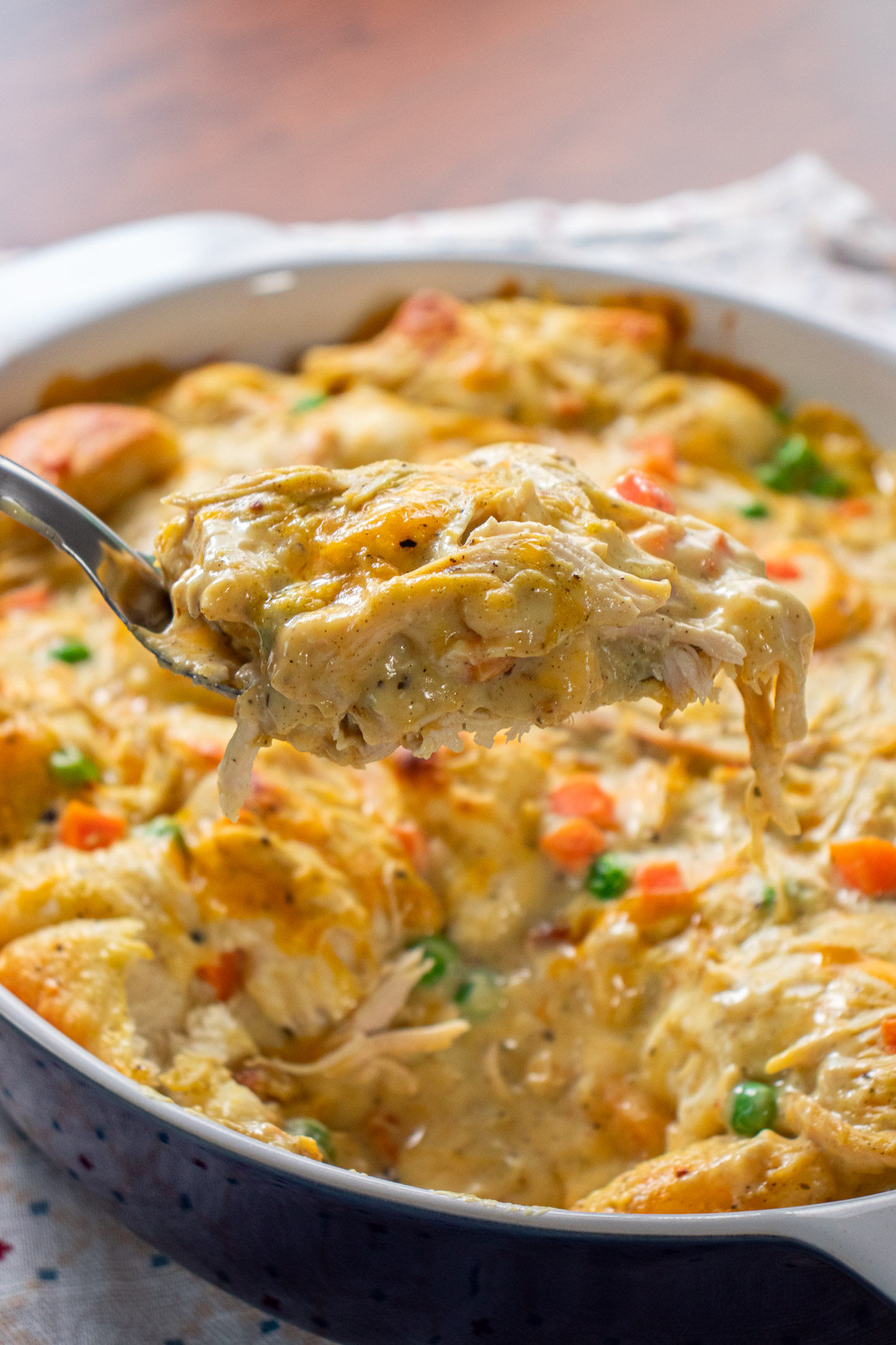 Let cool 5 minutes before serving. Enjoy!