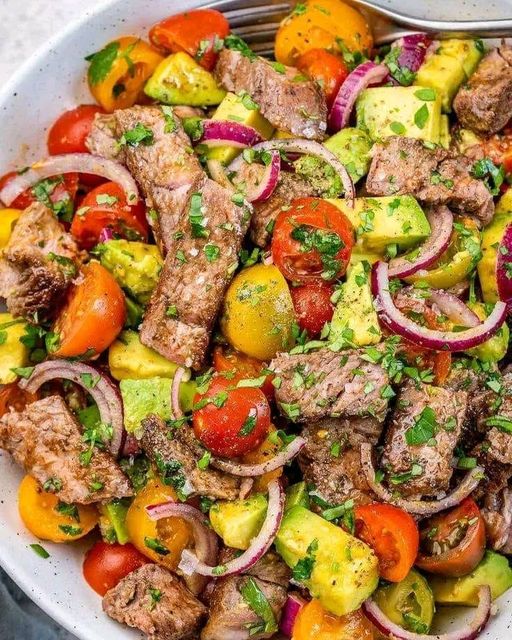 Thai Beef Salad is a colorful and flavorful Thai salad that bursts with tangy flavors and vibrant colors! Layered with sweet mango, fresh mint and basil and drizzled with a sweet chili lime dressing that coats the grilled steak beautifully. If you are looking for a new favorite weeknight salad recipe with loads of textures and flavors, you will love this zesty Thai inspired beef salad!
Dinner Lunch Quick 'n Easy Recipes Salads
Persons/4
Ingredients: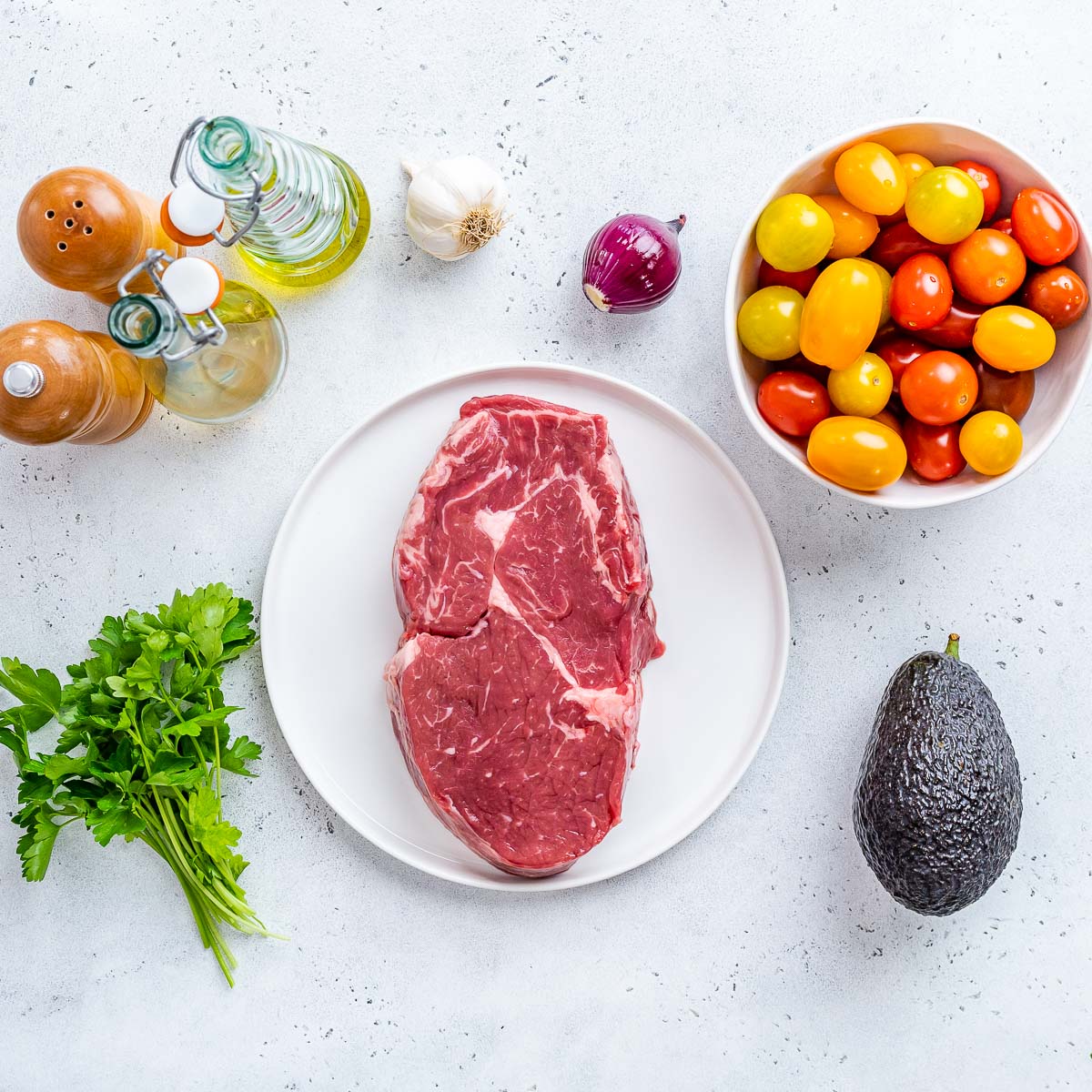 2 Tbsps avocado oil or olive oil, divided

1 1/2 lbs steak of choice

sea salt and ground pepper, to taste

2 cups mixed cherry tomatoes, halved

1 large avocado, diced

1 small red onion, sliced

A handful of chopped fresh parsley and/or basil

2 Tbsps white wine vinegar, red wine vinegar, or apple cider vinegar

2 fresh garlic cloves, pressed
Instructions
Remove your steak from the fridge, season with sea salt and freshly ground black pepper on both sides then allow it to come to room temperature on the counter for about 20-30 minutes.
Preheat 1 Tablespoon of your oil in a heavy-bottomed skillet or an outdoor grill/grill pan over medium high heat.
Cook the steak for 3-5 minutes per side, or until done to your liking.
The amount of time you cook a steak varies by steak thickness and your preferred doneness level. Most medium-rare steaks need 3-4 minutes per side. However, thicker steaks or those cooking to medium or medium-well might need between 4-8 minutes per side.
Once the steak is finished cooking to your liking, transfer it to a clean cutting board and allow it to sit for about 5 minutes, then slice it against the grain.
In a medium bowl, add your ripe tomatoes, diced avocado, onion, parsley, remaining oil, vinegar, garlic, and a pinch of sea salt and pepper.

Toss to combine, then spoon this salad over your steak on plates, or add the sliced steak to your salad bowl.