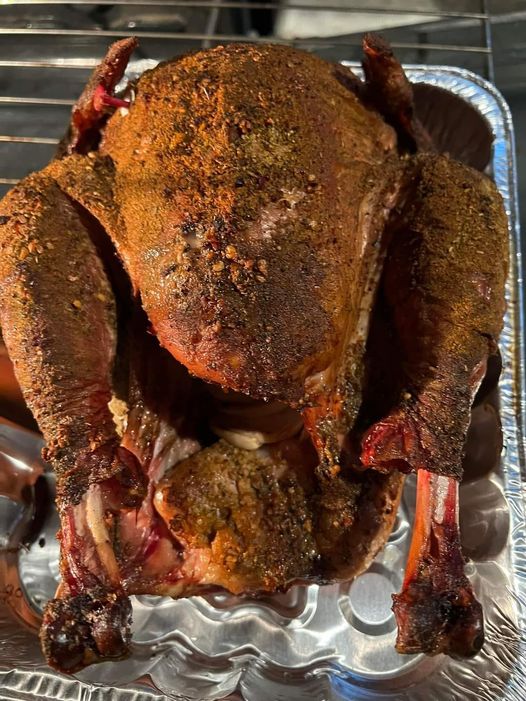 If you're looking for a way to make your holiday dinner more exciting this year, try smoking a turkey! Celebrate with a turkey that is full of flavor and fun. With our thermal tips you can be sure that you'll get a delicious, safe-to-eat turkey unlike any you've served before.
Making a smoked turkey can be daunting because it's such a large object—a rack of ribs is tiny in comparison—so it is understandable that many people have never tried it out. But in reality, the principles behind smoking a turkey are the same as those behind, say, a pork butt. The main difference is that we want to cook a pork butt to 195°F (91°C) to break down all the connective tissues, but we only want to cook a turkey to a pull temp of 157°F (69°C). Turkey breast is naturally tender and low in connective tissue, and will toughen and dry out if it cooked too high, as we've all tasted before. (It is true, however, that the dark meat in the turkey back, thighs, and legs does have connective tissue.
Once you own a pellet grill you look forward to smoking meat year-round and showing off all that juicy and delicious meat candy to all your family and friends–but during the holiday season, the stakes couldn't be higher.
With everyone counting on you to create a perfectly seasoned and smoked turkey, anxiety can set in (especially for first-timers) and so we created this guide to walk you through it step by step, and answer any lingering questions about the turkey smoking process.
A man holding a whole smoked turkey next to a pellet grill
With this full guide to smoked turkey, we will help you create turkey on the pellet grill that looks this good and tastes even better!
Your first smoked turkey should be a juicy and gorgeous triumph. With this step-by-step guide, we'll ensure your first turkey smoke is flawless and stress free!
Ingredients
1 whole turkey

1 brine recipe
1 recipe for Turkey Paint (Compound Butter)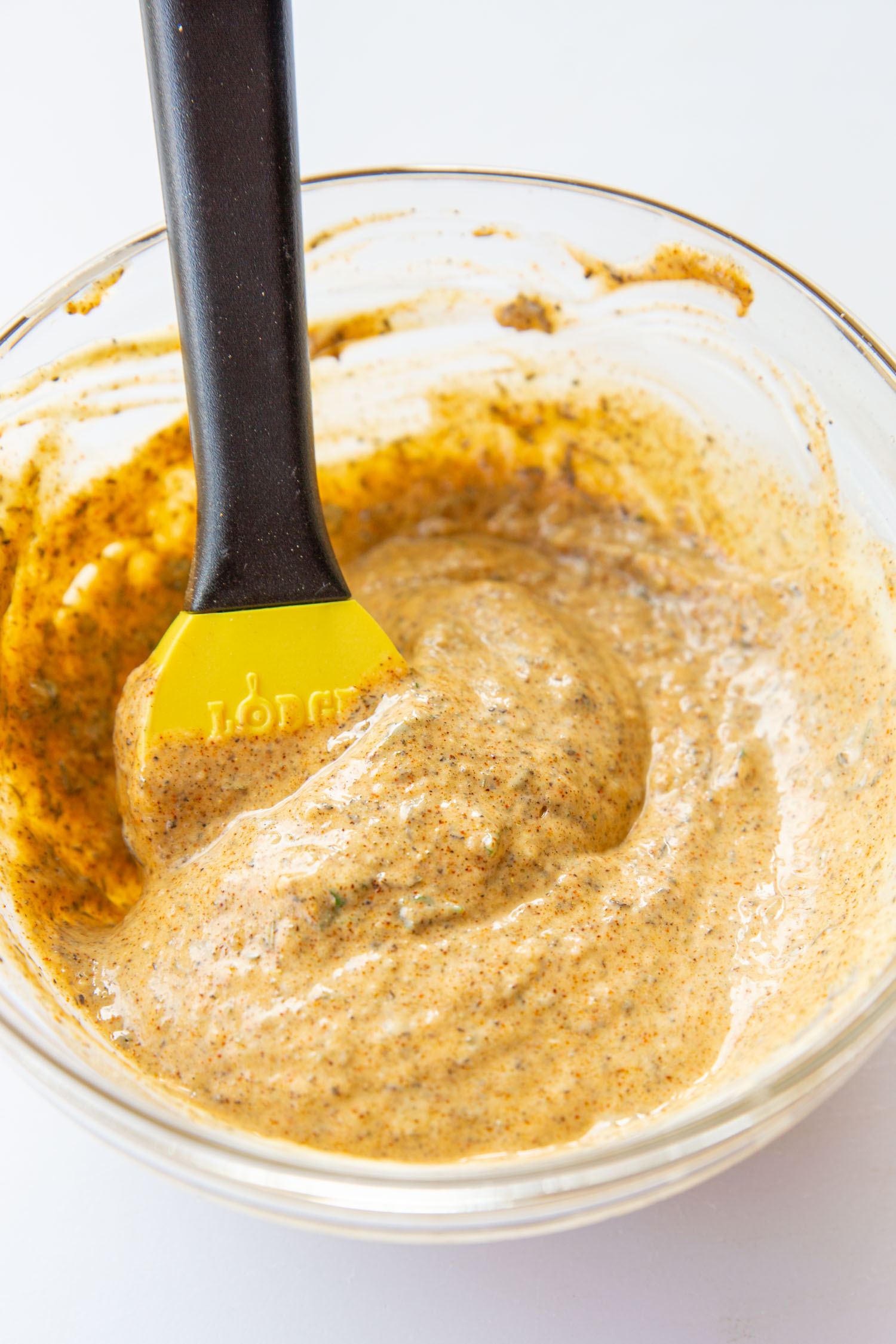 Ingredients
1/4 cup (1/2 stick) unsalted butter, room temperature
1tablespoon Aleppo pepper or 1 ½ tsp. hot smoked Spanish paprika
1teaspoon dried oregano
1teaspoon kosher salt
1/2 teaspoon ground allspice
Preparation
Step 1Process all ingredients in a food processor until smooth.
Step 2DO AHEAD: Butter can be made 5 days ahead. Wrap tightly and chill, or freeze up to 1 month.
1 c pineapple juice (in a spray bottle)

Wood pellets or chips for your smoker
Instructions
Thoroughly defrost your whole turkey. If defrosting in the refrigerator this can take several days so start 3-5 days before you plan to smoke.
Remove the turkey from the plastic and drain the juices into the sink.
Remove the neck and giblets from the cavity. (Wash sink well!)
Place the turkey into the brine (we include our two favorite brines in the post… our smoked turkey brine and our cajun turkey brine.) Place the turkey breast side down in the brine, pop on the lid, and refrigerate or keep in a cold place for 24-36 hours. Even overnight is good if that is all the time you have.
Remove the turkey from the brine and place it on a sheet pan. Drain off the brine. Dry well with paper towels.
Apply the compound butter (our turkey paint!) with a silicone basting brush. Place on the countertop to come to room temperature while you prep your pellet smoker.
Clean the pellet smoker as shown in the blog post, scrub the grates, reline with foil if preferred, and dump and clean the bucket. Refill the hopper with fresh pellets. Preheat to 250 degrees F.
Insert the probe thermometer into the thickest part of the turkey breast. Take the turkey out to the smoker and place it breast up. Insert a small water pan to encourage smoke penetration and moisture in the air. Plug the probe thermometer into the pellet grill computer, or the thermometer read-out device. Close the chamber and smoke 2 hours.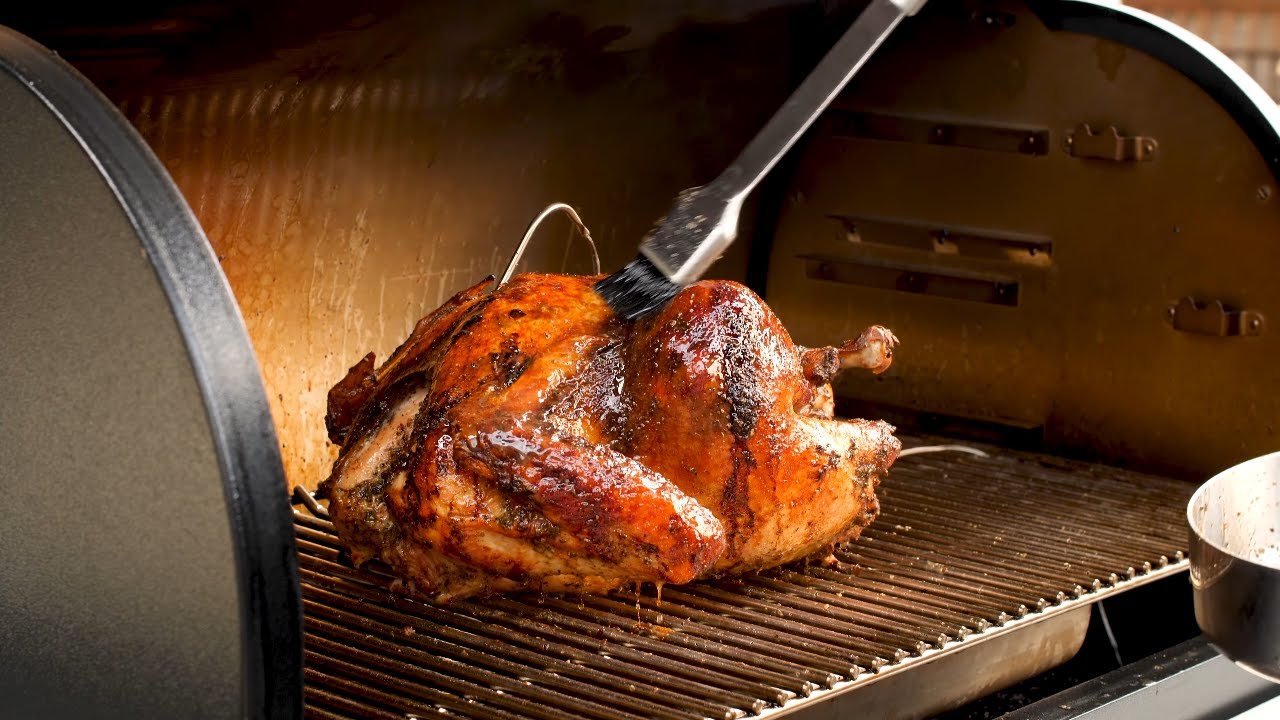 Spritz with pineapple juice (alternatives are given in the blog post) several times during smoking. Smoke the turkey until it hits 165 degrees, about 30-40 min per pound. Always smoke to temperature, not time. Time is listed to help you plan your day. Give yourself a safety of 1-2 hours for differences in outdoor climate and differences in pellet grills.
Remove the turkey and rest uncovered for 1 hour. Carve with an electric knife or sharp knife and serve.