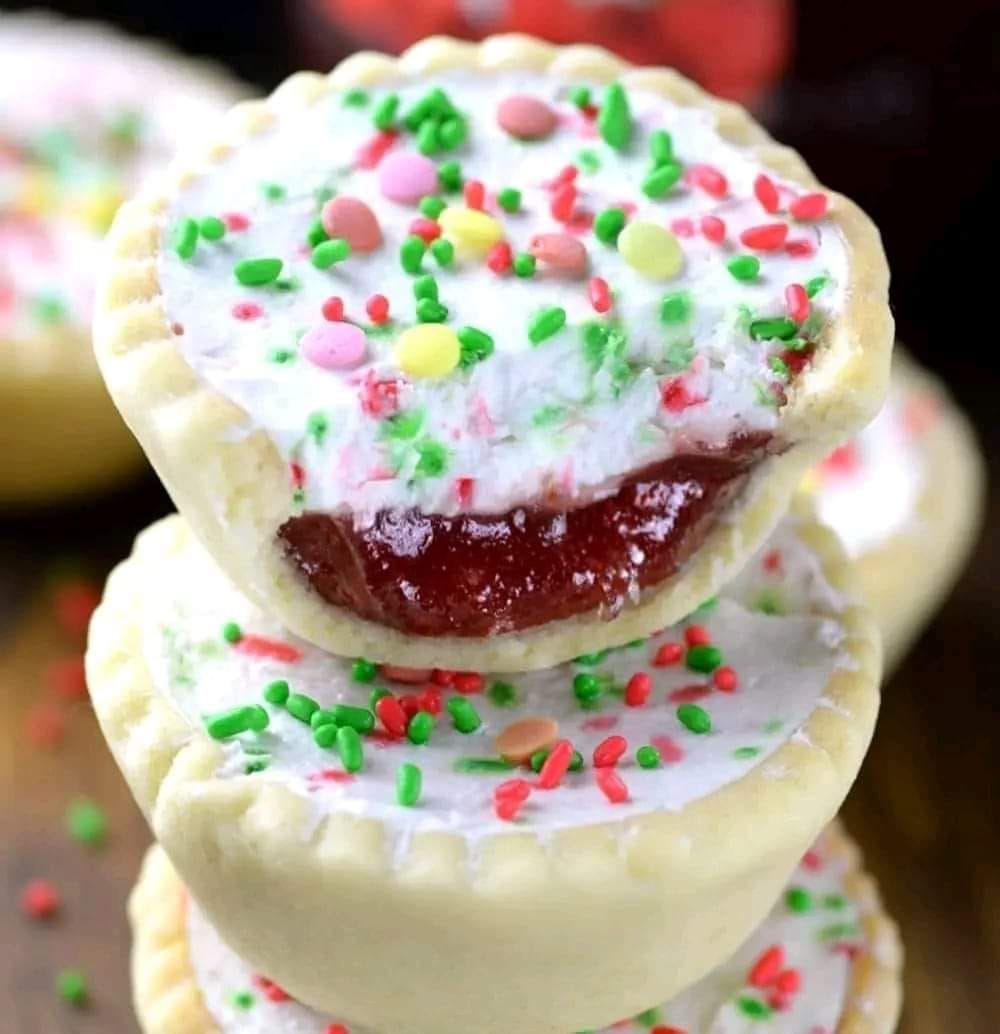 These soft buttery cookies are baked with a puddle of strawberry preserves and topped with a dollop of cheesecake. They're the ultimate strawberry cheesecake cookies that have all the taste of a strawberry cheesecake, just bite sized!
The base of this recipe is a soft and buttery cookie topped with strawberry preserves. The two together create a delicious texture, with the sweetness of the cookie and slight tartness of the soft jam.
Strawberry Jam Cheesecake Cookies
Sweet little cookie cups filled with strawberry jam, and no bake cheesecake filling, will make the perfect Christmas cookie recipe! Don't miss these beautiful Strawberry Jam Cheesecake Cookies. These cute pastries are topped with sprinkles for a fun and festive look!
Ingredients
FOR THE COOKIE DOUGH:
3 cups all-purpose flour

1 cup confectioners' sugar

1 cup unsalted butter-room temperature

1 egg

pinch of salt
FILLING:
strawberry jam

1 cup heavy cream

10 ounces cream cheese-room temperature

6 ounces crème fraîche

1 teaspoon vanilla

2/3 cup sifted confectioners' sugar
Instructions
TO MAKE THE COOKIE DOUGH:
In a medium mixing-bowl, mix together all ingredientes to form a ball. The dough should be thick , but not too sticky.
Divide the dough in two slightly flattened ball. Work with one ball at the time. Between two baking paper roll out the dough about 1/6 to 1/5 inch thick.
Using a beveled cookie cutter, cut out circles and drape one circle over each bowl cavity of mini cupcake pan and gently press to form smooth surface. Set in the freezer for 5- 10 minutes while preheating the oven.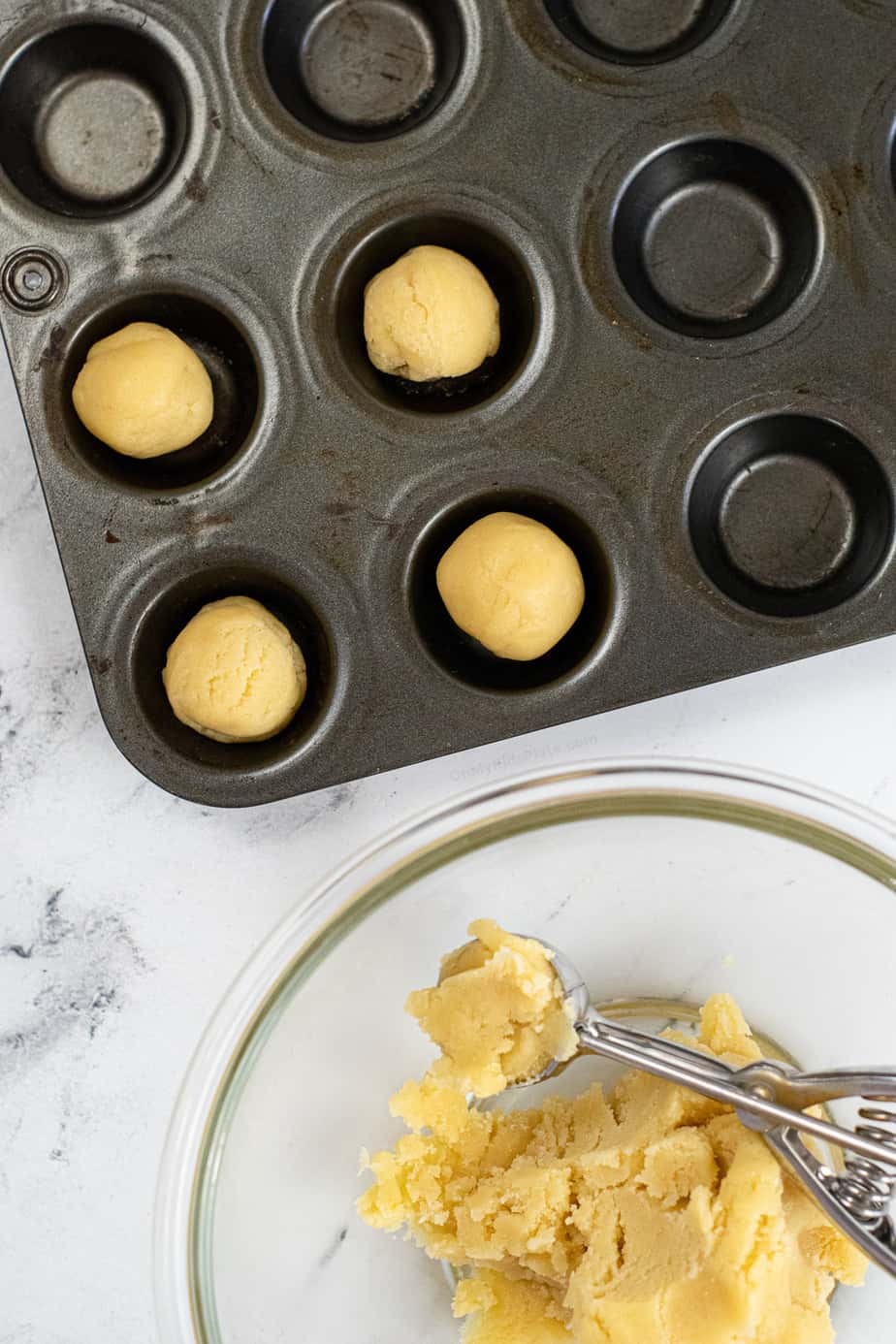 Preheat the oven to 350 F.
Bake for 10-15 minutes, until golden. Remove from oven and let them cool on the pan for about 10 minutes, then transfer to a wire rack to cool completely (if the cookies stick a little to the pan rotate them gently while taking them off)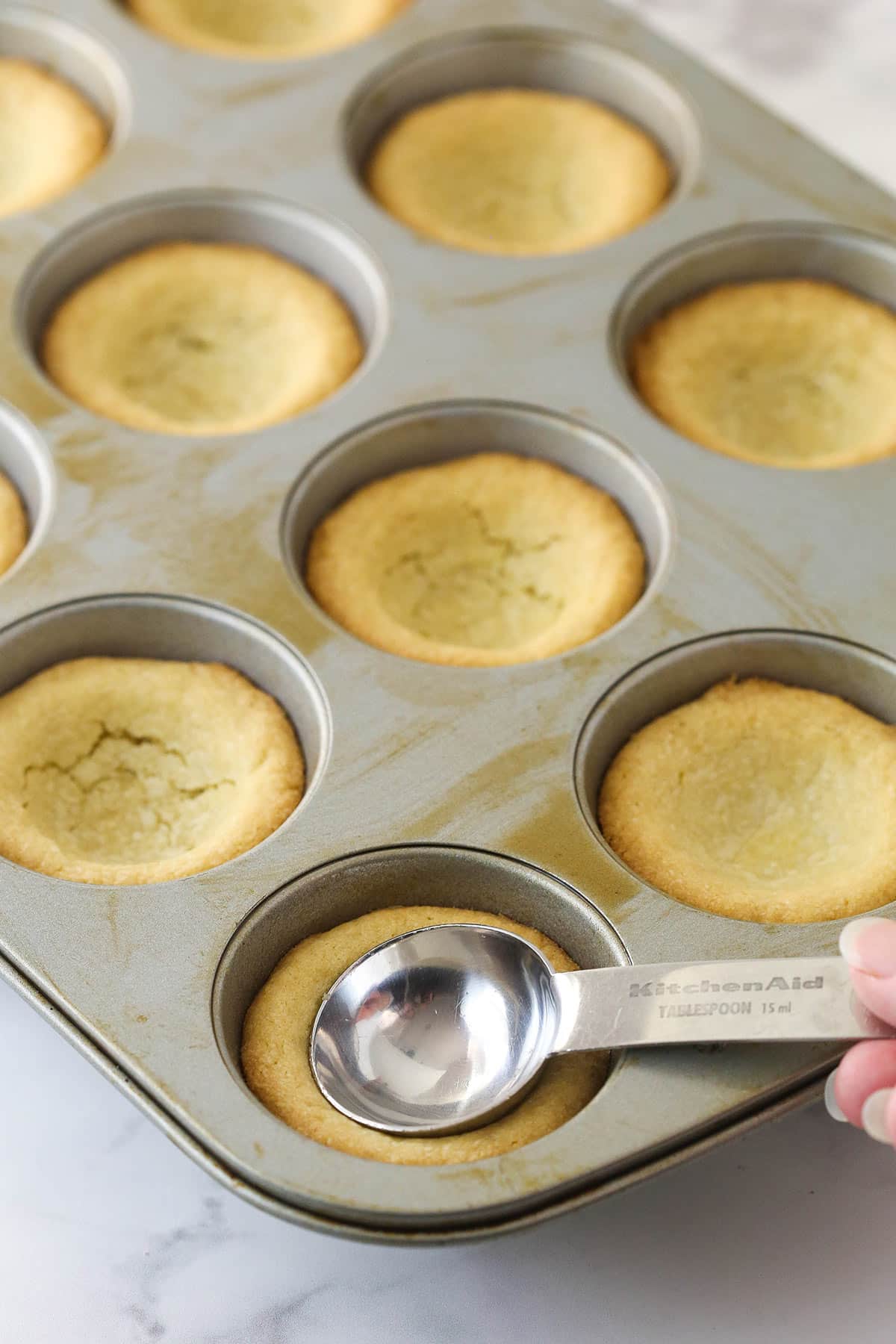 Let them cool completely on a wire rack
Place 1 teaspoon strawberry jam on every cookie bowl.
TO MAKE THE FILLING:
Beat the heavy cream on medium-high speed until medium-stiff peaks form, set aside.
Beat the cream cheese, crème fraiche , vanilla and confectioners' sugar on medium speed until combined. Gently fold whipped cream into the cream-cheese mixture until combined.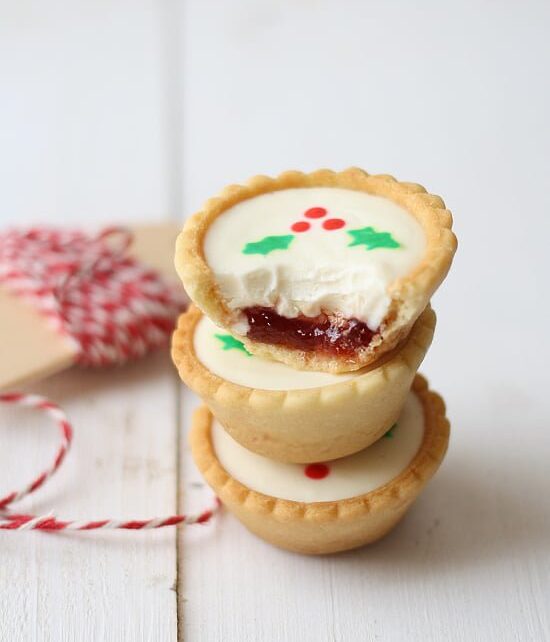 Spoon filling over strawberry jam to fill the cups to the top. Garnish with sprinkles on top or mix some sprinkles into the filling.
Chill the cups until firm, about 30 minutes. Store in the fridge.