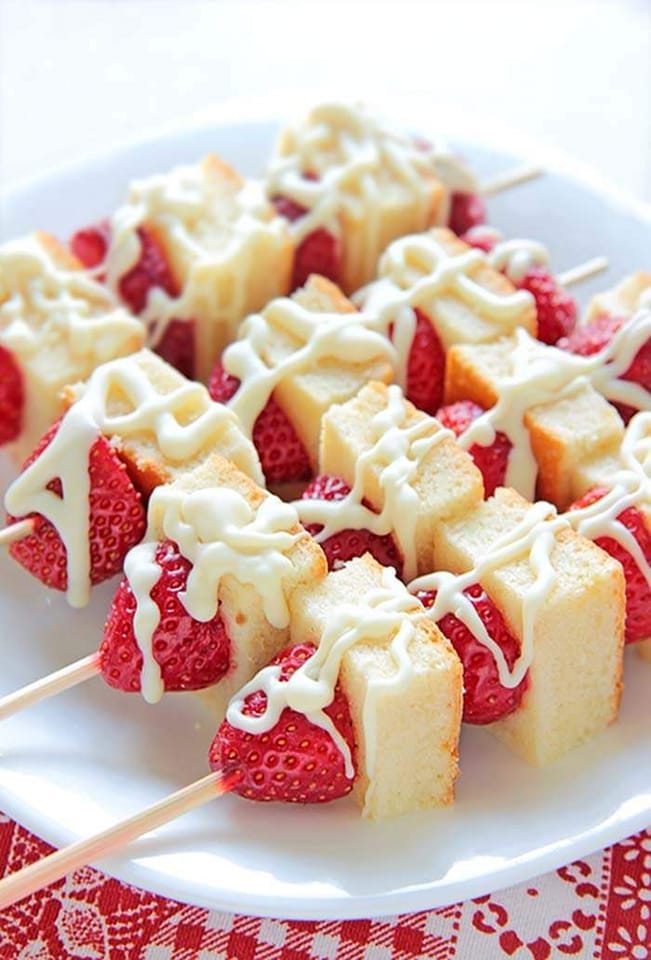 Ingredients:
Strawberry Shortcake Kabobs
2 boxes strawberries
1 box of white cake mix
3/4 cup of Greek vanilla yogurt
2 egg whites
1 1/3 cups of water
1 bag of white chocolate chips
Skewers
Instructions:
Strawberry Shortcake Kabobs
Combine the cake mix, greek yogurt, egg whites and water in a bowl.
Mix until smooth and pour into a greased cake pan or dish. (9×13)
Bake at 350 for 20-25min until toothpick comes out clean or according to directions on the box.
Cut stems off of strawberries and halve them if need to in order to create uniform sizes.
Cut shortcake into 2-inch cubes. Take skewer and alternate strawberries and shortcake cubes. (I like to do three or four of each per stick).
In a glass bowl melt chocolate in the microwave for about two minutes stirring every every 30 seconds.
Once fully melted, insert it into a large plastic bag and cut off the corner tip. Drizzle all over kabobs and place in fridge to set.