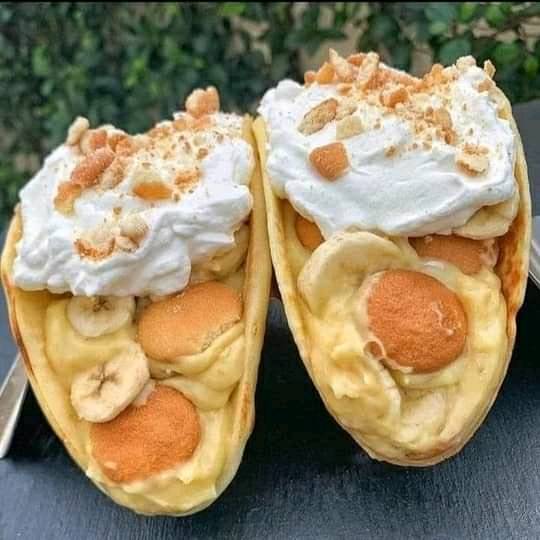 INGREDIENTS:
For the Filling:
1 pack of banana Jello pudding
2 cups whole milk
1 banana (sliced)
1/2 cup mini vanilla wafers
For the Vanilla taco Shells:
2 cups all purpose flour
1 cup vanilla sugar
4 eggs
1/2 cup melted butter
1/2 cup whole milk
1 tsp vanilla extract
The Toppings:
whipped cream
1/2 cup crushed vanilla wafers
INSTRUCTIONS:
Making the Pudding:
Combine banana pudding mix with the milk. Don't follow the recipe on the box. By adding other ingredients, you'll achieve the correct consistency.
Using a stand mixer fitted with a paddle attachment, combine the sliced bananas along with the vanilla wafers. Mix well, and put in the fridge.
Now the Vanilla Shells:
Combine the flour, and salt in a bowl. In a separate bowl, combine the sugar with the eggs.
Add the egg mixture to the flour and slowly add the melted butter. Combine until a loose batter is achieved.