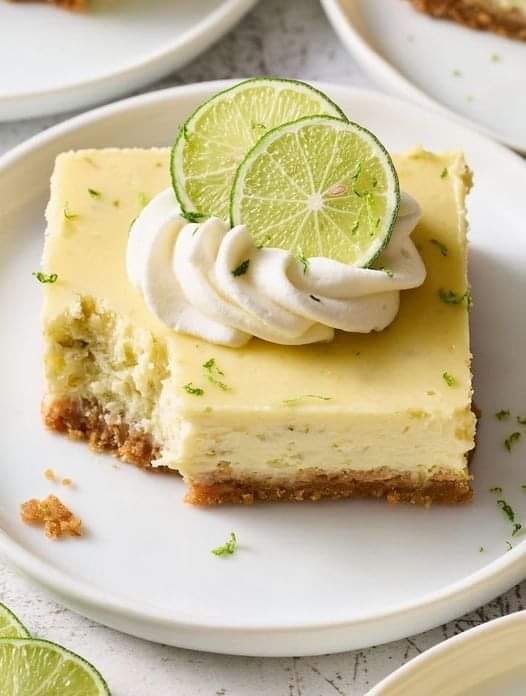 A perfect easy Dessert
INGREDIENTS:
CRUST:
1 3/4 cup graham cracker crumbs
2 Tablespoons granulated sugar
1/2 cup 1 stick unsalted butter, melted
FILLING:
6 oz cream cheese
1 14 ounce can sweetened condensed milk
4 egg yolks
1 Tablespoon lime zest
1/2 cup key lime juice
TOPPING:
1/4 cup whipping cream
1 teaspoon confectioners sugar
2 teaspoons lime zest
INSTRUCTIONS:
Preheat the oven to 325F and line an 8x8in pan with foil and grease lightly. Mix together the graham crumbs, sugar and melted butter and press into the bottom of prepared pan.
Bake for 10 minutes. Beat cream cheese in a medium bowl until soft. Add condensed milk and beat until smooth.
Mix in egg yolks one at a time. Stir in lime zest and lime juice. Pour in crust and bake for about 30 minutes. Allow to cool to room temperature, then chill in the fridge for at least 2 hours.
Whip the cream with the powdered sugar until stiff and top each bar with whipped cream and lime zest. ENJOY!