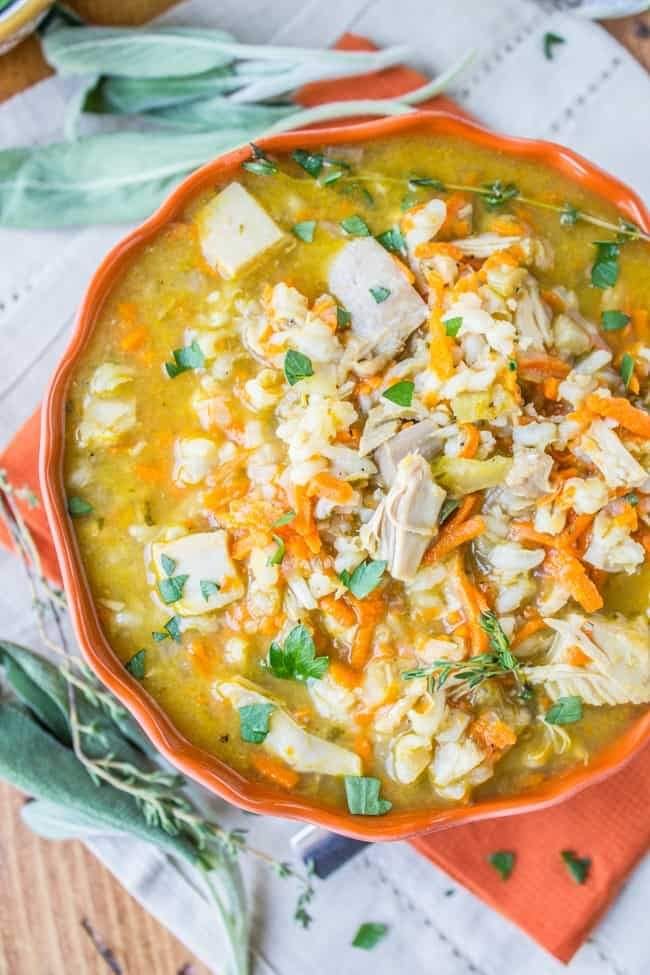 I need 100 people to say (yummy) so I can add their names to the Active Member List
Ingredients:
11-12 cups turkey stock from the bones*
3 cups celery chopped
2 onions chopped
5 sprigs thyme
8-9 medium carrots shredded (about 4 cups total)
1 large potato peeled and shredded
2-4 cups cooked turkey
1 cup barley rinsed
1/2 to 1 teaspoon salt
1/2 to 1 teaspoon pepper
sage fresh, chopped*
rosemary fresh, chopped*
parsley fresh, chopped (for garnish)
Instructions:
Add the turkey stock, celery, onions, and thyme to a large stock pot and bring to a boil. Reduce to a low and simmer covered for about a half hour, or until the celery is tender.
Use a food processor or cheese grater to shred the carrots and potato. Add to the pot and bring to a boil. Reduce to low and simmer, covered for another half hour, or until the carrots are tender.
Add the turkey (however much you want) and the rinsed barley. Bring to a boil, then reduce to medium low. Simmer for another 45-60 minutes, or until the barley is tender.
Season to taste with salt and pepper. (How much you need will really depend on how salty your stock is.)
Just before serving, stir in chopped sage and rosemary. (look for the photo below to see how much I used.)
Slow Cooker instructions:
Add the turkey stock, celery, onions, thyme, carrots, and potato to a slow cooker. Cook for 4-6 hours on low.
Add the turkey, barley, and salt and pepper to taste. Cook for another hour on low, or until barley is tender.
Add fresh sage and rosemary before serving.Top each serving with parsley.
Notes
*You can still totally make this soup even if you didn't make stock from your turkey. You can sub good quality chicken stock, or I've even seen Turkey broth at the grocery store lately. Remember, stock is always better, but use what you've got.
*Use whatever fresh herbs you have leftover from Thanksgiving.