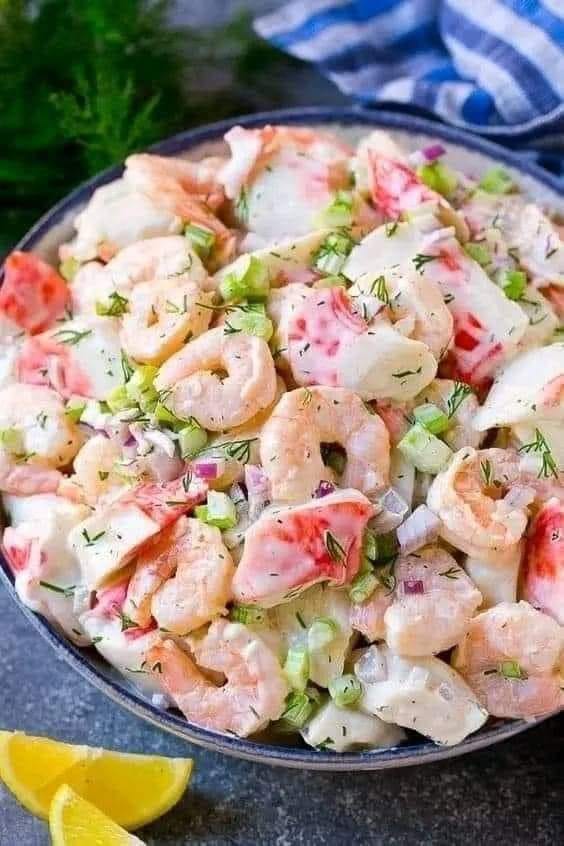 INGREDIENTS
▢8 ounces imitation crab meat flaked style or sticks cut into slices
▢8 ounces raw shrimp I use 51-60 count for this recipe
▢1 lemon quartered
▢1/2 cup celery finely diced
▢3 tablespoons red onion minced
▢1/2 teaspoon Old Bay seasoning
▢2 teaspoons lemon juice
▢salt and pepper to taste
▢1/2 cup mayonnaise
▢1 1/2 tablespoons fresh dill chopped, plus more for garnish
INSTRUCTIONS
Bring a pot of salted water to a boil. Add the quartered lemon.
Add the shrimp to the pot and cook for 1-2 minutes or until pink and opaque. Transfer the shrimp to a bowl of ice water to stop the cooking process.
Drain the shrimp then pat dry.
Place the shrimp, imitation crab, celery, red onion, Old Bay seasoning, lemon juice, salt, pepper, mayonnaise and dill in a bowl. Toss gently to coat.
Garnish with additional fresh dill and serve, or cover and refrigerate for up to 2 days.
Enjoy iy